26 March, 2006
God Save Us From The Good Christian
Posted by alex in
Alex Linder
,
art
,
business
,
Christians
at 4:42 am |

Permanent Link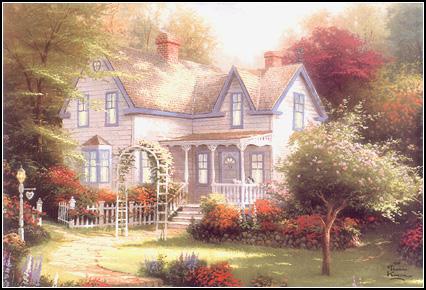 Thomas Kinkade…painter of light by day, Pooh-pisser by night.
Last month, however, a three-member panel of the American Arbitration Assn. ordered his company to pay $860,000 for defrauding the former owners of two failed Virginia galleries. That decision marks the first major legal setback for Kinkade, who won three previous arbitration claims. Five more are pending.
It's not just Kinkade's business practices that have been called into question. Former gallery owners, ex-employees and others say his personal behavior also belies the wholesome image on which he's built his empire.
In sworn testimony and interviews, they recount incidents in which an allegedly drunken Kinkade heckled illusionists Siegfried & Roy in Las Vegas, cursed a former employee's wife who came to his aid when he fell off a barstool, and palmed a startled woman's breasts at a signing party in South Bend, Ind.
And then there is Kinkade's proclivity for "ritual territory marking," as he called it, which allegedly manifested itself in the late 1990s outside the Disneyland Hotel in Anaheim.
"This one's for you, Walt," the artist quipped late one night as he urinated on a Winnie the Pooh figure, said Terry Sheppard, a former vice president for Kinkade's company, in an interview.
Kinkade's Muzak on canvas serves the same conformist, escapist sensibility that defines the middle class. Niggers become African-Americans, diversity is our greatest strength, we can all just get along.