7 April, 2006
Hush Crimes/New York/Nagle: Hire a Shitskin, Get Raped & Murdered
Posted by alex in
hush crimes
at 11:13 am |

Permanent Link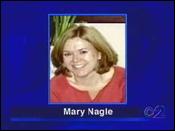 [Quit hiring shitskins. Do it yourself or hire Whites.]
(CBS) NEW CITY The testimony is both dramatic and disturbing. On Tuesday, an illegal immigrant accused of killing a Rockland County woman inside her own home took the stand in his own defense.
During the final day of testimony in his own murder trial, Douglas Herrera claims beer and cocaine caused him to black out at least twice on the day Mary Nagle was killed.
Hired to power wash the Nagle's home, the illegal immigrant said he had a hangover, but doesn't deny being at the crime scene.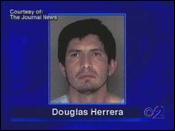 While on the stand, defense attorney Barry Weiss asked Herrera, "What do you remember about that day?"
Herrera: "Waking up next to the victim."
Weiss: "Waking up to Mary Nagle?"
Herrera: "Yes."
Weiss: "In the same bed?"
Herrera: "Yes. I was frightened. She was naked and my right leg was over her. I got up."
Weiss: "When you got up, what did you see?"
Herrera: "I saw a lot of blood. A lot of things in disarray. I saw my clothes full of blood, it was horrible."
Outside the courthouse Weiss said, "The bottom line is, after ingesting somewhere between $600 and $700 worth of cocaine and alcohol, he didn't have the intent to form this crime."
Rockland County's medical examiner also testified, claiming out of the thousands of autopsies she's performed, Nagle's injuries were the most horrific she's ever seen.
Dr. Lone Thanning said, "The cutting of her face, hands and genital areas, no less. It's just almost beyond imagination."
Closing arguments are expected Wednesday morning and the jury could begin deliberating soon after. Both sides said Herrera could very well learn his fate before the end of the week.