7 April, 2006
Murdered By Jews/James Miller
Posted by alex in
Alex Linder
,
loxism
at 12:44 pm |

Permanent Link
[The jews don't like people talking about or taking pictures of what they're doing to the Palestinians. If they feel like it, they simply shoot these people. They know Israeli courts let jews off since jewish doctrine is that non-jews have no rights and are literally animals, jews being the only humans. Mention any of this online? Why, those tolerant, ethical jews will try to drive you offline. They'll wank on about anti-semitism. There is no word for the hatred jews feel for non-jews – until now. That word is loxism. Loxism is ubiquitous.]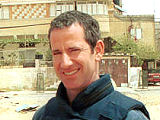 British cameraman murdered by Israelis
Israeli soldier murdered Briton
Reuters Thursday, 6 April 2006 / 3:19 PM BST
LONDON — An award-winning British cameraman shot dead in Gaza by an Israeli soldier was murdered, a London inquest has found.
James Miller was shot by a member of the Israeli Defense Forces in May 2003 in the Rafah refugee camp while making a documentary about Palestinian children caught up in fighting with Israel.
On Thursday, the jury spokeswoman told St. Pancras Coroner's Court in London:
"Based on the evidence laid before us, we, the jury, unanimously agree that this was an unlawful shooting with the intention of killing James Miller. Therefore we can come to no other conclusion than that Miller was indeed murdered.
"It is a fact that from day one of this inquest, the Israeli authorities have not been forthcoming in the investigation into the circumstances surrounding Miller's death."
Unlawful killing
Andrew Reid, the coroner, had told the jury that the only verdict it could return was one of unlawful killing, but that it had to determine whether Miller was murdered or the victim of manslaughter.
Witnesses had told the inquest that Israeli troops shot Miller at close range even though he wore journalist insignia and waved a white flag.
Last April the Israeli army cleared an officer, identified only as Lieutenant H, of any wrongdoing in Miller's death, drawing an official protest from the British government.
In a statement, the Israeli embassy in London said it regretted Miller's death.
The statement said: "After a very thorough investigation using laboratories in Israel and abroad and after reviewing all the available evidence, it was not possible to reach a reliable conclusion that could provide a basis for proceedings under
criminal law."
Award-winner
Miller's film Death in Gaza, completed by colleagues after his killing, shows the 34-year-old approaching an armoured vehicle in the dark before the fatal shots sounded.
Miller had been trying to ask the soldiers if it was safe to leave the area when he was shot in the neck.
In a statement after the verdict, the family said their efforts to investigate Miller's death had "finally been vindicated" by the jury's verdict, after a three-year struggle.
The family, critical of the authorities' efforts in investigating the death, had launched a private investigation, hiring a home office pathologist and an independent military expert to gather evidence.
Death in Gaza won three Emmy awards in 2005. Beneath the Veil, a documentary about life under Afghanistan's Taliban, which Miller made with journalist Shaira Shah, also won an Emmy.