4 April, 2006
New Fundamentalist Lobby to Abet Sick, Vicious Israel
Posted by alex in
Christians
at 6:31 pm |

Permanent Link
[Meet Wrench Hagee, a no-neck leader of dirt-eaters. What do you need a neck for if there's nothing in your head but Izzy's fetid lies? As one of Twain's characters said, and the jews can take a dubious solace in, "Hain't we got the fools in town on our side? And ain't that a big enough majority in any town?]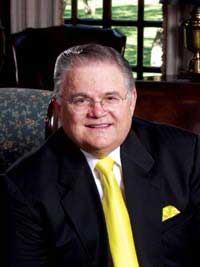 New Christian pro-Israel lobby aims to be stronger than AIPAC
By SHLOMO SHAMIR
Ha'aretz, Tel Aviv Tuesday, 3 April 2006 / Nisan 5, 5766
NEW YORK — Televangelist John Hagee told Jewish community leaders over the weekend that the 40 million evangelical Christians in the United States support Israel and that he plans to utilize this power to help Israel by launching a Christian pro-Israel lobby.
The lobby is slated to launch in July, during a Washington conference in which hundreds of American evangelicals are slated to participate, Hagee said at a meeting of the Conference of Presidents of Major American Jewish Organizations, which represents 52 national Jewish groups. He also discussed the lobby with Israel's consul general in New York, Aryeh Mekel.
Hagee said his group would be a Christian—and more powerful— version of the American Israel Public Affairs Committee (AIPAC), a large pro-Israel lobby, and would target senators and congressmen on Capitol Hill. A quarter of congressmen are evangelicals, and many American legislators represent regions that include a large evangelical population, he said.
Promises 'political earthquake'

Hagee—the founder and senior pastor of the evangelical Cornerstone Church in San Antonio, Texas, that claims an active membership of more than 18,000—said the lobby's activities would be a "political earthquake."
In his meeting with Mekel, Hagee said he planned to establish an effective network of key activists across the United States who can be reached within 24 hours if necessary for emergency lobbying efforts. He said he has already appointed 12 regional directors who are to be responsible for lobby activities in their areas and that he plans to appoint representatives in every state and major city.
Hagee also said he would head a delegation of 500 evangelicals slated to visit Israel this summer.
"The evangelical population's support of Israel is very important," said Mekel yesterday.
The Israeli ambassador to the United States, Danny Ayalon, responded in a similar fashion while discussing the new lobby in February.
Enthusiastic supporter of Israel

"We see Christians in the United States as true friends and important supporters on the basis of shared values, and we welcome their efforts to strengthen the ties between Israel and the U.S.," Ayalon said at the time.
Anti-Defamation League director Abe Foxman was a bit more cautious. He said Hagee's project should be welcomed, but added that Jews and Israelis should be both respectful and wary. Foxman noted that Hagee told the Conference of Presidents that evangelicals support Israel from a biblical perspective, but did
not explain exactly what he meant.
Rabbi James Rudin, author of The Baptizing of America: The Religious Right's Plans for the Rest of Us, said Sunday that Hagee—one of
20 evangelical leaders who met with Ariel Sharon during his last trip to Washington—has been known for many years as an enthusiastic advocate of Israel, and is a typical right-wing Christian supporter
of the country.
Some 400 Christian community leaders met in San Antonio in February to establish the lobby. Other than Hagee, its leaders include evangelist George Morrison; fundamentalist Baptist minister Jerry Falwell; and Gary Bauer, president of the American Values organization aimed at protecting marriage, family and faith. All are well-known supporters of Israel, and considered hawkish.
http://www.haaretzdaily.com/hasen/spages/701583.html