8 April, 2006
Remember Women?
Posted by alex in
Alex Linder
,
AmeriKwa
,
General Decline
,
Jewish Tyranny
,
sports
at 1:35 am |

Permanent Link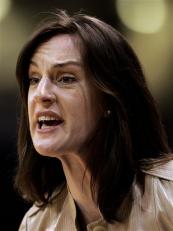 Army women's basketball coach Maggie Dixon shouts instructions to her team during first half action of the Tennessee-Army NCAA Division 1 Womens Basketball Championship first round game in Norfolk, Va., March 19, 2006. Dixon, who led the Black Knights to their NCAA tournament debut, died Thursday, April 6, 2006. She was 28.
Women's basketball is ridiculous. Women are too pendulous for quick movement, and their psyche's at odds with the aggression it demands. Yet women's basketball grows bigger every year. How and why? Simply put, it advances The Agenda, and so it is promoted nonstop, and a market is made, even against interest.
Women's sports are used to keep girls' focus off becoming women and on niggers and sex and entertainment. Girls are conditioned to believe they're not real women until they make of themselves inferior men.
At the head of the pro basketball leagues are niggers and lesbians, while jews run the corporate/promotional structures. Nor jews nor niggers nor lesbians are famous for producing white babies. Title IX, which mandated sports-spending equality, came in just after the loxist laws of the sixties. IX was premised on the lie that women want to play sports as much as men, or at least they should, or would, if the patriarchy hadn't shunted them to tea and knitting. The upshot of Title IX and the girl-power mentality is that there are few women left in America, but there's a sea of adult boys with breasts.
Look at the picture below and think about what you're doing. You think the Indians were dumb, trading Manhattan for trinkets? What did you trade your lives for? Look what you're doing to your children. You're feeding them directly into a system that makes them third-class citizens when you encourage them to admire niggers and nigball. Teaching your kids to admire niggers will lead to the types of hush crimes you can read about lower on the page.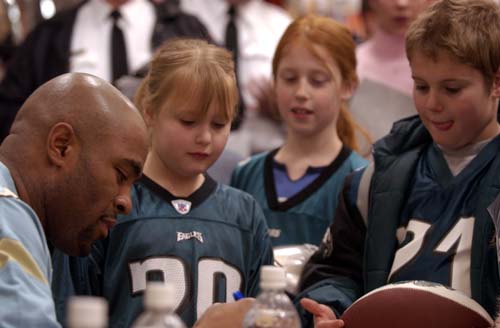 When these girls go off to college, as they are likelier to than the boy, given the way things are skewed these days, and the third-string affirmative action running-back recruit hits on them in the bar, what do you think they'll say? And when her tubes are scarred from whatever VD's currently starring in the coon's gastrointestinal system, and she can't give you grandchildren, or she's raped raped raped raped raped raped and afraid to say anything to you or the administration because let's face it nobody holds niggers even to legal standards — then what are you going to do? Not a damn thing. You've been fooled and wasted, and you don't even know it. This, too, is the price of allowing the jew to take over our society and destroy White identity.
Choose life – choose White.