20 July, 2006
Dick Gregory, Folks, Dick Gregory
Posted by alex in
Arboreal Americans
at 5:36 pm |

Permanent Link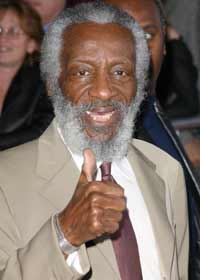 Bush goes and speaks to jew-organized NAACP niggers, and one of them comes up with this (story with video):
"Malt liquor is made by white beer companies but only sold in black neighborhoods, and you don't get suspicious?" he asked. "They put a thing in it called manganese, and once you get so much manganese in you, you will kill your momma, but they've got you believing that's normal for you to act that way."
Analysis: Dick Gregory has been around the world, he has more extensive experience with whites and the wide world than any nigger this side of Bill Cosby, he can actually read, and… he actually believes what he's saying. So what do you think the average nigger believes? And "our" president, who would never speak to a pro-White group, Whiteness being illegal as an organizing priniciple, according to the jews who demand that Bush appear before hostile, jew-organized nigger groups, brags about how quickly he'll sign off on the latest bill letting every nigger more than a minute from lethal injection votespew his hatred of human Whites.