20 July, 2006
Dumb Christians: After Nukes, Israel's Greatest Strength
Posted by alex in
Christians
,
World War Wheeee!
at 7:04 pm |

Permanent Link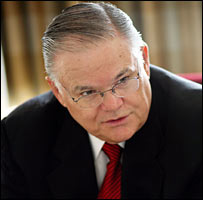 Thousands of Rapture Bunnies head to Washington to yawp for Israel. Dirt will be served.
[Right: John Hagee, leader of no-neck brigades]
The thousands of Christians in Washington – who came and are staying at their own expense – will be urging the US government "not to restrain Israel in any way in the pursuit of Hamas and Hezbollah", he said.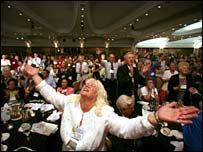 Hagee is a prominent vermiculturist whose Texas terrarium holds some 18,000 lubricus terrestris-im, many of which, like the dramatician to the right, are heading off to Babylon proper to heave hosannas to cynically amused Israelis and their duly purchased Congress.