10 July, 2006
Kirksville Gets a Hero
Posted by alex in
Alex Linder
,
Kirksville
at 5:10 pm |

Permanent Link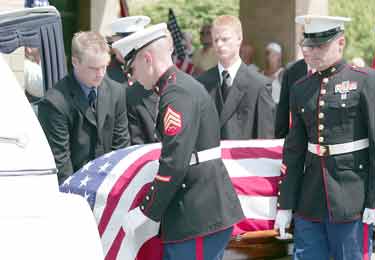 KIRKSVILLE – Hundreds of people flocked to the funeral for Marine Lance Cpl. Rex A. Page Sunday to show their gratitude for the sacrifice he made.
The Kirksville Middle School gym was full of people who wanted to let the Pages know they are thinking of Rex and how he selflessly gave his life for the cause of freedom.
"Greater love hath no man than to lay down one's life for one's friends," said Marine Staff Sgt. Henry Rimkvs, who spoke at the funeral. "That is the true sacrifice that Rex has done for all of us."
Not only was the funeral full of people who were touched by Rex's sacrifice, hundreds more showed support by standing outside the school waving American Flags.They also came out in droves to wave flags along Highway 63 for the funeral procession down to the military cemetery in Jacksonville, Mo.
I was involuntarily involved myself. Damned Iraqis took up a position behind Pancake City. I was on the way to Wal-Mart to buy some bagel-flavored rat poison when a couple rang out, and one of them actually grazed my bumper. Thank God Lance Corporal Page was there to intercede, because I was unarmed. Thank God – otherwise my baby daughter might have had to grow up without a father.
I ask, with pure heart, of anyone fluttering by, if Rex Page was defending freedom over there in Iraq, what was the guy doing who shot back?