18 August, 2006
Buried Treasure from Arch Stanton
Posted by alex in
Arch Stanton
at 11:23 am |

Permanent Link
In the past I had never really considered t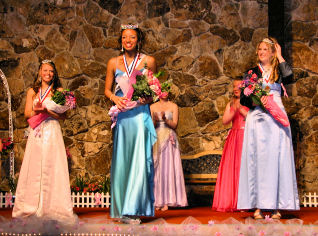 he uniformed Nazi to be of any value to the white movement. In fact I maintained the visage of the uniformed Nazi has long been a detriment to the formation and pursuit of any successful white political movement. After all, for proof of this deleterious effect one only has to look at how effectively the jews used a photo of David Duke in Nazi uniform to thoroughly discredit and defame his person, thereby greatly ameliorating his political power. But no more, no-siree-bob, I have seen the light, I have changed my tune to Tomorrow Belongs to Me! That's right, after the seeing the Nazis' effect on our neighborhood Nubian Viking fest, I have totally changed my mind about the throwback effect of the uniformed Nazi.
The astute, jew-aware, white person should be able to detect the supreme irony in a situation where a Negro is feted as the head of a white celebration traditionally embraced by Germans, while the ultimate representation of German power (admittedly displayed in a more or less comic form) is shunned. Note the idiot mayor's overriding concern for any possible offense to the Negro's delicate sensibilities? Quote: "My main concern was for Jasmine and the other girls — I didn't want this to leave a sour taste in their mouths." This is how the jewish "Alice" turns our world upside down by forcing us to view it through their dark and twisted looking glass. Kudos to the Nazis (may their tribe increase) for putting pressure on the festivities by shining a glaring, white, light on the dark, muddy, festivities. This type of visual demonstration should happen at every jew-twisted, formerly white activity. Imagine for a moment how marvelous it would have been to see two or three hundred Nazis in full SS uniform (Viking division of course) attending the Viking Fest. It would have been even more elevating had they been goose-stepping in formation down Viking Way while singing a rousing rendition of "Tomorrow Belongs to Me" – talk about really ruining the jew's party!
Why the 180 degree turnaround? Simply because, from the viewpoint of the stupid bovina festival organizers and supporters, these few Nazis were the ugliest possible pimple that might adorn their otherwise smooth, unblemished, jew inspired, smug, multicultural festival's ass. Picture the perfect jewish Amerikwan princess prom queen, (maybe a teen aged version of Bela Abzug or Madaligned Albright) with a huge, ugly, zit in the middle of her face at the moment she accepts her crown and bouquet and you'll have a better understanding of the Nazi's role at Viking fest. After all what could be whiter than Nazis attending a newly minted, multicultural, mud festival?
Think about it, while you might see a Negro Viking queen you most certaintly will never see a Negro Nazi queen. The loud and obvious fart of the Nazis filling the jewish-perfumed multicultural room completely spoiled what would have an otherwise been a very quiet and orderly theft of yet another traditional white festival. In the words of the mayor, the Nazi presence left quite a sour taste in the jew sycophant's mouth.
Hooray for the Nazis! I say more Nazis, in fact a lot more Nazis, in full uniforms at every white festival and every occasion where the thieving jew parasite has usurped the white man's heritage by applying an ugly layer of mud.* In fact, do you know the what the jews hate most, do you know what sight makes them wet their pants in horror? – The sight of a blond, Ayran, male wearing a black SS uniform adorned with snazzy, silver, totenkopfs. Consider the irony found in the all-black SS uniform; think of the fashion statement this uniform makes to jews. "OK jewish schwine, you like black? You want black everywhere in our white society? How's this for black, is it black enough for you yet asshole?"
And so my fellow Kwanners, in conclusion I say forget the current brown-shirt motif and fade to black! And hey, if you really want to throw a monkey wrench in the jew's multicultural mechanism, then remove the political target by shunning any political affiliation with your march. Simply bill your SS troops as historical re-enactors celebrating their German military heritage during Viking Fest. Correct me if I'm wrong, but aren't Amerikwans free to re-enact various historical events? Well how about re-enacting the Nuremburg rally or the victory march through the Arc de Triomphe? The visual effect of SS marching troops will make quite enough statement on its own, but adding a festive song or two would certainly add to the overall effect on the public. Jawhol, mein Herr!
(*Speaking of mud, you ought to see Liberty Bay at low tide. Why the new, Negro, Viking queen would simply disappear if she fell into Liberty Bay after the tide ran out.)
Arch Stanton