8 September, 2006
Black Serial Killers: Lorenzo Gilyard
Posted by alex in
black crime
,
black serial killers
at 6:26 pm |

Permanent Link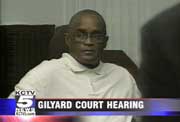 On the C&W show, they claimed whites are serial killers, and I rebutted that blacks serial kill even more often than whites – it just isn't reported outside the local area in which it occurs. Here's one nigger mass murderer you've almost surely never heard of – unless you live in the Kansas City telesphere. You can bet the jews won't mention Gilyard in an A&E special, nor in a Lifetime movie. "Crime" tv is dedicated to the proposition that white men are white women's greatest threat. Whereas the nigger that preys on white women is to be treated as their natural partner.
Please note that as the bogus claim raised by C/W is commonly repeated 'urban myth,' so to speak, we are initiating a new category: black serial killers (will encompass mex and other colored serial killers too). This will be the first entry.
Attorneys Hear Arguments in Serial Killer Case
KANSAS CITY, Mo. (AP) — Attorneys are debating what evidence will be presented when a Kansas City man goes on trial in March in the deaths of 13 women.
Fifty-six-year-old Lorenzo Gilyard was charged in April 2004 with strangling a dozen women after a federal grant allowed the police crime lab to begin testing evidence from old, unsolved cases. The 13th murder charge was added in June.
The victims were strangled between 1977 and 1993. All but one was a prostitute.
Gilyard is being held without bond.
More arguments also will be heard today in Jackson County Circuit Court on defense efforts to prevent prosecutors from seeking the death penalty.