22 September, 2006
Reader Mail: 9/22/06
Posted by alex in
Reader Mail
at 4:30 pm |

Permanent Link
NORTH AMERICAN UNION SOUGHT BY NWO JEWS
9-21-06
A North American Union?
Sol Goldsilverbergwitz, powerful Jew: "Oh, just think of the possibilities, Ira! If America, Canada and Mexico form a union, all sorts of things could happen – many of them beneficial to us Jews! For example, a special treaty could be put into place in the new union banning all criticism of us! After all, we're God's Pets! Every 'anti-Semitic' website in North America could be shut down. Oh, I'm getting excited just thinking about it!"
Ira Diamondgoldsilverwitz, powerful Jew: "Yes, Sol, imagine the possibilities! The 20th century was known as the 'Jewish century,' since we Jews were key players in almost every pivotal event in that era [1]. But the 21st century could be the century that Jews really solidify their power in the West! Just think, Sol: we could make bagels-and-lox a part of every gentile meal! Leftist and feminist agitprop could be required reading in every gentile household! Toilet jokes could be mandatory in public schools! Ohhh, just think of it, Sol…"
[A mention of the North American union idea:
http://www.informationclearinghouse.info/article13854.htm ]
[1] Jews were key players in nearly every major event of the 20th century, from America's entry into World War I, to the creation of America's atomic-bomb project, to the birth of the "counterculture" in the West, to the creation of Hollywood. Indeed, the West would be quite different today without Jewish meddling in it
TREASON IN TEXAS ELEMENTARY SCHOOL
Pledge to Mexican flag featured at Texas school
Principal says he was pursuing 'diversity,' but wouldn't do it again
The principal of an elementary school instructed his students to stand during the recitation of a pledge to the Mexican flag during a diversity assembly recently, and he's been trying to backtrack ever since.
"We absolutely refuse to stand up and pledge allegiance to another country's flag," a mother whose daughter attends the school told talk show host Chris Baker on AM 740 KTRH radio. "Where is the sensitivity to the country and to the troops and the men and women that have fought and died for this country?"
http://www.wnd.com/news/article.asp?ARTICLE_ID=52088
EVERY MAN A GUN, AMMO, WILL TO USE THEM
Greenleaf wants homeowners to arm themselves
06:34 PM MDT on Thursday, September 21, 2006
GREANLEAF – A small Canyon County town is considering a city ordinance that would recommend every homeowner have a gun and know how to use it.
A Greenleaf city council member proposed the idea as part of a plan to handle civil emergencies.
It would create citizen response teams and neighborhood watch groups, but would also recommend citizens own a gun and ammunition.
"We aren't choosing to pick a fight. We're choosing to organize and learn how to defend our own homes," said Greenleaf Mayor Brad Holton.
Holton assumes nearly every person living in his town already owns a gun.
"That's just the nature of our community," said Holton.
So he says little would be changed by adopting this ordinance that "recommends every head of household maintain a firearm and ammunition."
"It's requesting. It's not requiring," said Holton.
Holton says this is part of a larger plan to establish an organized response to a town emergency and a way to ensure Greenleaf's way of life is protected.
"The law enforcement agencies are not able to take care of each person and each private property, so it's up to local cities and local governments to develop a plan of how you're going to do that," said Holton.
http://www.ktvb.com/news/localnews/stories/ktvbn-sep2106-greenleaf_guns.2f0f202.html


JEWS PERSECUTE OCTOGENARIAN
'Nice, Sweet Lady,' 83, Deported for Nazi Past
The former SS guard kept her secret buried, even from her Jewish husband. Now exposed, the Bay Area widow, 83, is back in Germany.
By Richard A. Serrano, Times Staff Writer
September 20, 2006
WASHINGTON — She lived alone in a tiny, top-floor apartment in one of the tougher sections of San Francisco. At 83, she was short and a bit stout. Diabetes took the sight in one of her eyes; arthritis left her leaning heavily on a cane. For long trips, she took a taxi.
Her husband had died. He was the love of her long life, a short, dapper man who had worked as a bartender and waiter at some of the city's larger hotels and was active in Jewish activities. They buried him in a Jewish cemetery outside the city.
He had been gone just a short while when two officials from the Justice Department in Washington knocked on her door. They confronted her with a terrible secret that all these years she had managed to keep from him.
In Germany during World War II, a much younger Elfriede Lina Rinkel, then single, a girl with blue eyes and striking red hair, had worked as an SS guard at one of the Nazi regime's infamous concentration camps. Called Ravensbruck, it was a slave labor prison for women, and during the year she worked there with a trained attack dog more than 10,000 women died.
http://www.latimes.com/news/printedition/la-me-nazi20sep20%2C0%2C3436788.story?track=mostemailedlink

RUSSIANS URGED TO BREED
Russians are urged to take the afternoon off, go home and make a baby
By Adrian Blomfield in Moscow
The governor of a Russian province gave workers an afternoon off and told them to go home and multiply in the most direct attempt yet by officials seeking to tackle the country's growing depopulation crisis.
Bureaucrats have been dreaming up ever more imaginative schemes to help reverse the trend ever since President Vladimir Putin identified Russia's demographic crisis – caused in part by soaring levels of alcoholism – as the country's biggest threat.
But few have been quite as blunt as Sergey Morozov, the governor of Ulyanovsk, a depressed region on the Volga.
In exchange for an afternoon of state-sponsored passion, his "Give birth to a patriot" campaign launched last week offers parents who give birth next year on June 12, Russia's Independence Day, a range of incentives from a fridge or washing machine to a four-wheel-drive vehicle, depending on how many children the couple already has.
The Kremlin is offering even more substantial inducements. In a state of the nation address in May that was redolent of the Soviet era, Mr Putin encouraged Russians to make more babies and promised to give £5,000 to every mother who gives birth to a second child.
It is unclear how many of Ulyankovsk's residents took up Mr Morozov's offer, but the governor is convinced that such strategies are essential if the decline is to be reversed. Russia's 142 million population is dwindling faster than any other on Earth with 793,000 more deaths than births in 2004, according to the Centre for Demography.
http://www.telegraph.co.uk/news/main.jhtml?xml=/news/2006/09/22/wrussia22.xml

IRS PROMOTES FUSION OF SYNAGOGUE AND STATE, SEPARATION OF CHURCH AND STATE
IRS dispute over sermon worries other congregations
PASADENA, Calif. — With the campaign season in full swing, a liberal church is locked in an escalating dispute with the IRS over an anti-war sermon — delivered two days before the 2004 presidential election — that could cost the congregation its tax-exempt status.
Religious leaders on both the right and left are watching closely, afraid the confrontation at All Saints Church will compromise their ability to speak out on issues of moral importance such as abortion and gay marriage during the midterm elections.
Under federal tax law, church officials can legally discuss politics, but to retain tax-exempt status, they cannot endorse candidates or parties. Most who do so receive a warning.
http://seattletimes.nwsource.com/html/nationworld/2003268539_irschurch21.html


PREPARE TO SHOOTIE THE LOOTIE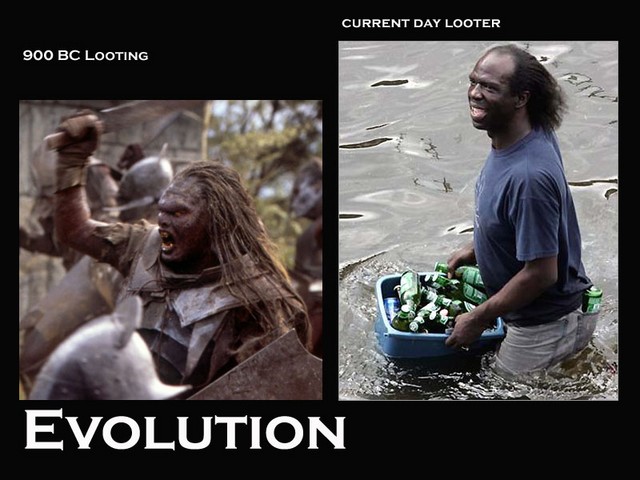 Radio ad asks Houstonians to arm themselves against evacuees
JUAN A. LOZANO
Associated Press
HOUSTON – A radio commercial for a local gun shop advises Houstonians to arm themselves against "Katricians," adding to the growing tension between Houstonians and the Katrina evacuees who have been blamed for a rising crime rate.
Gun shop owner and radio talk-show host Jim Pruett said Thursday he started running the ad a few weeks ago after hearing a local television interview with a Katrina evacuee living in Houston who implied he would have to turn to crime if his government assistance ran out.
"There are many evacuees here who are working," said Pruett, who has owned Jim Pruett's Guns & Ammo in northwest Houston for five years. "They have become Houstonians now. That is fantastic. That is what you are supposed to do. You are not supposed to threaten the place you are working in."
Katrina evacuees are suspects or victims in 59 of Houston's 262 homicides between Jan. 1 and Aug. 26.
Residents in upper middle-class west Houston have blamed evacuees for violent crime rates that have increased almost 14 percent in one district and homicides that have nearly doubled in another.
Earlier this month, the FBI reported that violent crime in Houston jumped 2.4 percent last year, slightly above the national figure of 2.3 percent.
Pruett's radio ad says, "When the 'Katricians' themselves are quoted as saying the crime rate is gonna go up if they don't get more free rent, then it's time to get your concealed-handgun license."
Department of Public Safety statistics show that from January to Sept. 1, the number of concealed-carry permits issued for handguns have risen almost 25 percent in Harris County, which includes Houston. Texas has no other gun registration laws.
Black activists planned a community meeting Thursday evening to "end the conflict" between Houston and New Orleans. They indicated they would discuss Pruett's radio ad.
The meeting was also expected to address comments made earlier this month by gubernatorial candidate Kinky Friedman, who attributed a spike in Houston's crime rate to the "crackheads and thugs" who evacuated New Orleans.
http://www.dfw.com/mld/dfw/news/state/15575067.htm?template=contentModules/printstory.jsp

WAR ON TERROR, CLAIM TERRORISTS
US Threatened to Bomb Pakistan Back to Stone Age
Pakistani president Pervez Musharraf said the US threatened to bomb his country back to the Stone Age if he did not assist the administration's war on terrorism. The threat was delivered after the attacks of September 11, 2001, by Richard L. Armitage, then deputy secretary of state, to Musharraf's intelligence director, the Pakistani leader told CBS's "60 Minutes" for Sunday's broadcast.

http://www.truthout.org/docs_2006/092206Z.shtml
GERMANY TODAY
[X and Y] had a great time….. I only saw no more than 5 niggers and only a few mulattoes with their slut mommas… but then again I spent most of my time outside the large cities of Regensburg, Munich and Augsburg.
What excitement when I spoke to many Germans: they generally dislike Israel and almost all of the ones I spoke to are aware of the fact that America ist being held hostages by crazed Zionists and their lickspittle White sell outs…
Best to all of you!
LATEST NATIONAL DALLIANCE/SNEEZGARD SNAFUS
Won't You Be My Neo-nazi Neighbor?
A Racist Organization's Member List Is Revealed, Dragging Secrets and Lies Into the Light.
By Dan Harkins E-mail
Illustrations by Lucious Von Wunderlik
One summer afternoon in 2003, a gangly Parma High senior wandered alone into the innocuously named European-American Cultural Festival to connect with his blond-and-blue-eyed roots. Polish and Irish dance troupes clobbered the floor, and local bands played old-timey songs to the few hundred in attendance from every possible generation. Beer steins sloshed festively. The smell of brats and kraut filled the air.
The boy found himself transformed, listening to elders extolling the many majesties of the old country.
"At first, I thought it was something cool," says Jason, now a 21-year-old mechanic living in the basement of his childhood home, over a beer at the Post and Bean in Parma, a cozy favorite of his older brother, who's now an Army infantryman in Iraq. "Home sucked. School sucked. This was the first thing to be handed to me. I was going to explore my roots."
At the time he knew nothing about those who had organized the cultural festival — the Cleveland chapter of the National Alliance, a West Virginia-based white separatist group. He also didn't recognize then that he was just the type the Alliance seeks: predisposed toward resentment. When Jason was just six months old, his father left the family for a Korean woman, and from then on his mother raised him alone with a jaundiced eye toward non-whites.
Referred by a card handed to him at the festival, the teen started attending the Alliance's Cleveland chapter meetings in the back of Paddy's Pub on State Road. There, current events became fodder for diatribes in the vein of the Alliance's late founder, William Pierce, author of The Turner Diaries, a fictional account of a separatist order's bombing of an FBI headquarters. It reportedly was Timothy McVeigh's inspiration in Oklahoma City. Alliance literature and membership has been tied to a long string of violent and degrading acts, according to the FBI.
Jason remembers feeling a little out of place as the only youngster in the lot.
"Sometimes other young people would come but a lot of times they were coming from, like, Michigan," he recalls. Overall, however, a good portion of those present usually came from somewhere in or around his hometown. "Parma, it's been a hotbed of undercurrent opposition to diversity and change. Some of the old people at the meetings, it was almost scary. They really hated black people."
On his 18th birthday, still before graduation, Jason enlisted in the Army — his life-long dream. Two to three weeks later, he paid his first $10 monthly dues to the National Alliance. Not long after that, FBI agents pulled him out of class, saying they knew he'd joined the Alliance. They pumped him for information. After they were done, Jason went home; he figured he'd satisfied their doubts.
http://www.freetimes.com/cover
EXPOSE THE JEW
ADL, Zionist Policies Causing Rise In Anti-Jewish Sentiment
http://www.rense.com/general67/adlpol.htm

ATTEMPT TO JEW IRAN
On Sept. 19, 2006 Jewish-American talk radio host Dr. Michael Savage, who changed his last name from Weiner, said "if the United States did not enter the war in 1941, most of my listener's would be bars of soap and lampshades." This in response to why he wants the US to attack Iran! Then the next day Anderson Cooper's CNN says that "the [Jewish] genocide was perhaps the most well-documented genocide of the 20th century."
So much for college graduates!
The "human soap" and "lampshade" story demonstrates anew the tremendous impact that a wartime rumor, no matter how fantastic, can have once it has taken hold, particularly when it is disseminated as a propaganda lie by influential individuals and powerful organizations. That so many intelligent and otherwise thoughtful people could ever have seriously believed that the Germans distributed bars of soap brazenly labeled with letters indicating that they were
manufactured from Jewish corpses shows how readily even the most absurd Holocaust fables can be — and are — accepted as fact.
As Hilberg put it the Holocaust was NOT the most well-documented genocide:
"But what began in 1941 was a process of destruction not planned in advance, not organized centrally by any agency. There was no blueprint and there was no budget for destructive measures. They [these measures] were taken step by step, one step at a time. Thus came about not so much a plan being carried out, but an incredible meeting of minds, a consensus — mind reading by a far-flung bureaucracy."
Excerpt:
COOPER INTERVIEWS AHMADINEJAD (through translator)
Sept. 20, 2006
http://transcripts.cnn.com/TRANSCRIPTS/0609/20/acd.01.html

COOPER: You have repeatedly implied that the Holocaust never happened. And it certainly seems to be the — and implied that more research needs to be done on whether or not it did happen.
I mean, the argument could be made that the genocide was perhaps the most well-documented genocide of the 20th century. Do you really believe that the Holocaust never happened?
AHMADINEJAD (through translator): If this event happened, where did it happen? The where is the main question. And it was not in Palestine. Why is the Holocaust used as a pretext to occupy the Palestinian lands?
COOPER: But do you understand why it's deeply offensive to people…
(CROSSTALK)
AHMADINEJAD (through translator): That subject, how is it connected to the occupying regime in Jerusalem?
COOPER: You do realize, though, why it would be deeply offensive to so many people that you use — that you even say "if it ever happened"?
AHMADINEJAD (through translator): Well, you don't speak here for all Americans. In the past two or three days, I have met with many members of the media and the press here, some who are even related to the U.S. government. But the questions are the same across the board.
COOPER: Why — why can't you believe there was a Holocaust and support Palestinians?
AHMADINEJAD (through translator): No, that's not a reason at all.
The subject of the Holocaust is a different subject. I raised two or three questions that were very clear about it. I said that, in World War II, 60 million people lost their lives. They were killed. Two million of them were non-civilians, so to say, military. The rest were civilian populations.
And they all lost their lives. Their lives were all cared for and respected. But why is it that we concentrate so much on the lives of a — a group of — among the 60 million?
The second question is, assuming that this happened, why don't they allow more research and studies to be done about it? If it is a truth that happened, then we — we will need more clarity about it. And they are — must be impartial groups, or whoever who is interested should be able to do the research. Why is that prevented?
COOPER: President Bush, at the U.N. spoke — tried to speak directly to the Iranian people yesterday. And he said…
AHMADINEJAD (through translator): Did you get the answer you wanted about the Holocaust?
(CROSSTALK)
(LAUGHTER)
COOPER: No, I didn't, but I know my time is limited.
I — it is a fascinating subject. I mean, I think what people in America are…
AHMADINEJAD (through translator): Are you asking the questions that are on your mind or questions that are given to you by others?
COOPER: Actually, in America, we have a free press, unlike in — in — in parts of Iran.
But I'm asking the questions that I'm interested in. But I — I know your time is short. I would — frankly, I would love to talk to you for two hours. But…
AHMADINEJAD (through translator): Well, given that all the questions are very similar, it speaks for itself.
COOPER: At the U.N., you spoke with great passion of — of brotherhood, of peace and respect for all nations.
Yet, in Tehran last year, you spoke about wiping Israel off — off the face of the — the map, wiping Israel off the face of the map. That doesn't sound to many people in the United States, not just in the government — to many people here, who heard that through the media, that doesn't sound like great respect for other nations.
Do you want to wipe Israel off the face of the map?
AHMADINEJAD (through translator): I'm surprised why American politicians are so sensitive and biased with — with regards to Israel. What is — is there a relationship, to speak with such prejudice?
Everyone is prevented about questioning the regime. Whenever a question is raised, some American politicians react very strongly to it, whereas we know there's a lot being said about many countries around the world.
Lebanon was bombarded. In Ghana, people were killed with laser bombs. But it doesn't seem to have created concern among American politicians as much. But when somebody questions or criticizes the Zionist regime, there's so much
reaction. Could you tell me why this is the case?
I would think it would be a good question to ask from American politicians, the extent of the prejudice we — we see with them about Israel, given the massacres committed by Israel, killing people in their own homes. Should they not
be subject to criticism? Should nobody complain and raise objections about the violations of rights and the murders that they commit? Are they free to do such acts?
Should they not act within the framework of any law?
COOPER: To — to some in America, though, that is going to sound like you're not answering the question. I mean, the — the question really is — is, do you believe Israel has a right to exist?
AHMADINEJAD (through translator): I say that it is an occupying regime.
We say we must — you must allow the Palestinian nation to decide for itself what its fate should be. There are five million displaced Palestinians, four million who live under the threat of bombardments, or actual bombardments and attacks.
So, let Palestinian people decide for themselves. We support the vote of the people. And whatever the result is, we must all accept. Why should there be objection to this proposal, or — or, so to say, with the vote of the people to indicate their will? Do — don't the people in Palestine have the right to live? Are they not human beings? They live in their own homeland. In their own homeland, they are under attack.
COOPER: The same statement could be said of — of Jewish people in Israel, that they're living in what they say is their homeland. Don't they have a right to exist?
AHMADINEJAD (through translator): Yes, in Palestine, there were a group of Jews that live. But where did they come afterwards, the larger groups that came to Palestine?
We know what the trend was. A group of people came from other places to that land. Where does the father of Mr. Olmert come from, for example? Some of the ministers in Israel are, in fact, of Iranian origin, with no background, historical background, in Palestine. But they're there, ruling.
COOPER: So, you're saying, really, they don't belong there; they should go somewhere else?
AHMADINEJAD (through translator): I am saying, let the Palestinian people decide. The Palestinian people should decide what to do.
And among Palestinians, there are Jews, Muslims, and Christians. Our question is, what about the rights of the Palestinian people? They lived there, and they were displaced and forced to leave their own homeland, under the threat of
a gun, and, regretfully, with the support of the American government.
What is happening to the Palestinians? Do they not have the right? Shouldn't we be thinking about that? Their young people are being killed on the streets. Homes are being destroyed over their heads, even in Gaza, even in the West
Bank.
After all, they are human beings, too. They have the life — the right to life and to live in their own homeland. Others have come from far and beyond, and are now there ruling there and governing that land.
Why did they go there? They should return to where they came from. Or, even if they don't, they should at least allow the Palestinian nation to decide about that and the future.
So, what I'm saying is quite clear. We want peace to be established there. We care for the Jews who live under pressure there as well, because they, too, are living outside their own homes, from where they belong, their homeland,
actually. That is not their homeland.
JEWS SMARTER?
http://judicial-inc.biz/are_jews_genetically_smarter.htm

WOMEN IN SCIENCE AND ENGINEERING

9-20-06
Women and Science/Engineering
The University of Arizona is getting a $3.3 million dollar grant to be used for recruiting women into science and engineering vocations [1].
We have three comments concerning that grant: first, why do so many modern women attend college instead of raising kids at home? [2]. Didn't women stay at home and raise kids for centuries until the bogus idea known as "feminism" came along? Why do women have wombs, anyway? Just for the heck of it? Was God bored one day so He decided to create shorter humans with baby-making abilities, just for fun? Is that what happened?
Second, why is it assumed that women are interested in science- or engineering-related fields? Aren't such fields naturally dominated by men, just like, say, auto mechanics or carpentry?
Third, how is having lots of women in the American workplace a good thing? For example, since women are more likely to embrace racial diversity/affirmative action than men are, do we Americans want female bosses in workplaces from Maine to California? Also, when both a husband and a wife work outside the home, their marriage is strained since they spend far less time together by default.
[1] a mention of the grant: http://uanews.org/cgi-bin/WebObjects/UANews.woa/4/wa/SRStoryDetails?ArticleID=13098

[2] granted, a few women can't have or raise kids, for various reasons
EARLY HUMAN?
Scientists digging in Ethiopia's desert have found the most complete skeleton yet of a prehistoric ape-man species thought to be a forerunner of humans. It is of a very young female who died of unknown causes more than three million years ago. Her bones fill an important gap in understanding this particular species and potentially its place in human evolution.
The rare skeleton is of a three-year-old female from the primitive pre-human species called Australopithecus afarensis. The first specimen of this group is the famous fossil named Lucy, a 3.2-million-year-old adult female discovered nearby in 1974. The baby skeleton is about 150,000 years older than Lucy and far more complete, with fingers, a foot, and a torso in addition to a skull.
http://www.voanews.com/english/2006-09-21-voa4.cfm
50 YEARS ON
Déjà vu in Budapest, or when October happens in September
By GEORGE KADAR in Budapest (Two-part Report)
NSNS Wednesday, 20 September 2006
The 50th anniversary of the Hungarian revolution in 1956 is coming up on the 23th of October 2006, but some people were unable to wait until next month; they just lost it.
19 September 2006
BUDAPEST — The revolt is spreading — just like in 1956. In all larger cities organized demonstrations broke out during the day. The target of the struggle is often the TV station of the city.
At the MTV building (Hungarian TV central building, Budapest) and the Parliament around 15,000 people showed up, three times what it was 24 hours earlier.
The struggle is going on for the building about four hours ago. The basalt blocks of the road make excellent weapons for the rebels, just like in 1956.
Mace clouds and fire cover the area, the police was pushed first into the building and a half an our ago the Freedom Fighters were able to force open the entry gates. They are in the building already. Several dozen injured are carried to the local hospitals.
The police sent in a huge track with water canons, it was taken over and dutifully burned by the freedom-loving youth of Budapest.
There are hundreds of police officers refusing to fight the Freedom Fighters. The interior minister was giving the impression of a very disturbed government officer an hour earlier at his interview. There are a few dozen Jewish supremacists inside the TV building; they just decided to stop transmission. The firefighters simply refused to go in to fight the flames around the building.
And two million people of this city are not sleeping; they are all watching TV tonight, two hours after midnight, local time.
Love is in the air, people are covering their bodies with their national flags as the streams of water from inside the building hit them with full force — it is the love for their nation and race that drives them.
At 1:45 a.m. the agents of disinformation are all forced out of their compound, it is all over for them, we took over the building. Just like in 1956.
CNN and BBC five continuous coverage. "There is more or less peace on Freedom Square; there is nobody to fight with." The police left the area. Just like in 1956.
At 1:45 a.m. the Prime Minister, Gyurcsany is explaining that there were not enough policemen on hand because they were needed in the rural areas as well: "I ordered that the building has to be protected."
The accompanying picture shows hundreds of rebels, organizing themselves in the building. They are actually carrying the firefighting equipment to save the building.
They are trying to fix the equipment inside the studio, they want to read their demands on TV, just like in 1956.
It is all just like in 1956, but this time the Red Army is nowhere on the horizon and I promise you it is still not over — just like in 1956.
19 September 2006
It was almost fifty years ago on a small side street of Budapest when I was watching this rather stupid guy: He was wearing a very heavy, long coat; he looked like he was
rolled into a sleeping bag. He emptied half of his magazine from his automatic machine gun to chase a woman off the street who was trying to walk across to enter a bomb
shelter.
The woman was my mother, and I was watching with two close relatives from a hundred yards away. I was seven years old. The guy was rather stupid because he was in a situation when he needed his ammunition for better things than to target practice on my mother: There were thousands of Hungarian Freedom Fighters hunting him at the time.
Different Communist party organizers who were trying to engage me in my younger years did never really understood my hostility toward them. Later on, even some of my friends thought that it was extreme on my part to carry a fifty feet piece of rope in my trunk and constantly selecting out the proper trees in my neighborhood that looked strong enough for certain practical solutions.
Early morning today in Budapest
A couple of hours after the building is taken over by the participants of this slave revolt the invaders collected their little souvenirs, trophies (small items, keys, etc.) from inside
the building. The police sent in new forces and took the building back. It was like they were walking through and telling the people to go home in a suspiciously friendly manner.
The strange faces from the remaining TV stations of the country were commenting on the events with rather shocked words and expressions.
The Prime Minister, commenting the event: "In the past fifteen years the police was a serious support for us. And now, at Freedom Square, at the TV station they became
failures." (This is not a practical joke; the place where the building stands is called "Freedom Square.")
Just recently the very same Hungarian TV station that was taken over by the rebels placed a giant placard for advertisement in the city, challenging the minds of the readers:
"If you were a revolutionary, which TV station would you take over?"
It seems they did get an answer last night.
They were not the only ones to point out for these people who are living off of slave wages that they were missing something since the collapse of communism. ($100 to 120/month average wages in a city where the basics living expenses are higher than in most American towns.)
Victor Orban, the president of FIDESZ, the largest opposition party: "We could walk into the TV station and take it over but we are not dressed properly."
Well, these guys last night refused to worry about the dress code.
After they walked out of the building they walked back toward the Parliament. Cleanly shaved heads were visible everywhere.
These people are hungry for the right information, they were taking our flyers out of our hands, and we were not able to print enough.
And now we do have a real problem:
The problem that the rebels have today is that they were filmed and photographed from all sides while having their party last night.
And the problem of the slave holders of Hungary is that in most cases the day is followed by night.
19 September 2006
For those with some Hungarian reading skills there are continuous updates available from Conscience '88, a patriotic Hungarian organization at: http://www.lelkiismeret88.hu/
FRENCH NATIONALIST NEWS
BLOC IDENTITAIRE
—————————
Communiqué du mercredi 20 septembre 2005
:: Le Figaro persévère dans le mensonge [Figaro keeps lying] ::
Le Figaro du 19 septembre a fait paraître un nouvel article sur la Tribu KA à  propos de la comparution de son leader devant le tribunal Correctionnel de Paris. La journaliste de ce quotidien de droite libérale, Mme Cécilia Gabizon, présente à  l'audience, écrit : " Un représentant du groupuscule d'extrême droite Bloc identitaire apparaît, cheveux court et blouson ".
Or, aucun " représentant " ni d'ailleurs " membre " des Identitaires n'était présent à  ce procès. On peut donc en déduire que soit Mme Gabizon invente, soit que, pour elle, en toute bonne foi, tout homme aux cheveux courts, portant un blouson et traversant un palais de justice appartient au Bloc identitaire.
Bien évidemment, cette " apparition " d'un homme à  cheveux courts permet à  Cécilia Gabizon de faire le lien dans son article entre notre mouvement et la tribu Ka. Nous avons déjà  répondu avant-hier à  ces élucubrations. Mais Le Figaro préfère, semble-t-il, une bonne histoire à  une histoire vraie.
Alors pour l'édification de Cécilia Gabizon et de toutes les amatrices de " cheveux courts ", nous redisons ici que :
Le Bloc Identitaire n'a aucun contact avec la Tribu KA.
Que ce groupe estime que la place des Africains est en Afrique et pas en Europe nous semble relever du simple bon sens [that freakins belong in Freaka, not Europe, seems simple good sense], lequel, au demeurant, est partagé actuellement par des personnalités aussi variées que Jean-Marie Le Pen, Philipe de Villiers ou le président du Sénégal. Enfin, il est possible de se demander si toute cette histoire ne sert pas finalement un Nicolas Sarkozy cherchant à  jouer, à  peu de frais, au ministre à  poigne. Car il est infiniment plus aisé de dissoudre un groupe comme la Tribu KA que de combattre l'infiltration islamiste dans
la société française…
BLOC IDENTITAIRE
http://www.bloc-identitaire.com
Contact : [email protected]
HATE CRIMES ARE FOR JAILING WHITES, NOT PROTECTING THEM
Hate crimes: reserved for whitey.
Street language ruled to be no racial slur
By Paige Taylor
September 15, 2006 01:00am
AN Aboriginal girl who kicked a woman and called her a "white slut" did not engage in racial vilification because the slur was common street language.
A magistrate from the West Australian goldfields threw out a landmark race-hate charge yesterday against the 16-year-old, saying the slur against Kalgoorlie woman Melissa Blackney was "the patois of the street".
Magistrate Kate Auty sentenced the girl to four months of intensive supervision, including 60 hours of community service, for kicking Ms Blackney during the April attack.
In a 90-minute address to the Kalgoorlie Children's Court, Dr Auty noted yesterday that the girl swore at least once during her recorded police video when she referred to a footpath as "that f..king thing there". "(F..k) is a fairly innocuous word in her argot," Dr Auty said.
The girl was 15 when in May she became the first person in the state to be charged under tough racial vilification laws brought in after white supremacists terrorised Perth with a racist poster and graffiti campaign.
Dr Auty found that the girl's one-off slur in a heated confrontation did not constitute "serious, substantial or severe" racial harassment as legally defined.
But she told the girl: "That does not mean that I find that language acceptable; it's offensive.
"And when people come in here and I find that they have called someone a black c…, I tell them the same thing."
The court heard that when the girl kicked Ms Blackney, she was being urged on by her older sister, who repeatedly told her: "You're not coming home till you make her piss."
Dr Auty was critical of the Director of Public Prosecutions and listed 26 inconsistencies in the case against the girl.
She described witnesses as argumentative, unreliable and inconsistent, and said that one had changed her story and had a selective memory.
She also did not accept the evidence of prosecution witness Ruben Brockman, who the prosecution did not charge with assault even though he was implicated in the attack.
A resident claimed to have seen Mr Brockman kicking Ms Blackney while she lay on the ground. The neighbour, whose evidence Dr Auty found credible, said he saw the girl and her sister standing back.
Dr Auty told the girl that she believed she had tried to take the blame for the attack to protect her sister and Mr Brockman.
"You tried to shield them," she said. "You probably lacked the sort of guidance you needed to have on that day."
The court heard that Ms Blackney confronted the girl and three others after she was awoken in her car by the sound of a rock denting the paintwork.
The court heard that Ms Blackney, who has signed an exclusive agreement with the Nine Network's A Current Affair, drove aggressively at the group over a footpath and had also used racist language.
The girl said Ms Blackney had mocked her, saying that Aborigines could not buy their own cars.
http://www.news.com.au/story/0%2C23599%2C20413977-2%2C00.html

THE PRICE OF SURROUNDING OURSELVES WITH NIGGERS – AND THE JEWS WHO SICCED THEM ON US
Hundreds of firefighters attend suspects' arraignment
——————–
BY MITCHELL FREEDMAN AND ALFONSO A. CASTILLO
Newsday Staff Writers
September 19, 2006, 12:03 AM EDT
As more than 200 New York City firefighters packed a Riverhead courtroom yesterday, State Supreme Court Justice Robert W. Doyle set $1 million cash bail on each of three brothers charged with the beating of fireman Richard Berkhout in Mastic Beach on Sept. 11.
After Doyle announced his decision, many of the firefighters erupted into applause.
The men each face 25 years in jail for what officials said was an unprovoked attack, and Assistant District Attorney Elana Tomaro cited their lengthy criminal records in her request to deny a bail bond. Each pleaded not guilty to the felony assault charges.
Berkhout, 46, was walking home on Lakeview Drive with his wife, Margaret, 47, around 9:15 p.m. when they saw a car speeding toward them and he shouted at the driver to slow down, according to Tomaro.
The driver, Darian Taylor, 28, of 170 Frowein Rd., Center Moriches, stopped in the middle of the narrow street, Tomaro said. Then, he and his brothers, Darrell Taylor, 28, of 356 Mastic Rd., Mastic, and Christopher James Robinson, 25, who had been released on parole from the Cayuga County jail upstate about 12 hours earlier, got out of the car and "rushed the couple," Tomaro said.
Tomaro said Berkhout jumped in front of his wife, and Robinson struck the fireman in the face with a metal object, cracking his skull. He fell, and as he lay unconscious, all three "kicked him and stomped on his head," she told the judge.
The firemen, most of whom were in uniform, were silent as Tomaro described the details of the attack, which left Berkhout in critical condition, with a fractured skull, bleeding on the brain, the loss of hearing in one ear, facial paralysis and the threat of seizures even after recovery.
The fireman, who had been at 9/11 memorial services earlier on the day he was attacked, remains in critical but stable condition at Brookhaven Memorial Hospital Medical Center.
"He was the heart and soul of the firehouse," said Danny Casey, a fireman from Ladder Company 127, which shares the Jamaica firehouse with Berkhout's Engine 298.
The three accused men, each in handcuffs, came before the judge individually. None spoke in his own defense, and each was given an order of protection requiring them to keep away from Berkhout and his wife.
Robinson's attorney, Robert Del Col of Huntington, said he was still learning the facts of the case.
"I don't dispute that the crimes in this case are shocking … who did what to whom, and when … I have none of those answers now." He said that despite the seriousness of the case, all defendants are protected by "the cloak of innocence" unless they are found guilty.
Darian Taylor's attorney, Arshad Majid of Hauppauge, said in a telephone interview that he is still looking into the case and into the statements made to police by all three defendants.
"Based on what my client has told me, he's not so culpable as some of the others. … I trust that justice will be done in this case, and that it will be fair and impartial, as it should be. My thoughts and prayers go out to the victim and his family."
Suffolk District Attorney Thomas J. Spota, who was at the arraignment, called the beating "an absolute atrocity," and said he would seek the full 25 years in jail for each of the three men.
He pledged not to plea-bargain in the case, and said he would ask that Robinson's sentence not start until he had served an additional three years for parole violation.
Spota also said his investigators were reviewing Berkhout's medical records to see if a charge of attempted murder was justified.
Joseph Miccio, recording secretary for the Uniformed Firefighters Association, said the union had notified its members of yesterday's arraignment, and urged them to come out yesterday to show their support for Berkhout.
LATEST ON WHITE BOY ATTACKED BY NIGGER, DEFENDED BY HAL TURNER
talMUDvision INTERVIEW WITH HAL TURNER, CONCERNING THE 300LB NEGRO ATTACK ON A 100LB WHITE BOY IN HIGH SCHOOL……….CLICK & LISTEN!
http://www.halturnershow.com/HALTURNERONKINGSTONTV.mp3


AFGHANISTAN: THE OTHER FAILED WAR
Afghanistan: Time for Truth
by Eric Margolis
Do not believe what OUR media and politicians are telling us about Afghanistan. Nearly all the information we get about the five-year-old war in Afghanistan comes from US and NATO public relations officers or "embedded" journalists who merely parrot military handouts. Ask yourself, when did you last read a report from a journalist covering Taliban and other Afghan resistance forces?
Now, the official rosy view is being flatly contradicted by impartial observers.
The respected European think-tank, Senlis Council, which focuses on Afghanistan, just reported the Taliban movement is "taking back Afghanistan" and now controls that nation's southern half.
This is an amazing departure from claims by the US and its NATO allies that they are steadily winning the war in Afghanistan. Or, more precisely, winning it again, since the Bush Administration claimed to have won total victory in Afghanistan in 2001. At the time, this column predicted that victory was an illusion and the war would resume in force
in 4-5 years.
http://www.lewrockwell.com/margolis/margolis50.html

HISTORY: THE YOUNG TURKS
http://www.grecoreport.com/the_young_turks_who_were_they.htm
IT WASN'T THE 'NAZIS'
Stalin's Polish victims
discovered in 'Holocaust' grave
Mass Grave of Massacred Poles Found in Ukraine
bY HALYNA PASTUSUK
Radio Polonia Saturday, 12 August 2006
KYIV — A Ukrainian government commission has concluded that thousands of people buried in a mass grave outside Kiev were killed during Stalin's purges,* not by Nazi soldiers.
The commission's conclusion supports the testimony of elderly witnesses in the nearby village of Bykovnia, who said they saw trucks dripping blood en route to the site in the 1930's, before the Nazis occupied the area.
Unofficial estimates put the number of bodies in the grave at 200,000 to 300,000.
Villagers in Bykovnia broke five decades of silence to accuse Stalin's secret police after the Ukrainian government erected a monument in May 1988 blaming Nazi occupiers for the crime. The villagers in December forced Ukrainian authorities to establish the commission, saying three previous investigations had covered up the truth by blaming Nazi troops.
Dr. Slawomir Kalbarczyk, Chief Commission for the Prosecution of Crimes against the Polish Nation, said during the international scientific conference "Archeology and Terror" conference that took place in Tallinn in November 2005:
It is worth mentioning that the Bykovnia pits did not say their "last word" and may provide still a lot of valuable information, since the Ukrainian authorities plan to carry out further exhumations there. They were to be conducted in August last year, however were postponed til this year. The National Remembrance Institute's prosecutors have been invited in the capacity of observers.
There were found in Bykovnia numerous objects, belonging undoubtedly to the Polish citizens, among others, the uniforms, military caps, knee-boots, Polish coins (including their issue of 1939), and also the objects manufactured in Poland or in the Western Europe.
Unfortunately, all those things were separated from the corpses, so they could not be attributed to any concrete persons. One thing is however of a crucial value: "It is a driver's license belonging to the person who appears on a partial list of the executed civilians, drawn up by the NKVD (those who were murdered in Ukraine).
Besides, the Ukrainian soil conceals more secrets. In 1997, the Ukrainian authorities carried out exhumations in the neighborhood of the former NKVD prison in Vladimir in Volhynien in order to check information disclosed by the local population on burial of Stalin's regime victims at that place. From death-pits there were excavated the remains of 100 persons, whose skulls had bullet holes in their rear part.
With the corpses there were many items of the Polish origin: shoulder boards of the Polish military men and policemen, uniform buttons with the image of the White Eagle, etc. Just recently, the Institute of National Remembrance has been informed that one of the investigations, conducted by the Military Prosecutor's Office in Ukraine brought to discovery in Kiev of the remains of 270 unidentified Polish officers.
In cooperation with the Ukrainian party Poles will do their very best to explain this gloomy atrocity which, supposedly, may have a certain link with the Katyn Crime. Such assumptions are justified as a trace of the prisoners murdered in Ukraine breaks off, among others, in the Kiev prison.
http://www.polskieradio.pl/polonia/article.asp?tId=40422&j=2

* Most of these mass killings were supervised by Jewish commissars!
Subtract a few hundred thousand more from the Six Million.
The threat posed by the Taleban in Afghanistan has been under-estimated, the UK defence secretary has admitted.
Des Browne said the fight had been "even harder than we expected" but insisted Nato was pursuing a "noble cause" and its mission would succeed.

http://news.bbc.co.uk/2/hi/uk_news/5358654.stm
THE ONE PLACE LIBERALS OPPOSE GOVERNMENT REGULATION: THE VOTING BOOTH
Georgia Law Requiring Voters to Show Photo ID Is Thrown Out
Fulton County Superior Court Judge T. Jackson Bedford Jr. said the law, pushed by Governor Sonny Perdue (R) to fight voter fraud, violates the state constitution because it disenfranchises citizens who are otherwise qualified to vote.
FRAUD ENABLES THE JEW AGENDA, THUS POLICING IT IS VERBOTEN.

http://www.truthout.org/docs_2006/092006G.shtml