5 September, 2006
Released: FTL for Sunday, August 3rd
Posted by alex in
Free Talk Live
,
VNN
,
White media
at 5:05 pm |

Permanent Link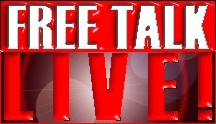 FTL is an unscripted live call-in show. The 5 hour marathon event recorded live last Sunday is available for download.
Segment 1: Guest Host Geoff Beck, James Hawthorne
ftl_09-03-06_p1.mp3 (14 MB)
ftl_09-03-06_p2.mp3 (5 MB)
Segment 2: Guest Host Geoff Beck, Alex Linder, Byron Jost, James Hawthorne, Cygnet, Craig Cobb
ftl_09-03-06_p3.mp3 (26 MB)
ftl_09-03-06_p4.mp3 (10 MB)
Please note: this show and all past broadcasts are available for free download, visit our media index.
Also, recently released from VNN Broadcasting is GoyFire 37.