11 January, 2007
BNP: "We're lovin' it on the Zionist plantation!"
Posted by alex in
BNP
,
Britain
at 12:34 am |

Permanent Link
BNPussy: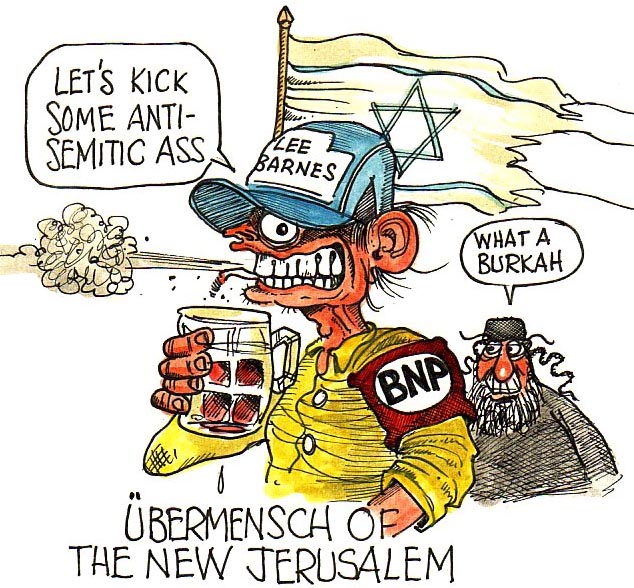 Steve,
See the extract from the BNP's latest 'Jihad Watch' bulletin below.
Where, when and by whom has Iran "openly threatened a nuclear attack on Israel"?
Some people have roughly translated Iranian President Ahmadinejad's statement as a promised to "expunge Israel from the map" but this was in the context of a restoration of the status quo ante in Palestine, not in the context of any military threat, let alone a nuclear one! [For a precise translation of what he said, see the footnote*]

The ONLY people who have mistranslated the quote and reissued it as a threat of a genocidal military attack, are the Jews and their allies.
The ONLY place I have seen it asserted that Ahmadinejad's statement threatened a NUCLEAR attack on Israel is in this BNP 'Jihad Watch' bulletin.
Does the insane, war-crime admiring Lee J. Barnes, editor of 'Jihad Watch', believe that if, as and when Iran develops a nuclear bomb it will possess a magic additional technology whereby upon detonation over the small territory of Israel/Palestine it will:
(a) vaporise only Jews and leave Palestinians unharmed; and,
(b) spread no radio-active fallout over Lebanon, Syria, Jordan, Egypt and beyond?
Last Sunday afternoon you attempted to defend or rationalise Nick Griffin & Co's increasing output of pro-Jewish, pro-Zionist propaganda as tactical "mood music" devised to convince the British electorate how "moderate" the BNP had become.
Are you really saying that in order to become "respectable" the BNP must now to recite — indeed to elaborate on — Jewish lies and Jewish warmongering propaganda?
Did the British electorate consider Israel's war last summer against Lebanon a "respectable" act? They most certainly did not. For all of Jewry's increasing — and increasingly shrill — 'Holocaust' propaganda output, Israel is far from respectable or popular in the eyes of the public, and becoming less so.
If you can in any way endorse or excuse the kind of wickedness being conveyed by Griffin and his (paid) lackeys in the BNP — or simply go mute and avert your eyes from it — then what do you and I have in common?
You cannot get off this hook by merely telling me privately: "That assertion in 'Jihad Watch' was very wrong and I disapprove of it".
'Jihad Watch' is an official BNP e-mail newsletter. Even though I understand that its editor, Barnes, is not a card-carrying member of the BNP, the bulletin is promoted via the BNP web site. The BNP publishes nothing without Griffin's prior approval.
If the BNP does not refute that lying assertion made in its name and you continue to support the party, then regardless of what you may say to me in private, in practical terms you condone and are complicit with Griffin's and the insane Barnes' grovelling to Jewish war-mongers and Israeli war-criminals. You must go on record as disassociating yourself from it.
So must a lot of other people.
Has NOBODY in the BNP got any balls? Are the remaining Nationalists within its ranks going to look away and allow themselves to be comforted and lulled with talk of "clever tactics" and "mood music"?
Your line of argument last Sunday rather reminded me of a particular pig in "Animal Farm" — I forget his name — who was charged by Napoleon, the head pig, with making announcements to the lesser animals.
When questioned about cynical reversals of the fundamental principles of Animalism, he would skip from side to side giving sideways glances while squeaking: "Tactics, Comrades! Tactics!"
At the end of the story the lesser animals peered through the window of Animal Farm one night and saw the pigs having a drunken party with their Animal Republic's supposed deadly enemies: the human owners of neighbouring farms.
The confused poor creatures couldn't tell who were the humans and who were the pigs, and so slunk away in despair
But I'm not a confused lesser animal. I CAN tell.
Martin.
=================================

From: [deleted] <[deleted]@yahoo.co.uk>
Date: Tue, 9 Jan 2007 22:55:57 +0000 (GMT)
To: Martin Webster
Subject: Jihad Watch update
From 08.01.07[QUOTE]
1. IRAN-ISRAEL NUCLEAR WAR FEARED
While the BNP opposed the Iraq war from the start, and continues to press for Britain's withdrawal, Iran is a somewhat different case. Britain itself has no business getting involved, but given that Iran has openly threatened a nuclear attack on Israel, and is building the bombs to make good this threat, Israel has the right to defend itself — as long as they don't drag us into it, of course. We may face similar lunatics ourselves one day, and cannot afford to have a consensus established in the so-called international community that would oblige us to idly sit by and watch our national annihilation being prepared.
[END QUOTE]
—
I am signed up to the list but did not receive this latest email. I only received this segment from someone else who subscribes to the bulletins.
==================================
*Footnote
WHAT AHMADINEJAD REALLY SAID:From: [email protected]
To:
Date: Saturday, December 2, 2006 9:21 PM
Subject: Giuseppe Furioso Letter to ADL

Dec. 2, 2006
c/o Anti-Defamation LeagueDear Mr. Jacobson,
[email protected]
I read your letter to the editor that was published in today's (N.Y.) Times [….]
[….] you insist that the Iranian president, Ahmadinejad said that "Israel must be wiped off the map". This is simply not true and both you and the New York Times must know that.
The correct translation of what the Iranian leader said is, "Israel's name must be stricken from the book of nations".
What exactly is this "Book of Nations" is not at all clear, but it seems to be a sort of hypothetical social registry of "respectable" nations. One thing is certain, and that is that it is not the exhortation to genocide that you and our media and political elite have deliberately represented it to be.

[….]
giuseppe furioso
[email protected]