8 January, 2007
Review: 'The Good Shepherd'
Posted by alex in
Antonio Fini
,
movie reviews
at 12:44 pm |

Permanent Link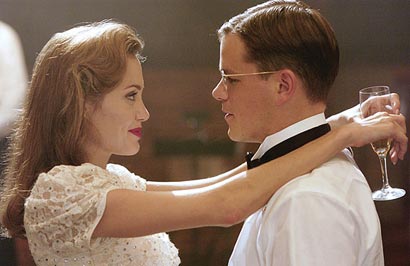 By Antonio Fini
All the shots I take; what difference do I
make? -Metallica
I am the good shepherd. The good shepherd giveth his
life for his sheep. -Jesus
ANGLO DECAY IN POST WAR AMERICA

Does Yale University's notorious Skull and Bones
Society covertly rule The United States?
Is the CIA run by a bunch of ivy league frat boys who
join a secret club by wrestling naked in mud?
Beats me.
But these are questions we should all ponder.
The Good Shephed is Robert Deniro's second directoral
effort. Ten years in the making, the film chronicles
the adventures of a real life spymaster and Skull and
Bones alumnus who bore the unlikely name of James
Jesus Angleton, called Edward Wilson in this film.
Three hours long and shot in a drab color photography
that verges on black and white, the film has a power
and gravity equal to classics like Taxi Driver and The
Godfather. Matt Damon fills the title role and in his
spy uniform of khaki topcoat and slouch hat he appears
in nearly every scene, deadpanning his lines with the
barest of emotion. An acting teacher of mine once
observed that Damon has no technique- the result of
neglected training. But this shortcoming suits him
perfectly for the role of Edward Wilson, the
bespectecled technocrat who murders without feeling.
The story opens opens with the disasterous failure of
the Bay of Pigs invasion which the film attributes to
CIA blowback. A mole in the system leaks American
invasion plans to Castro, or as the spooks aptly put
it : "There's a stranger in our house."
Blame and suspicion for the botched operation fall on
director of counterintelligence Edward Wilson. The
plot then turns to flashback wherin we see the young
Wilson as a poetry major at Yale University, circa
1939.
Wilson accepts an invitation to join Yale's notorious
Skull and Bones Society, and what follows is a
disgusting initiation ritual involving nude wrestling
whilst senior members urinate on the contestants. The
few Bones initiates who have talked confirm this is an
accurate depiction of real Skull and Bones activities,
but binding club members together in mutual
degradation offers certain advantages. Both Bush
Presidents are Bonesman, as was Presidential candidate
John Kerry, Neocon Govenor of Iraq Paul Bremer, and
many key players in the CIA.
Wilson's new connections lead to a spot in the OSS,
precursor of the CIA, and we glimpse a long gone era
where a U.S. Army general (played by DeNiro himself)
can tell a recruit that he's building a nice
respectable spy service, free from Negros, Jews
Catholics and other troublemakers. All in the family,
as it were. Soon Wilson is off to England to fight
Nazis and learn the black art of counter-intelligence.
He leaves behind a pregnant wife who he married out of
duty, abandoning his true love to do so. And here
Wilson begins to emerge as a character driven by a
combination ambition and robotic dedication to duty.
Joe Pesci has a cameo as a mafia don recruited by
Wilson to assasinate Fidel Castro. Seeking to
understand why Wilson serves the corrupt Kennedy
administration he asks: "The Irish have their
homeland. Us Italians have our families and our
church; the Jews their traditions- hell even the
niggers have their music; so what do you people have?"
You people, of course meaning the old line Anglo
Americans who ran the system.
Wilson's unflinching answer: "We have the United
States of America. The rest of you are just visiting."
So what happened to this pale hued warrior tribe, once
so fierce and cold of blood?
The modern Bonesmen now recruit Hispanics, Homos and
Jews into their ranks and proudly stand for diverity,
immigration and Israel.
Maybe it was simply modernity. The combination of
proliferating nation states separated by vast
distances and armed with rapidly evolving
supertechnologies. The world grew too compicated, too
fast and mere mortals lost their values in trying to
cope. The lust for security and dominance made them
evil in the pursuit of both.
Machiavelli once observed that men in power first seek
to secure themselves against attack, then turn to
attacking others.
But the Good Shepherd offers a different explanation.
Our elites lost their way when they lost their sense
of family, the larger racial family from which they
and their country sprang. Wilson betrays his wife and
his son, discards his mistress, arranges the murders
of his teacher and his future daughter in law, and at
last cuts a deal with Soviet intelligence to save his
own neck. He cares for nothing but his priveleged
place in a rotten system.
The bargain of betrayal is a matter of tading the
bonds of honor and blood for those of power and greed.
Finally the elites, be they ivy league CIA officers,
or the Presidents who command them, serve nothing-
except the other elites. Like Wilson, they will find
out too late they have let a stranger into all our
houses.