13 February, 2007
Rise of Cuntry: Some Bums Never Change Their Underwear
Posted by alex in
Alex Linder
,
country music
,
country music today
,
Cuntry
,
spintros
at 7:32 am |

Permanent Link
Tory men and liberal principles, as they said in the old days. So it is with modern cuntry. Same old Jew York Agenda, sluice it e'er so mellifluous from the lips of the uncouthest jerkwatery pluckerin' hick. Ah, who're we kidding? We're all actors nowadays. Empty heads, but damn they look good. We say all the right things, on cue, perfectly. Player people, we're. AmeriKwanus Sovieticus, to be linnaetically correct.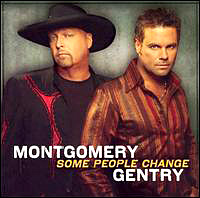 Montgomery Gentry is not a toothpaste but a pair of faux Southron good ol' boys who jimmy jam and crock out like nobody's big business. And you know what? These boys ain't afraid to take a stand, all Rebel-like. Well, sort of. These neo-rebels are against paleo-rebels. Against their own kith and kind. Just ask them. They'll sing you their answer.
His old man was a rebel yeller,
Bad boy to the bone, he'd say,
Can't trust a color'd feller
He'd judge em by the tone of their skin,
He was raised to think like his dad,
Narrow mind and full of hate,
On the road to nowhere fast,
Till the grace of God got in the way,
Then he saw the light,
and hit his knees and cried and said a prayer,
Rose up a brand new man, left the old one right there
Ain't that purty? Naw. It doth stinketh of taint. Maybe that old rebel yeller hoped his son would grow up to be a man. Maybe he'd seen more than one Channon Christian in his day. Do you know what happened to her and her date? Not if you watch Kinky Kikeman's Globorap. If he hoped for something other than semitically correct cowards in his sons, that poor old rebel yeller was disappointed.
"Some people change" has got to be the most puke-inducing rerecorded song in recent history. You know what doesn't change? The jewish mass media's need for Aryan sellouts to put a White head on a black sepulcher.