13 February, 2007
Rise of Cuntry: That High Fulsome Self-Pitying Whine
Posted by alex in
Alex Linder
,
country music
,
country music today
,
Cuntry
,
spintros
at 5:41 am |

Permanent Link
Isn't he the cutest little neo-Namian you ever did see?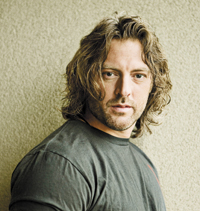 Don't you want to take him home and feed him butter?
For every zig in "our" foreign policy, a failed alt-rocker is detailed by Cuntry Command Central to pen a zig in our popgeist. Latest on cunt-front is whining about Iraq's underappreciation of our American-delivered liberation. Those dirty Iraqis just don't care anymore, whinges Whoreley. Maybe they're too busy burying their dead family, Douchebag Darryl, you self-involved Patrio-putz. He just came back from a war, you see. AmeriKwans are not to be judged by any objective standard; they're AmeriKwans – whatever they do is good, helpful, liberating, and desired by all those who know what's good for them. And the rest are terrorists. Does this make sense? Not to me, but I'm a member of that rarest group, the Adult-American.
Read these lyrics:
I said, "I just came back from a place where they hated me and everything I stand for;
A land where our brothers are dying for others who don't even care any more.
Now do you understand what I say when I talk about how Americans have come to think like jews? This lyric is about as clear a representation of the I-can-do-no-wrong mentality as you'll find. Two million Iraqis dead, what's that against vets with hurt feelings?
Cuntry war profiteer Worley is perhaps fourth only to Israel, Halliburton, and Toby Keith, as beneficiary of our ongoing disaster in Iraq/Afghanistan/Iran? A few years after 9/11, he came out with "Have you forgotten?", no dry hole, to be sure.