18 March, 2007
Chagas Now in L.A. Blood Supply – Thanks, AIPAC
Posted by alex in
health
,
jewed immigration policy
,
medicine
,
Mexcrement
,
Mexico
,
Mexinvasion
at 7:54 am |

Permanent Link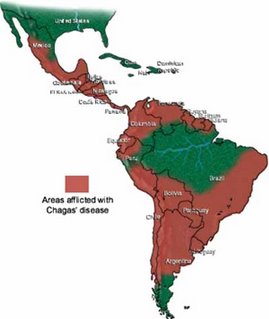 Another reason our politicians ought to have their heads cut off. The Mexican invasion they have allowed due to their complete and total subservience to the diversity-favoring jewish lobby is now costing real Americans their lives, as their internal organs, infected with lethal bugshit, explode.
Who the fuck voted for this? Nobody. America isn't ruled by the majority, it's ruled by jews.
Parasite is a growing concern for healthcare professionals
One in 3,800 donors in the L.A. area tested positive for Chagas, a deadly disease that is mainly found in Latin America.
By Rong-Gong Lin II, Times Staff Writer
March 15, 2007
A little-known but potentially deadly parasite from Latin America has become one of the latest threats to the blood and organ supplies in the United States, especially in Los Angeles, where many donors have traveled to affected countries, health officials say.
Last year, two heart transplant patients at different Los Angeles hospitals contracted the parasitic disease, called Chagas, causing health authorities to issue a national bulletin. Within months, both patients subsequently died, although not directly from Chagas, according to the U.S. Centers for Disease Control and
—-
FOR THE RECORD:
Chagas disease: An article in Thursday's California section about a potentially deadly parasite threatening the U.S. blood and organ supply said that HIV, which blood banks screen for, shows up in one of every 30,000 blood donors. In fact, HIV shows up in one of every 30,000 first-time blood donors; among all donors, including repeat donors who have previously tested negative for HIV and are thus less likely to be infected, the virus is found in one in every 300,000. —

—-
The parasite, which is generally passed to humans from a blood-sucking insect that looks like a striped cockroach, can feed over years on tissues of the heart and gastrointestinal tract. After decades, tissues can be eroded so much that the organs fail.
Insect transmission of the parasite in the United States is rare, but public health and blood bank officials have been concerned about its increasing prevalence in the blood supply.
In 1996, using an experimental test, the American Red Cross found that one in 9,850 blood donors in the L.A. area tested positive for the parasite, Trypanosoma cruzi. Two years later, it was one in every 5,400. By 2006, a more refined test detected the parasite in one in 3,800 donors. About 10% to 30% of infected people develop symptoms of chronic disease, experts say.
By contrast, HIV, which blood banks screen for, shows up in one of every 30,000 donors, said Susan Stramer, executive scientific officer for the Red Cross.
If caught early, strong anti-protozoal drugs such as nifurtimox can bring the parasite to undetectable levels or, in some cases, eliminate it entirely.
If the parasite is given the chance to multiply over years or decades, however, those infected may have to be treated with heart-regulating drugs or get a pacemaker or heart transplant.
The U.S. Food and Drug Administration approved a test suitable for widespread screening in December. Blood banks have now begun systematically checking their supplies for the Chagas parasite.
By late January, the American Red Cross and Phoenix-based Blood Systems, which collect about 65% of the U.S. blood supply, had started screening blood for T. cruzi. Other banks, including the Blood Bank of San Bernardino and Riverside Counties, have no immediate plans for screening but are monitoring test results from banks that are using the test. In late February, the CDC reported that the "FDA is expected to recommend implementation of the test by all blood-collection establishments."
No organ donors in the United States are now being screened for the parasite, although the organ procurement agency that covers much of Southern California plans to begin testing some donors in mid-April. At first, the screening will be focused on people who have lived in or traveled to rural parts of Latin America, said Thomas Mone, chief executive of the agency, OneLegacy.
In Latin America, about 10 million to 12 million people are believed to be infected with the Chagas parasite. As many as 1 million of them are expected to die from the disease unless there are advances in treatment, according to Dr. James Maguire, a University of Maryland expert on the disease.
"Chagas is very, very prevalent in South and Central America," said Marek Nowicki, a USC blood-disease expert who studied the effect of Chagas on the Southern California organ supply with the National Institute of
Transplantation.
"The number of [immigrant] Latinos in Southern California, Texas and other parts of the United States are growing, but especially in L.A., a large proportion of organ donors are Latino," Nowicki said. "They're basically bringing with them the disease prevalence in the area they used to live."
The problem is not limited to immigrants. Tourists, too, can be carriers. The heart transplant cases in Los Angeles last year illustrate the problem.
One donor was a native of El Salvador living in Los Angeles, and the other was born in the U.S. but had traveled to Guadalajara, Mexico, where T. cruzi is endemic.
Richard Edward Russo, then 73, received the heart from the Salvadoran native. The Burbank retiree appeared to be recovering nicely last year when, several weeks after his transplant at St. Vincent Medical Center in Los Angeles, he developed a fever and a rash. He complained of being tired and couldn't eat or walk.
About the same time, a 64-year-old man developed similar symptoms after receiving a transplant at UCLA Medical Center. He had received the heart from the American tourist.
At both hospitals, doctors submitted the patients to a battery of tests, concluding separately that they had Chagas.
The CDC sent anti-parasitic medication out from Atlanta. The drug reduced the parasite in the blood of both men to undetectable levels. But Russo never got better, his wife, Carolyn, said. He suffered from other hospital-acquired infections and had pneumonia at least twice.
"It just went downhill," she said. Russo died in June 2006.
As a result of the cases, the CDC last summer warned doctors that the prevalence of infection might be higher
than previously thought, especially in areas like Los Angeles County.
Chagas is a clear reminder that "diseases don't have geographic borders anymore," said Dr. Suman Radhakrishna, an infectious diseases expert in Los Angeles who helped treat Russo. Doctors need to be "cognizant that diseases happening elsewhere in the world can happen in our backyard too." [Translation: When you let third-world turd people into your country, you let in their diseases too.]
Another disease, cysticercosis, caused by tapeworm larvae, is believed to cause as many as 10% of the seizures reported to large urban emergency rooms in California and New Mexico. Dr. Ashok Jain, a USC emergency room doctor, said the figure may be as high as 20% at Los Angeles County USC Medical Center.
It is spread through ingestion, not the blood or organ supply.
"When I was in Cook County in Chicago, I didn't even know it existed," said Jain, an associate professor of clinical emergency medicine at USC. "Then I came to L.A. County … and oh, God, there were so many cases."
Diseases like Chagas and cysticercosis have emerged as an issue for some opponents of illegal immigration, who argue that exotic diseases are often spread by illegal immigrants.
"Curbing illegal entry will diminish the problem of exposure to such diseases because legal immigrants are medically screened to protect the U.S. public," said Jack Martin, special projects director for the Federation for American Immigration Reform, an immigration control group.. [The no-shit argument]
Public health officials say the migration of diseases has always been an issue — and is especially so today, in an increasingly mobile world with a global economy. Many urge caution, not alarm.
"I don't want people to overreact, but I don't want people to ignore it," said Victor Tsang, chief of the immunochemistry lab at the CDC's Division of Parasitic Diseases. "The more we pay attention to it, the better off we are."
[Original]
california
Chagas Disease Proliferating – SoCal Headed To 'Hell'

From Patricia Doyle, PhD
3-16-7
Hello Bert,
Thank you for the article below. Given the fact that illegals from Chagas infected regions are flooding into the US every day, I think that we are going to see a full scale public health crisis in many areas of the US within 7-10 years.
Not only will public health officials become overwhelmed but hospitals will be forced share in this nightmare. I do not see how hospitals and the taxpayers are going to pay the bills of a Chagas-infected population. South and Central America are experiencing this very health crisis now.
Illegals are flocking into the US as 'workers.' There comes a time when a Chagas-infected person becomes unable to work. They then become in need of expensive, permanent medical care. The George Bush 'administration' is so shallow that it hasn't even begun to calculate the price of this 'CHEAP'(?) labor. Those who go onto the chronic stage of Chagas and the heart or colon problems will be unable to work and in need of assistance.
The local US kissing bug species have now demonstrated their ability to carry and vector the T. Cruzi parasite. These triatoma bugs have colonized homes and spread the parasite to local small animal populations and, as we saw in Louisiana, infected a 74 year old victim in her own home in New Orleans. Dogs, armidillos and other small animals serve as reservoir for the disease. This fact should have "served notice" that Chagas is capable of local spreading in the US. Triatoma bugs can be found in southern to mid latitudes in the US. These bugs can be found as far north as Maryland. There have been organ recipients who contracted Chagas from transplants and cases of simple blood transfusion transmission. Health authorities are not screening blood for Chagas.
Public health law would allow the government of the US to close down the border and stop anyone from entering the US from Chagas-infected regions. It is obvious that the US government is more concerned about 'cheap' labor for corporations and business entities than concern for the public health of its citizens. Furthermore, US the taxpayers will, as usual, receive the bill for medical care of Chagas infected, and the cost for Public health trying to deal with a crisis situation in the near future, let's say 2012. And what a bill that's going to be.
I just don't understand why, when we have a chance to stop the Chagas spread in the US, WHY are we not closing the borders? Deporting anyone who is infected with Chagas? This is a matter of the most basic common sense public health. This could just be the next pandemic and we have the power to stop it before it really gets rolling.
Once we allow the genie that is Chagas out of the bottle, there is NO stopping it. The CDC is misleading the public by calling Chagas a disease of poverty and poor living conditions. That's a lie. People from all walks of life and socioeconomic groups throughout Mexico, Central and South America have contracted Chagas. By telling Americans that the disease is one of poverty we are being lulled into believing we are immune to Chagas.
Well, kissing bugs can colonize any home.
In Texas, triatoma bugs were found living under patio blocks. 24 of 31 triatomas were found positive for T. Cruzi. We have the vector, we have infected small animals and the vector had colonized homes within the US. This tells me we have a problem; we have conditions locally that favor Chagas spread within the US. Why are we allowing an influx of Chagas-infected people to continue to flood into the US, and do so ILLEGALLY?
2008 Presidential election is not far away. We need to DEMAND that prospective candidates take a stand on illegal immigration. If the current candidates won't take a stand than we need to find an anti-illegal immigration candidate who will.
Patricia
[Original]