14 April, 2007
The Deification of Jackie Robinson, Who Helped Jews Destroy the Negro Leagues, is Unmeet
Posted by alex in
Alex Linder
,
baseball
,
judeo-communism
,
sports
at 9:58 pm |

Permanent Link
Sports is politics by other means.
By Alex Linder
The past few years have seen Major League Baseball (MLB) attempt to turn the first black MLB player into a saint, nay, god. It's another example of judeo-communism, American style.
Jackie Robinson Day (April 15) is baseball's MLK day – the day on which baseball does its part to celebrate federally forced race-mixing. After Ken Griffey, black, petitioned jew Bud Selig to wear Robinson's number, many other players followed suit, including the rosters of at least six full teams. All players will sign their jerseys after Sunday's games, and turn them over to the Robinson foundation to be auctioned, whether they want to or not.
There is no record of the Robinson foundation giving any money or help to White children. In other words, it is a racist foundation following exactly the same policy of exclusion that MLB did in the decades it was controlled by Whites.[1] (Not that MLB prevented blacks from stealing the White man's baseball, setting up their own leagues, and profiting from them. Not a single black or jew has invented a sport that White men play for tens of millions of dollars a year. Keep on denouncing White racism, hypocritical jews and janitors.)
Under judeo-communism, jewish racism and black racism are celebrated in the media and enshrined in the law – but White racism is denounced as 'hate.' White organizations are illegal. Equal protection under the law? It does not exist.
You begin to see why White Americans sought to protect themselves from blacks and jews, don't you? The jews and coloreds complain about racism and discrimination while practicing it themselves. They are hypocrites. They maintain private segregated institutions, usually funded in part or whole out of White pockets, while demanding full and more-than-equal access to public institutions. But when it comes to Whites, the jews and blacks flip and demand that Whites be legally prevented from organizing their own racially exclusive political and social groups.
The general principle here is that everything Whites do and produce must be open at all times for jew-black inspection, consumption or confiscation. Whites living in a jew-produced democracy have no rights against jewish or black demands.
They call it civil rights, but genocide is its true name.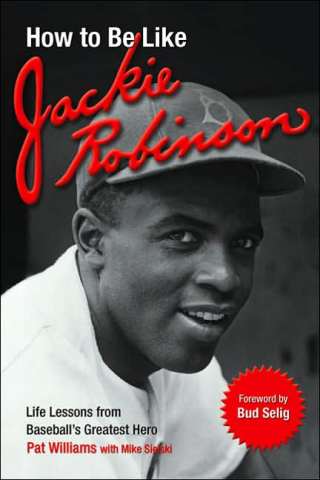 Every single announcer employed by MLB teams gushes over Robinson and what a hero he was, and what a noble struggle he fought and represented. Departure from the Party Line is as unthinkable as laughter during a Stalin harangue.
Whites should see Robinson, his career, what he represented, and those who used him, in a different light, in a, shall we say, White light.
The following are facts that are left out of the Robinson legend, in order to cleanse and simplify it for saps in the reclining pews.
– Robinson's father abandoned his family. (This was less common among Blacks before the "civil rights" era Robinson helped usher in. Thomas Sowell,[2] the black academic, has documented that black lives were improving faster by virtually every index before 'civil rights' than after it. Yes, that is the exact opposite of what you hear from the jews on tv. Yes, it is true. Races do better among themselves.*)
– Robinson's son was a druggie. Robinson may have been closer to being a good nigger than others, but his own bloodline shows he's the exception rather than the rule. Whites excluded blacks from their society because they were so many Robinsons. It was an exclusion rational, reasonable, and moral.

– Robinson was a criminal and gang member.
– Robinson broke the law while he was in the military, by refusing a legal order to move to the back of the bus. This is treated as an heroic move on his part, but that assumes that the laws enforcing segregation in the military as in broader society were invalid and immoral. In fact, they were neither. And in any case they were the law. Blacks were segregated from Whites for reasons of military effectiveness and social harmony – reasons that today's jew-controlled media cover up and deny in order to preserve the charade that civil rights and integration, their euphemisms for mixing-races-at-gunpoint, are good things. When you mix blacks and whites, you get Channon Christian corpses. That is the everday downside of 'civil rights' – and it is a downside the jews producing what you see on tv never, and I mean NEVER, acknowledge. It is a downside that outweighs the upside, seeing as how tens of thousands of Whites have been murdered by blacks since the jews pushed through race-communism in the sixties. In fact, it isn't a downside at all – it's genocide. Planned genocide. Courtesy of the jews…
– Robinson supported Malcolm X. Homosexual pimp and street hustler X hated Whites and called for their racial destruction. Why are jews and blacks who advocate White genocide called heroes while those who advocate their defense are called evil? Whites didn't get 40,000 jews murdered by blacks – jews got 40,000 Whites murdered. How come you don't know about this 'Dirty War'? Why doesn't Steve Bornstein, the jew who runs ESPN, tell you?
– Robinson was not the first Black professional baseball player in White leagues. There were others in the minor leagues dating back to the 1870s, the very beginning of professional baseball. Blacks were not liked, but here and there black individuals were tolerated. By contrast, no white player not good enough to make the Major Leagues but good enough to play in the Negro Leagues was ever allowed to.
– Robinson was given the Congressional Gold Medal in 2003, and the Congressional Medal of Freedom by Ronald Reagan during his term. Proving yet again, although it isn't necessary, that anyone called conservative after 1980 isn't. Appeaser, collaborator, Jew-tool are the right terms. Jews write their speeches, jews select the "narrative" chosen to represent history, the useful Reaganimatronics serve as the public faces out of which pour jewish Big Lies. The cost of gunpoint race-mixing is the lives of tens of thousands — tens of thousands — of Channon Christians and Chris Newsoms. They don't have Days, just graves. The lie that gunpoint race-mixing is good can only be sustained with hagiography, false history, and news blackouts.
– Robinson entered Major League Baseball in 1947; the Negro Leagues were disbanded in 1949. So those who say that Jackie Robinson was good for blacks are also saying that they believe the destruction of the Negro Leagues was good for the black race. The Negro Leagues were one of biggest entertainment draws for urban blacks in the first half of the 20th century. Integration, or gun-point race-mixing, destroyed all that. No more black owners, players, or income. All down the drain.
The kicker? Today there are fewer blacks in professional baseball than at any point pretty much since Robinson's arrival. ESPN, which styles itself the world sports leader, regularly bemoans black absence from baseball. To express concern about White numbers in any sport is of course racist, but ESPN cries around the clock that MLB rosters are only 9% black. The conceit is put forward that blacks simply aren't choosing baseball – it being understood that blacks are the best athletes.[3] They just prefer basketball and football. The facts are otherwise, but the facts never get in the way of the lying jews who produce ESPN.
Whites who celebrate Jackie Robinson Day celebrate nothing less than their race's cultural destruction and genocidal dispossession at the hands of lying, conniving jews.
______________
[1] At this link you can read about the Robinson Foundation's mission: Perpetuating the legacy of Jackie Robinson by providing scholarships and leadership development for minority youths. (Bolding and underlining added.) This means that Major League Baseball, under the leadership of the jew Bud Selig, forces White players to subsidize an organization that racially discriminates against their own children. Whites are 8% of the globe's population, and as Bud Selig, who is a jew, says in every single interview, baseball is more popular today than it ever has been — and more global, stretching from South America all the way to Korea. So the RF scholarships are carefully reserved for the 92% minority and denied to the 8% majority of the global population that is White. Jewish math, itz.
[2] Sowell must be read with caution; the reader must carefully sift the facts he unearths, which are reliable, from his interpretations, which are a mixed bag. He is a neocon trained by jews, and will not or does not see that the 'civil-rights movement' was produced by jews for jewish ends; that the movement was never intended to raise blacks but to destroy Whites.
[3] Baseball was "the" sport in the first half of the 20th century. If it were true that blacks are the best athletes, as the jews lie, then Whites would have been trying to get into the Negro Leagues, rather than vice versa. But the Negro League never even kept statistics, so what ESPN asserts about the achievements of blacks never allowed to play in the Major Leagues is unsubstantiated rumor repetition. As in broader society, once White superiority is denied theoretically, racism or some other black-flattering non-explanation is what remains. The fact is that Whites are better at baseball than blacks. The jewish Big Lie is that the best athletes are blacks who prefer other sports to baseball. But you never hear ESPN say that the best White athletes choose baseball over football or basketball. Whites can't win. As long as jews produce our sports and our politics, Whites will be portrayed as second-raters and bigots.
-c2007 CounterGresham Publishers, Inc. No rights reserved. Plagiarists and reprinters for commercial profit welcome. "Let the good drive out the bad."