13 April, 2007
The Rise of Cuntry: Queaf Suburban and "Stupid Boy"
Posted by alex in
Alex Linder
,
country music
,
country music today
,
Cuntry
,
media criticism
at 3:32 am |

Permanent Link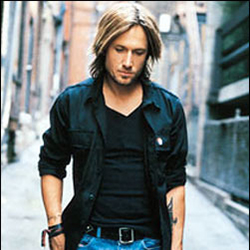 In 2002, People magazine named Keith Suburban the "sexiest he-sheila on the planet."
By Alex Linder
It would be hard to come up with a more Semitically Correct song sung by a more Semitically Insipid singer than "Stupid Boy" by Keith Urban. Before we look at the song, though, let's examine the artist. Pardon me, chartist.
Keith Urban is an Australian whose every song is pitched to Today's Woman, as long as she's middle class and into romance books in aural form. Urban might as well be Suburban. His songs aren't so much bad as blah. They are unvaryingly uninteresting. They all seem to involve car trips, too. Some are upbeat, some maudlin, all are lukewarm. As you can see from the pictures, he's working the girl-with-a-dick angle, and working it hard. And successfully. This guy has sold more records than Jesus and Yanni combined. Look at the hair. The tats. The cut of his under blouse. The wrist wraps. The – ugh, that's enough. Women just luv the smooth-hewn bad boy, if record sales are to be believed. Just so we get our context right, let's record that Keith yodels for Capitol Records, which is the Nashville storefront for New York's EMI, which is one the "big four" companies controlling the music industry. The chance unfiltered emotion would make it through EMI's filter is precisely the same as the chance of unfiltered political thought making it onto Fox.
Keith fears the results of his mammogram.
Women, taking one with another, are humorless and safety-loving. They see no reason to depart from the norm. They understand neither freedom nor aesthetic impulse. Women like rounded corners – on everything. It's safer that way. Great essays have been written on the airstreaming of society, which is another term for feminizing. Take anything: the Imus imbroglio. Listen and watch the women commentators on tv. The only one who grasps that man, as in mankind, needs space and freedom to make new beautiful things, and that this inevitably involves mistakes and bruises and bad things, is Rosie O'Donnell, decidely mannish in size, thought and tastes. It is utterly lost on the rest of the shuddering uddered.
Women do not understand freedom, and that is one reason why the society that polls their political opinion is degenerate. You cannot love safety without hating freedom. Women are genetically programmed to communicate with other humans; to build emotional bonds; to create families; to see that there's enough good feeling to lubricate the rough stretches and keep life worth living. But that need/capacity/instinct, when removed from the microcosm of the family to the macrocosm of the body politic becomes as dangerous as fire outside the fireplace. Women are not built to understand the effect of their maternal impulse freed from its domestic confines, writ large across society. Their urge to safety and good feeling ultimately endanger us all if not confined in their proper sphere. Women require external limits because they, most of them, are too myopic to see that the extension of family-love globally opens their kind to genocidal predation. Like everywhere else we see that one thing, fierce family love, can easily produce its opposite: family destruction.
Today the maternal impulse is driven out of the home and into the marketplace. Hence we have a society obsessed with non-dangers such as second-hand smoke, and not worried at all about real dangers such as first-hand simians. We're so backward today that we celebrate as positive goods the very jungle creatures that have murdered civilized White society, and gulp semitic toxins like they're tonics. The things we call good are bad, and bad, good. The world is upside down. Just turn on your tv.
How does this relate to Keith Urban? It doesn't much. It's a tangent. And we're back.
Queaf Suburban's role in the farce is as a purveyor of narcopop masquerading as country. To the extent his music is political, it's in the "woman can do no wrong" vein. "Stupid Boy" is the quintessence of this type or category of "country" song. In fact, it's scarcely more a song than a teletype from Western Union. The guts of the song is: another strong woman laid low by her weak, evil boyfriend – until she realizes she can escape and live her dreams. Ah, but read the lyrics for yourself:
Well, she was precious like a flower
She grew wild, wild but innocent
A perfect prayer in a desperate hour
She was everything beautiful and different
Stupid boy, you can't fence that in
Stupid boy, it's like holding back the wind
She let her heart and soul right in your hands
And you stole her every dream and you crushed her plans
She never even knew she had a choice and that's what happens
When the only voice she hears is telling her she can't
Stupid boy, stupid boy
Oh
So what made you think you could take a life
And just push it push it around
I guess you build yourself up so high
You had to take her and break her down
She let her heart and soul right in your hands
And you stole her every dream and you crushed her plans
She never even knew she had a choice and that's what happens
When the only voice she hears is telling her she can't
You stupid boy
Oh, you always had to be right but now you've lost
The only thing that ever made you feel alive
Yeah, yeah
Well, she let her heart and soul right in your hands
And you stole her every dream and you crushed her plans
Yes, ya did
She never even knew she had a choice and that's what happens
When the only voice she hears is telling her she can't
You stupid boy, oh, I'm the same old
Same old stupid boy
It took awhile for her to figure out she could run
But when she did, she was long gone
Long gone, long gone
Ah, she's gone
Nobody's ever gonna love me like she loved me
And she loved me, she loved me
God please, just let her know
I'm sorry, I'm sorry
I'm sorry, I'm sorry
Baby, yeah, I'm down on my knees
She's never coming back to me
The low quality of the lyrics is every bit as predictable as the political content.
She let her heart and soul right in your hands
And you stole her every dream and you crushed her plans
What kind of lyrics are these? A computer would be ashamed to generate this crap.
No wonder Keith Urban had to go to rehab. No artist writing/singing the above with one scintilla of self-awareness could regard himself as anything other than a complete tool. And drink drink drink until the feeling went away.
Strong women…, we hear from every loudspeaker. Well, if they're so strong, how come they crush so easily?
Do you see how these kind of System lyrics dovetail with System stories in other sectors? One of the Rutgers, cough, women, said she was scarred for life by Imus' insult. I was scarred for life, too. Not by one of the six million insults I've received, but by getting my hand caught in a conveyor belt. Sniff. I'm going to put on a Keith Urban record and have me a cry. Welcome to Pussy World, the most sensitive place on earth. I suppose a nation that takes basketball-playing girls for entertainment will take Queaf Suburban for music.
Allowing the jews to build a society around wimminnows and their fleeting velleities is insane. It makes for a society at once stupid, mediocre, dull, and violent.
Contradictions don't bother women. Neither does unearned privilege. Women tend to take things at face value. They are fully capable of believing they're braving Arctic winds when in fact they're hothouse flowers.
Many, many women believe the Giant Lie judeo-society feeds them that they are capable of male levels of accomplishment, when this is only rarely the case, and then only in certain areas. And if women aren't intelligent enough to perceive they are receiving preferential treatment, they sure as hell are going to resent others pointing it out, and resist their repealing that privilege, and readily adopt the conventional (read: tv-broadcast) term and label for the realiteers – 'haters' or 'misogynists.'
The jews realize that if they pump enough Kweafenbilge for enough decades, resistance will be futile. A privileged class that actually believes it is discriminated against will resist any attempted redress on the part of the truly dream-crushed – which is any White male attempting to make headway in any non-technical area of society. Which is in no way to deny the discrimination White males face in areas like engineering, which is very real. Two generations of White liberal-arts talent have been sacrificed, and that is long enough to shear true culture at the roots. The results of this genocide can be found on a bookshelf or radio or tv near you. Nothing but Semitical Correctness emanating from boring-ass jewed-out whores as far as the senses can record.
Even if Keith Urban's songs were honestly derived and devised, and maybe some of them are, I've only heard his singles, there would be no counterbalance. Just as Harold Covington has written that fictional women must be strong and independent for the male author to make it through the feminist gatekeepers in New York, so must they be in lyrics for the male songwriter to make it through the feminist gatekeepers in Nashville. The giant country labels are every bit as judaized as the giant book houses.
Country is the morning after rock's night before. Where rock means glorious dissolution, country means drawn-out pain.
Who feels the pain these days? White men whose wives have stolen their children. White men working two jobs to pay child support to a mother with a new boyfriend.
Men buy records too. Where's their Keith Urban, recording their emotional response to the world as they found it?
I don't know. My guess is it's not there. It could have been there in the olden days, but divorce wasn't so easy then, and society recognized women could be evil too. So there were songs about cheating women, but not women initiating divorce on a whim, running off with the kids and former husband's paycheck.
Today's country is divorced from reality. It may be sung note-on by hardonesses but ain't much in it real. How come there aren't any songs about family court screwing the guy? Or Child Protective Services stealing the children?
These things are out there. Millions, yes, literally millions of men and families have experienced them. But they are completely unreflected in the popular music produced for White people, which in 2007 is labeled, by the jews who produce it, "country," even though it's a catchall including rock and pop.
By the way, Keefer, you can fence in a flower, although I'm not sure why you'd need to. They don't move. Enjoy your millions. I'm sure they slightly more than make up for the abuse you must get from your mates in Oz.
-c2007 CounterGresham Publishers, Inc. No rights reserved. Plagiarists and reprinters for commercial profit welcome. "Let the good drive out the bad."