29 April, 2007
The United States Government is Illegitimate
Posted by alex in
Alex Linder
at 1:16 pm |

Permanent Link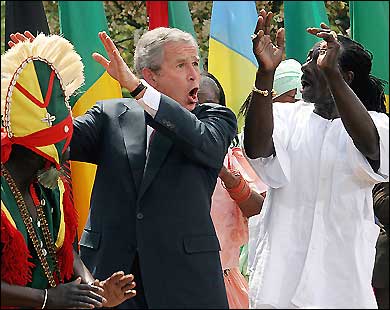 US President George W. Bush dances with members of the Kankouran West African Dance Company, following a speech on Malaria Awareness Day in the Rose Garden of the White House in Washington, DC.

Whether it's the president disporting himself with monkeys…
Former CIA director George Tenent's pathetic mea culpa about his role in foisting a pack of lies onto the American public is bad enough, but it is beyond the pale to learn that Dick Durbin and the other Democratic senators of the (Democratically controlled) Intelligence Committee knew the claims against Iraq were bogus, yet said nothing about it.
[Article]
Or the disloyal "opposition" playing along with lies that get thousands of Americans killed…
"We are seeing second generation MS-13 members and MS-13 recruitment is increasing. We also see signs of a more formal criminal structure developing within MS-13, both in the United States and in Central America." [Article]

Or both parties knuckling under to "good for jews" immigration policy resulting in ultra-violent MS-13 gangsters in 42 states…

…the United States government has forfeited its legitimacy and must be replaced by a government of Aryans honest and brave, committed to forming a state that protects the interests of Whites.