13 June, 2007
JUNE 16th RALLY IN KNOXVILLE, SAME PLACE AS BEFORE
Posted by alex in
Knoxville rally
at 6:30 pm |

Permanent Link
I-40 to Hensley exit leads you right down to the action.
I will be there since I missed my own!
Everybody's welcome, same dress code as before, look sharp.
Rally's from 1-3pm this Saturday, with pickets before (below).
Again, that's the courthouse on Main.
Questions, contact organizer Ken Gregg at [email protected]
Yellow Journalism 101: Knoxville's WBIR Channel 6 Publishes Hit Piece On Upcoming June 16th Christian-Newsom Memorial Rally In Knoxville, TN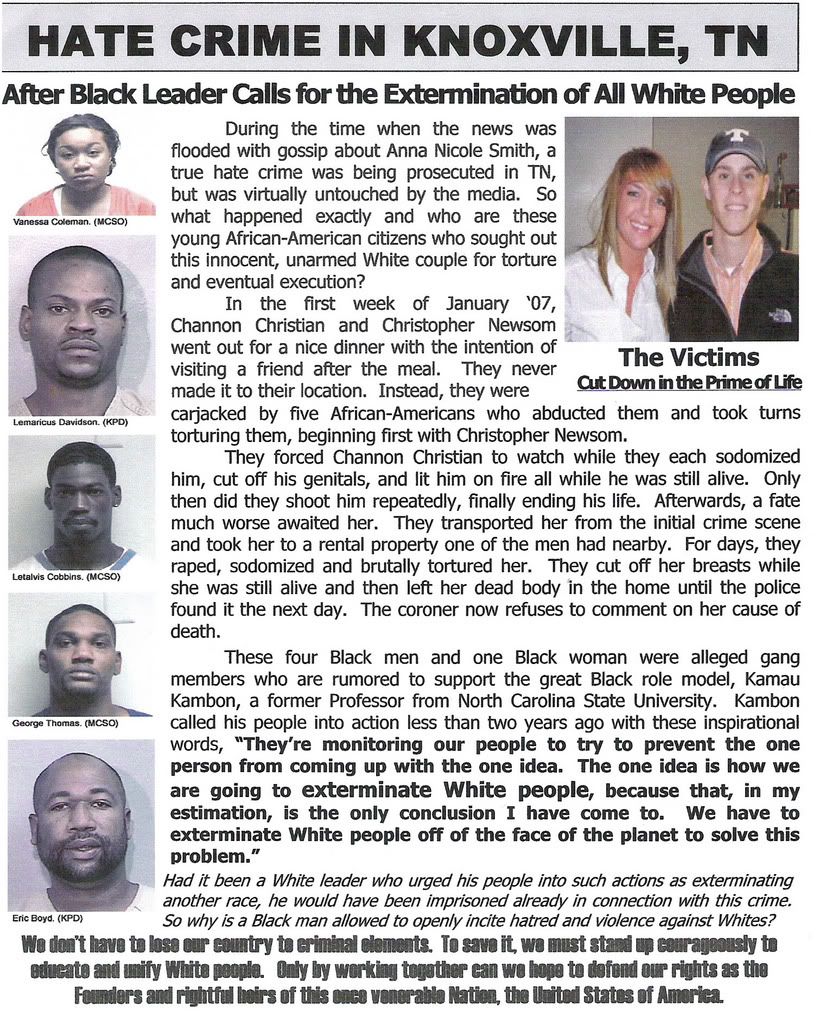 What would you think about a reporter who did a story about jumping out of a plane by interviewing everyone EXCEPT the parachutist?
Yet this is quite similar to how Yvette Martinez, a reporter for WBIR-TV Channel 6 in Knoxville, TN, prepared for a story her station published about the upcoming second Channon Christian-Chris Newsom Memorial Rally to be held in Knoxville, TN on Saturday June 16th, 2007. First, she marginalizes and denigrates the event by calling it a "white supremacist" rally, although most white nationalists aren't "supremacists" (and you can verify this for yourself by reviewing a multitude of posts on the leading discussion forums such as Stormfront and the Vanguard News Network Forum).
Second, the story refers to input from only two primary sources. The first source is a local black pastor named Johnnie Skinner who skippers the Mount Zion Baptist Church. WBIR reports that Rev. Dr. Skinner wants to provide a mainstream response to the issues fueling the rally by urging black and white residents of different cultural and economic backgrounds to unite and acnowledge that, while Knoxville isn't yet what it should be, that it's still worth trying to make it what it ought to be. Dr. Skinner also stated he would like to see community leaders speak out more strongly against what he characterized as "hate" groups. As a local resident of Knoxville, Dr. Skinner's reaction can at least be considered educated and newsworthy, even if some in the community disagree with it.
However, the second source, Mark Potok, who serves as the director of the Southern Poverty Law Center's (SPLC) Intelligence Project, is far less credible and much more disingenous. First, Potok builds initial confidence in his input by making the factual statement that the rally orgainizer, Pastor Kenn Gregg (who he refuses to refer to as a pastor), has been involved in the white "supremacist" movement for many years. But then Potok gets disingenuous. Potok claims that "these groups have realized that they can essentially frighten white people into feeling that they are being oppressed by the media quote unquote is on the other side along with the police and the prosecutors along with the establishment so to speak." He also claims that these groups look for cases like the murders of Channon Christian and Chris Newsom to push their agenda then they use the internet to build their numbers. "The internet has become quite important to these groups in terms of getting propaganda out and getting it out fast and to a lot of people. This case in particular has had a remarkable internet life," Potok said.
Excuse me, Potok, but Channon Christian and Chris Newsom were more than just "frightened", they were raped, tortured, and MURDERED! Furthermore, Potok is a profesional gadfly in a different state. His SPLC is so manipulative that, with rhetorical sleight-of-hand, they routinely transform P.O. Boxes into Klan chapters. The SPLC also has a history of judicial terrorism, using the civil justice system to target and bankrupt those who engage in pro-white activism, even those who have been punished by the criminal justice system. Click HERE for all posts on this blog documenting SPLC skullduggery.
Also note that WBIR failed to provide any logistical details about the rally. Such details not only would benefit locals who wish to attend, but also those whose access plans to the targeted venues might be affected. Maybe those who work in the targeted venues might want to come to work early to avoid the traffic. In a nutshell, here are the rally plans (more details published HERE):
1). Picket at WATE-TV Channel 6 at 9 A.M.

2). Picket at Knoxville News-Sentinel at 10 A.M.

3). Assemble at Knoxville Police Department parking lot at 12 Noon.

4). Rally on courthouse steps from 1 P.M. til 3 P.M.
Including this logistical information would constitute true in-depth journalism.
Fortunately, those of us who live in Alaska do get better journalism. The Anchorage Daily News in particular strives for comprehensive and factual reporing, even though they do tack to the left-of-center editorially. Recently, indicted State Representative Vic Kohring complained that ADN was focusing far more on his role in the VECO scandal than those of his fellow indictees, Pete Kott and Bruce Weyhrauch, but there is a legitimate reason: Kott and Weyhrauch are former lawmakers who CANNOT legislate policy, while Kohring is still a lawmaker who CAN formulate policy. Thus, Kohring's involvement remains MORE NEWSWORTHY at present because his impact is greater. But ADN does report the whole story, nonetheless. And that's the classic benchmark of quality journalism.
Labels: Christian-Newsom, journalism, Knoxville