19 June, 2007
Knoxville Rally #2 (June 16) Photos
Posted by alex in
Alex Linder
,
Knoxville rally
at 7:00 pm |

Permanent Link
By Alex Linder
First picket was at Channel 6, WATE, located at 1306 Broadway… Broadway is the same as Henley, which is exit 388 off I-40 leading downtown to the action. If you go north instead of south on Henley, it turns into Broadway. A few blocks and you're to WATE.

Couple shots of the building and the cops in front of it… We were told to cross at the corner, but the cops allowed minorities and non-protesters to jaywalk. WATE is in a scruffy part of town, past a bunch of methadone scum outside the Salvation Army, but has a pretty cool building, Victorian castle of sorts.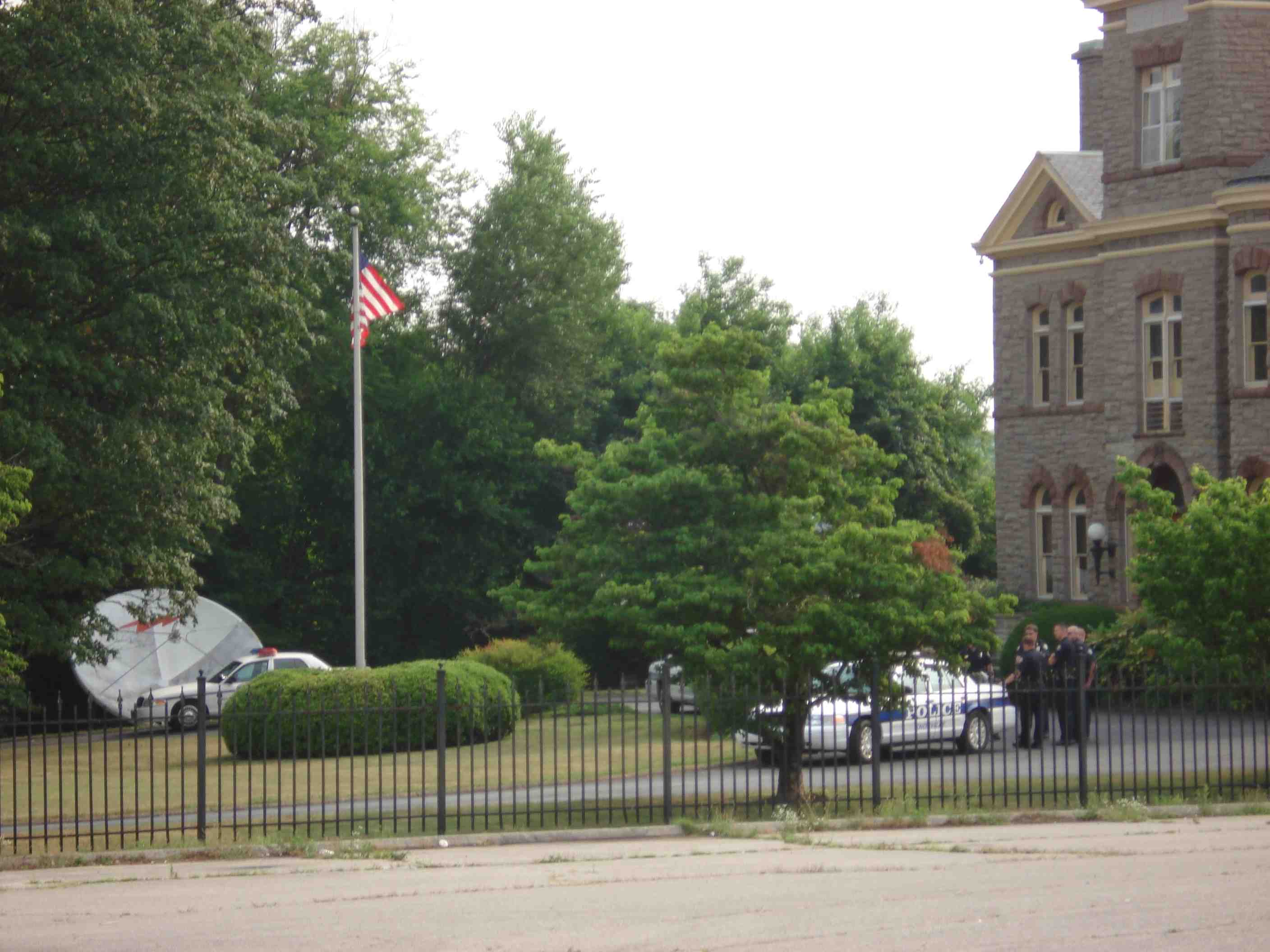 Shots of picketers… Note, again, the importance of THICK LETTERS when you make signs. It is the single most important thing about making signs, tied with proper spelling. Gregg's guys' signs were all spelled correctly, as far as I could see. Except for 'judgement.' English spell it that way, but in America it's 'judgment.'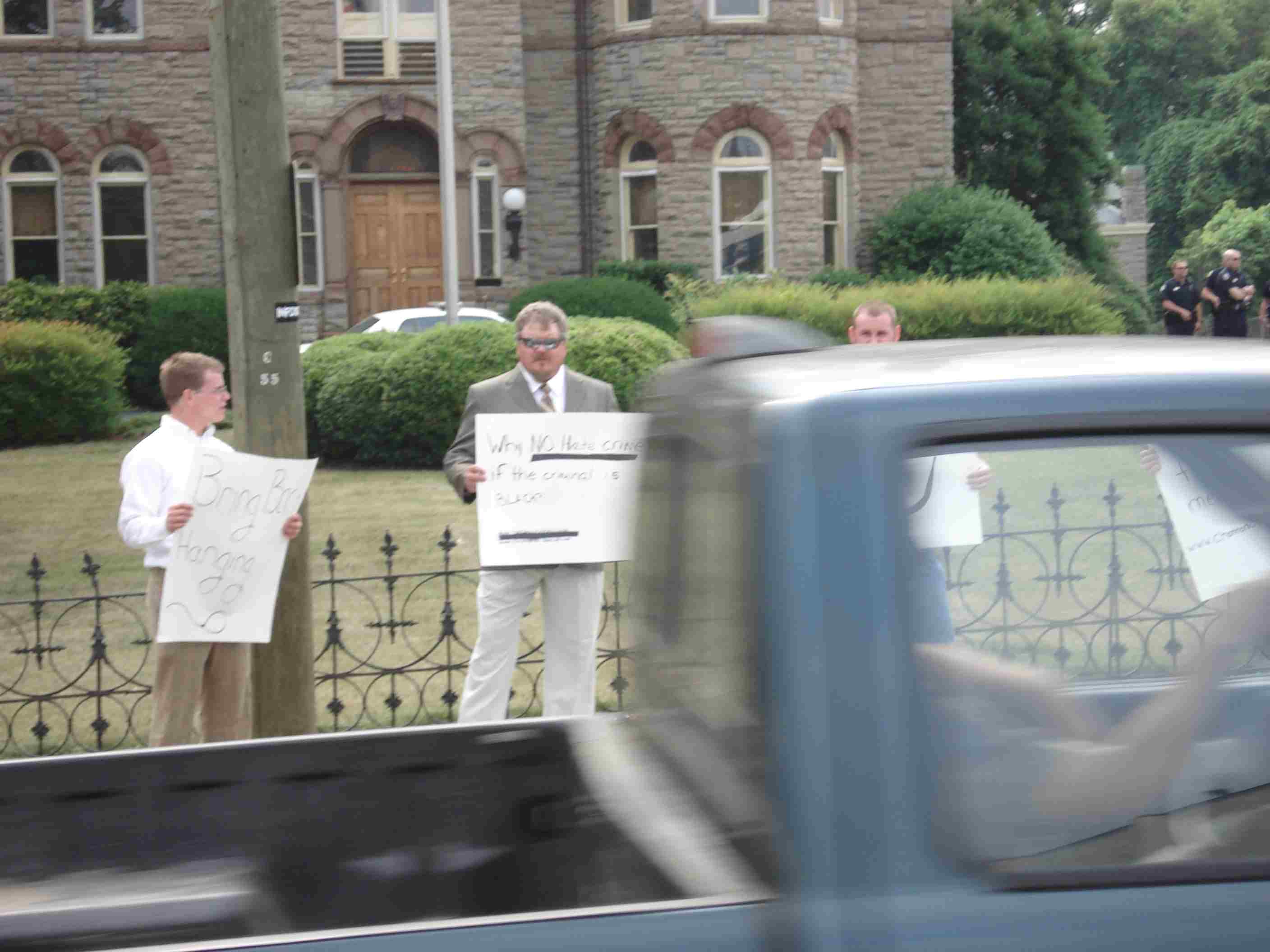 Kid in red, Jeremy, lives in Chattanooga, had only recently heard of the crime. Before we put it on the map, the murder of Channon Christian and Chris Newsom was unknown in most of Tennessee, let alone outside the state.

From WATE picket, about 10:00 a.m., we went to the offices of the Knoxville News-Sentinel – back south on Broadway, turning right onto Western for a few blocks. Giant building, can't be missed, visible from freeway. Home of the nasty Jamie Satterfield, who describes nigger rape-torture-murderers as carjackers and cleaners, and those who protest their feral felonies as torturers and tormenters. In other words, Jamie is a cunt. A useless, good-for-nothing, moral-maniac liberal. She deserved her own sign, and got it. A fellow who identified himself to me as a freelance photographer for the News-Sentinel got a good shot of it. I hope she sees it. Personal attack is the only thing these liberal reporters understand. They will show no respect for anyone they aren't made to respect because they are malicious, intellectually lazy, immoral scum.
We picketed the noxious News-Sentinel on the Western Avenue side. No pics. Cops were all about to make sure we stayed off News-Sentinel property.
My signs, front and back. The one was specifically for our second picket outside the News-Sentinel, the main paper in Knoxville. In fact, the only paper apart from the Metro Pulse, an 'alternative' weekly of the usual ill ilk. Yes, I know I spelled blacks without the 'c.' I ran out of room, so I rationalized that it was an epithet. Hmm… Perhaps better if I'd omitted the 'b.'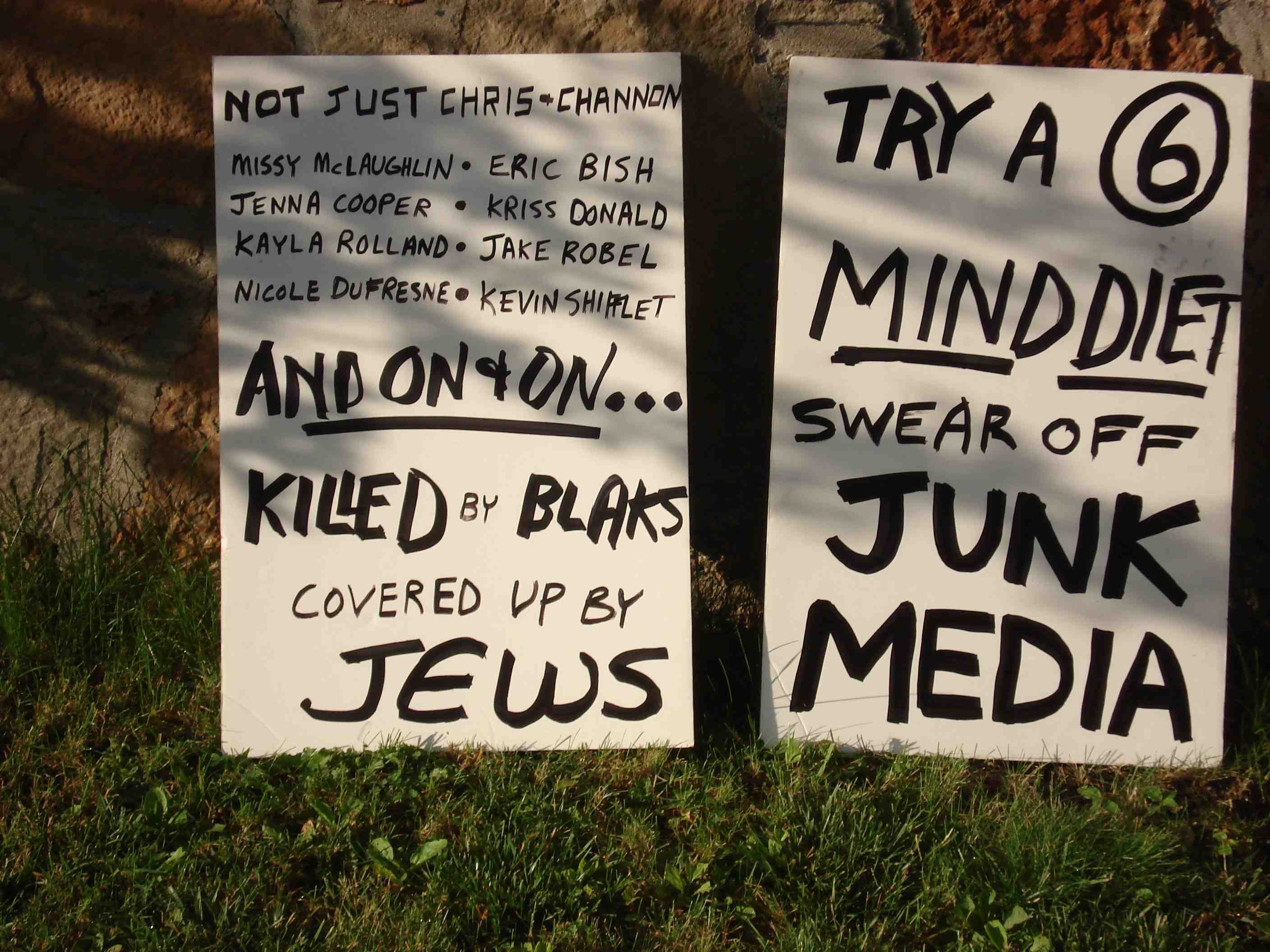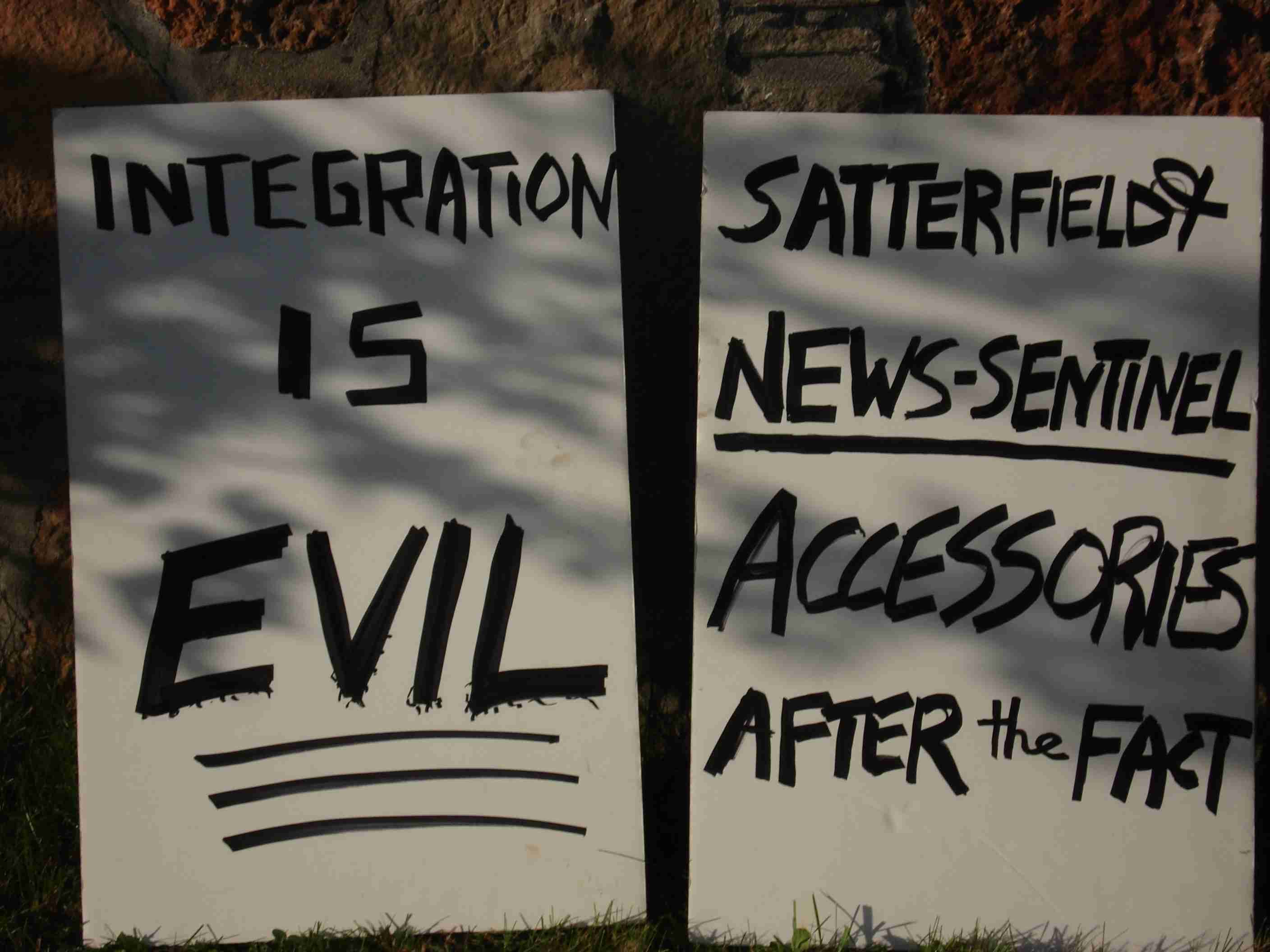 Final two shots, one taken from behind the speaker, the other looking toward the antis from up near our side's orange mesh barrier/cop barrier.
From what I could tell, there were more, and more diverse, antis at this rally. There were some visible nigs, as you see. There was Chris Irwin, who against all odds is married to a woman. The other whites were assorted doofi and goofi. No doubt mixed in with the antis were some general public simply interested in the subject. Those were the ones we'd like to address. We did meet a few locals on our side, folks brave enough to show their support for Channon and Chris, victims of the most heinous murder every committed in Tennessee.
Bottom line continues to be that the police are unduly and illegally infringing our right to free speech by forbidding us the direct access to the public we need to make our case. Until a lawyer presses this point in court, the cops will continue to have their way.