10 March, 2012
Jean-Honoré Fragonard Painting
Posted by Socrates in
art
,
France
,
French Revolution
,
Socrates
,
Western culture
,
White art/architecture
,
White beauty
at 12:12 am |

Permanent Link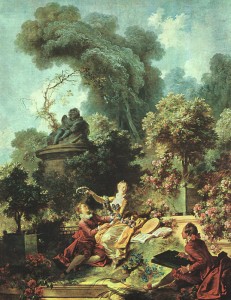 (Click on the image to enlarge it)
This stuff takes you back to a time and a place: just before the French Revolution, when "human equality" was still unknown. Fragonard was almost executed by the equalists, until another equalist, the artist J.L. David, stepped in and saved him. Looking at Fragonard's work, it has such depth, you can get lost in it. Compare this to the trash you see today.