23 November, 2014
Behind the "Common Core" School Curriculum
Posted by Socrates in
Affirmative Action
,
brown culture
,
Brown Man
,
Common Core
,
feminism
,
jewed culture
,
Karl Marx
,
multiculturalism
,
nation-building/nation-wrecking
,
National Socialism
,
socialism
,
Socrates
,
UN
,
UNESCO
at 5:42 pm |

Permanent Link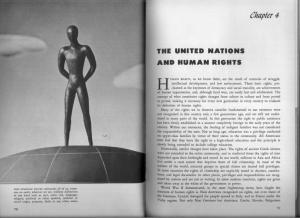 (Above: a photo of UNESCO's Brown Man. The text under the Man reads: "This symbolic figure represents all of us, everyone on earth, whoever we are, without distinction of any kind such as race, color, sex, language, religion, political or other opinion, national or social origin, property, birth or any other status." — Sounds like something Karl Marx could have written; a one-size-fits-all man; from the book "The United Nations: Blueprint for Peace," 1951, p. 70).
Taking away local authority over schools and giving it to the federal government is a typical leftist idea that will only lead to socialism [1]. Leftist movements weaken White culture, just like termites weaken a house. Soon, White society will collapse, as part of an overall plan, and in its place will emerge a new society populated by Brown Man, who is "better" than White Man, we are told, since he isn't a "racist oppressor." By the way, the man who is called the "architect" of Common Core is Jewish.
[1] left-wing socialism is not to be confused with National Socialism, an entirely different thing