17 December, 2014
#I Won't Ride With You, But Thanks Anyway
Posted by Socrates in
anti-racism movement
,
anti-White themes
,
Australia
,
Cultural Marxism
,
democracy
,
democrazy
,
Diversity
,
diversity is hate
,
media
,
media cases
,
media heroes
,
Muslims
,
Socrates
,
The Outsider/The Other
,
War On White Males
,
War On White People
,
Western civilization
,
Western culture
,
Western decline
at 2:15 pm |

Permanent Link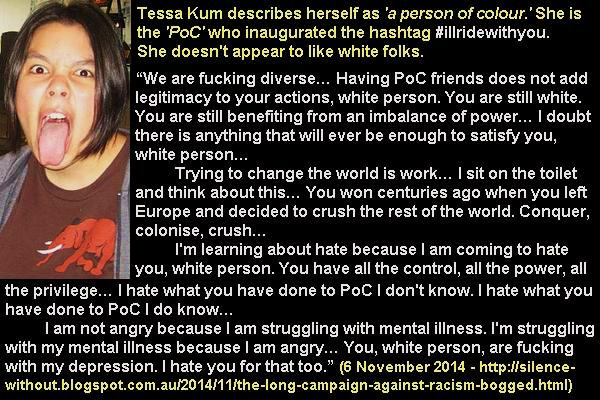 Non-Whites helping non-Whites in a White country – it figures. Of course, the lamestream media was overjoyed with the #illridewithyou Twitter message. Now, the non-White girl who created it, Tessa Kum, (above) will no doubt want to get rid of most of the items she owns, since evil White men invented them: her computer, her refrigerator, her TV, her electricity, her stereo, her oven, her air conditioner, her telephone, her car, her bicycle. Will she? Of course not. Oh, and she'll have to stop voting, too, since White men invented democracy. Those evil Whites! They civilized the entire world! How dare they!