19 March, 2006
Posted by alex in
movies
,
South Africa
at 5:08 am |

Permanent Link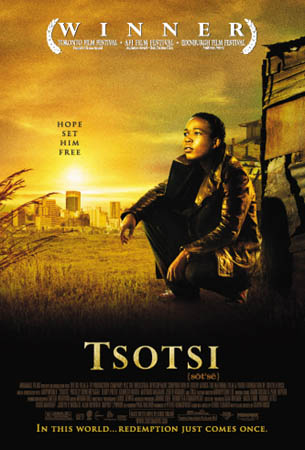 Feral urchins, drunks and vagabonds: this is the world of the real-life tsotsi
By Jonathan Clayton
South Africa's Oscar-winning film Tsotsi has focussed attention on the country's street children
THE early morning chill has barely left the streets of Hillbrow, one of downtown Johannesburg's most notorious crime zones. But for Papi, Jan and David — leaders of a tightly knit gang of about 15 street kids — the day is already well advanced.
Like the local stray cats and dogs, they are busy consuming the fruits of the first scavenging of the day — half a loaf of discarded brown bread and a carton of milk. They sit by the kerb and on upturned crates, squabbling noisily over packs of glue from which they inhale deeply.
Passers-by and nearby shopkeepers eye them cautiously. They know that among these young, wide-eyed, innocent-looking faces are the feared tsotsi (slang for thug), for whom violence is just a way of life.