20 March, 2006
Posted by alex in
Alex Linder
,
Eastern Europe
,
jew-led smear campaigns
at 2:35 pm |

Permanent Link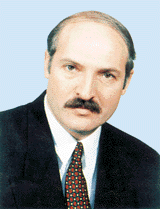 [Note the focus is entirely on the protest, rather than the results. Who cares what jew-operated rent-a-mobs want? What matters is keeping Belarus Whites safe from the international mafia that is Big Jew.]
Belarus president re-elected
Opposition claims fraud; thousands protest
by Yuras Karmanau
MINSK, Belarus — Thousands of protesters thronged the main square of the Belarusian capital Sunday in defiance of a government ban, refusing to recognize a presidential vote that gave a landslide, and largely expected, victory to the iron-fisted incumbent.