26 March, 2006
Posted by alex in
White vocabulary
at 6:32 am |

Permanent Link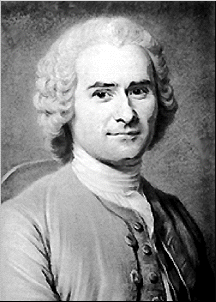 Rousseau's ability to love mankind with a passionate, theatrical love while abusing the actual men and women with whom he came into contact set the precedent for abhorrent 19th-century "idealists" like Shelley and Wagner. The most glaring of his sins, which his enemies loved to use against him, was his abandonment of no fewer than five of his children to a foundling hospital, where they were very likely to die, simply because he refused to live the bourgeois life of a husband and father.
Like other impossible geniuses, Rousseau had no trouble attracting patrons. Leading figures of the ancien regime were eager to be associated with the man who blasted the aristocracy, the church, and society in general in works such as "La Nouvelle Heloise" and "Emile." But few remained his benefactor for long, since he was as proud as any Spanish grandee, quick to repay kindness with suspicion. By 1766, Rousseau's radicalism had made both France and Switzerland unlivable for him – his house in a Swiss village was stoned by angry neighbors – and he determined to try his luck in England.
Fortunately, as it seemed at first, Rousseau had a perfect cicerone in Hume, who was just about to return home after a stint as a British diplomat in Paris. Rest of article on Rousseau.
'Cicerone' comes from Marcus Tullius Cicero.
You play cicerone to your visitors as you show them around your home city. Rousseau's Confessions is worth reading. Back then you had to step lively lest a pederastic jebootineer molest or the local duchess find you fell afoul of the prevailing shade of 'booismus.