19 March, 2006
To Those Posing as Heroes
Posted by alex in
Alex Linder
,
Christians
,
conformity
,
jew-led smear campaigns
at 1:46 am |

Permanent Link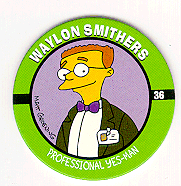 There's none so brave as the "good" Christian anonym, the leftist punk with his head wrapped up, bravely "exposing" hate, as defined by the dictatorship they smithers for. Unlike Smithers, these fools don't realize they have a boss, and don't get paid. They're doing what they think is the lord's work, without ever realizing they are nothing but manipulated fools carrying out the nation-wrecking insanity of the jews. They work against their own interests and know it not for, as I say, they are fools.
By contrast, the average 'racist' cites facts. The racist quotes legitimate authorities. The racist points to history. In short, he performs every act of a honest man making his case. Does he receive like response? He does not. The jew and his dupe shriek "racist!" They denounce "hate." They assure there's "no place" for "hate" and "racism." They praise their own "tolerance," while repeating there's "no place" for fact-citers, "no place" for Jefferson-quoters, "no place" for anyone who disagrees with their agenda. 'Tolerance' precludes disagreement, apparently. It seems that the use of logic and reason to connect facts and evidence is a well-known M.O. of the hateful, will not be tolerated among the cult of the enlightened.
No contradiction beclouds our progressive's moralizing, no urge to evidence excites her latent lobes. She's exactly like the pod people in "Invasion of the Body Snatchers," who know only to scream to authorities the minute they spot a brain in use.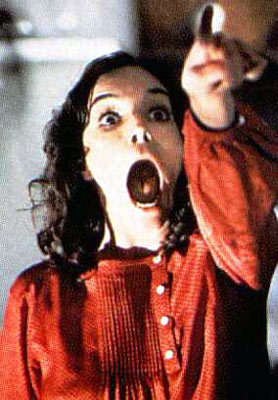 Good Christian spotting a racist
How is it that Iraq has 150,000 American troops tied up, unable to win clear victory? It's because the Iraqis are willing to die to liberate their land, that they may live among their coreligionists, or at least their own faction, undisturbed.
For decades whites have followed the 'responsible,' conservative approach. For decades whites have contented themselves with working within the system. They've aired their grievances in cautious language. They've documented their cases. They've posted their letters, signed their petitions, circulated their books — all to no avail. Not a single politician dares to stand up for what the majority of American Whites believes on the most important matters.
This is the System that would spread itself between the last two snowflakes in Antarctica as 'democracy.'
The dimmest normal white man among us must awaken to what the alert spied long ago: the failure of Whites is not due to any failing on Whites' part, unless you regard our unwillingness to bring physical force to bear against our jewish oppressors as a failure. Rather, our failure is caused by the System. The System is based on our oppression. The System makes no sense, save as a mechanism for jews and coloreds to live richly at the expense of normal whites. Slap this lens in front of your eyes the next time you consider the actions of "our" government, and you will never have need to view it any other way.
"Those who make peaceful change impossible make violent revolution inevitable." Let those who deny Whites their rights take that truth into account. For what we see today in Iraq — aggressors defeated by natives who simply will not yield to jew-produced terrorism — we will one day see in America.
ITZ COMING.