26 March, 2006
The Jewing of Advertising
Posted by alex in
advertising
,
Alex Linder
at 8:04 am |

Permanent Link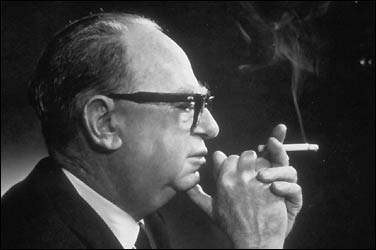 Leo Burnett, whose agency is responsible for the loxist Washington Mutual campaign described in a post below, is credited with revolutionizing American advertising. We don't know if he's a jew but we're just going to guess that he just might be, as he married a girl named Naomi Geddes. If he's not, he's pretty much the only non-jew major figure in American advertising in the 20th century. In that case he would join Alfred Kinsey, Alger Hiss and John Dewey as, in effect, goyfronts for radical jews.
How do you suppose this Leo revolutionized his field, going on to build today's second largest agency – from scratch? Says Wikipedia:
Burnett followed [jew] Walter Lippman's philosophy of creating an image around the product. Until his time, advertising centered on long text descriptions of the product, with detailed arguments as to why it was better than competing products. Burnett concentrated on style, creating icons as a symbol of the product.
In other words, he emphasized style over substance. How jewish. He's the perfect forerunner of the MTV-style spazvertising that is now ubiquitous. If you quit watching tv for even a few months, and then you pop in a tape, you will see tv obliterates faculties like a contagious Helen Keller. Fox's in-house commercials are like a hand grenade going off in your face. The medium is spastic anymore. The shows are bad, but the advertising makes you want to go "Office Space" on the screen.
Jews have a long history of producing ads, buying ads, and censoring ads, here and in Britain.
Image over substance: the jewish way come the AmeriKwan way. Today Burnett's successors peddle cool negroes as replacement therapy for a sick, aged Aryan America. For all their blather about diversity, they stick to memes and stereotypes that do not vary in the slightest. The effect is seen in polls showing tv viewers think America is 1/3 black and 1/10th jewish.