10 April, 2006
Jimmy Cantrell's Book Out
Posted by alex in
authors
,
books
at 9:29 pm |

Permanent Link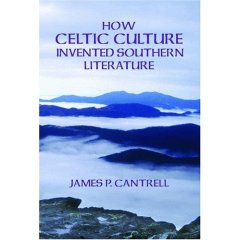 [Amazon reviews of Jimmy Cantrell's book, him being the proud advocate of the bigoted and wrong Celtics-created-everything -of-value school, nevertheless a fine and interesting writer who's always been one of our favorites.]
The Real Southern Literature, January 18, 2006
Reviewer:Â Â Â  C. Harris Collier, III (Athens, Georgia) – See all my reviews (REAL NAME)
I'm a general reader and admirer of Southern literature. It is an easy to read and thought provoking book. It's helping me appreciate my culture and its great writers. I particularly enjoyed the chapter on Pat Conroy. I appreciate how the scholar-like Cantrell takes fellow Georgian Margaret Mitchell seriously.
Was this review helpful to you?  YesNo (Report this)
5 of 5 people found the following review helpful:
Lively and fresh approach , January 18, 2006
Reviewer:Â Â Â  jkibler (Maybinton, South Carolina) – See all my reviews
Few critical works have the power to change the way a whole genre is perceived. This is one of them. The reader who digests this book will never look at American literature, and most particularly Southern literature, the same way again. I enjoyed it thoroughly. The writing is lively and will not bore to tears—as the great majority of current careerist criticism out of academia is likely to do. While scholarly, it is a work that is open to a wide audience, any audience who likes to read.
I give it my highest commendation.
Link.