6 May, 2007
CASH: The Anti-White Draft
Posted by alex in
Caste Football
,
football
,
sports
at 9:04 am |

Permanent Link
By J.B. Cash
(5/2/07) There are two events each year that highlight the anti-white bias of the football establishment in America: college signing day and the NFL Draft. The NFL Draft was held last weekend and white players were treated the same way they have been treated for decades – poorly.
In honor of those good young men that were treated unfairly solely because of their skin color, Caste Football offers the following awards.
We announce the first annual Tom Brady Award, given to the white quarterback who clearly has the best tools of any prospect coming out of college and yet manages to be drafted behind the latest "great black hope." All of which is part of the NFL's never ending search for dominant black quarterbacks in their effort to remake every position in the game dominated by black players.
The recipient is obviously Brady Quinn. Quinn, the former Notre Dame superstar, is clearly possessed of all the tools to be a Super Bowl type QB yet found himself picked long after the flabby Jamarcus Russell. Last year Matt Leinart was passed over for Vince Young for nearly the exact same wrong reasons. Both men lost millions of dollars (that's millions!) due to the anti-white/pro-black bias that is standard operating procedure in the NFL.
The NFL and its Caste System supporters tell us that whites cannot be drafted to play at running back and cornerback because all of the good players at those positions are black. Thus black players are the "model" for the position, and no white players can ever get the chance to prove that model incorrect.
Yet the "model" for a winning, successful, championship quarterback, is a tall, white pocket passer that has had success for a prominent national college powerhouse. Guys like Peyton Manning, Tom Brady, and Carson Palmer. On the other hand, black QBs have had a poor record, failing in big games, are frequently injured, and generally play poorly. But in the anti-white NFL all that goes unnoticed and guys like Vince Young and Jamarcus Russell get picked at the top.
Why is the successful white "model" ignored and blacks given every chance to change the "model" but at the other positions mentioned whites are NEVER given the chance to change the "model"? Of course you know what the answer is so please remember it and if you get the chance ? tell a friend.
Another award, the Eric Crouch Award, goes to Jared Zabransky [above] of Boise State. The Eric Crouch Award is given to the white quarterback who is extremely physically talented but will never be given a shot to play quarterback in the NFL because the "model" for athletic run-and-pass QBs, like Model T's, only comes in one color: black.
Zabransky was a prolific runner and passer at Boise State AND led his team to the most exciting victory in Bowl Championship series history, over highly touted Oklahoma. He didn't even get drafted. Zabransky follows in the footsteps of not only Eric Couch, but players like Matt Jones, white QBs who are so physically gifted they are even given a chance to play somewhere other than QB, an option not given to even the best white college players at those other positions.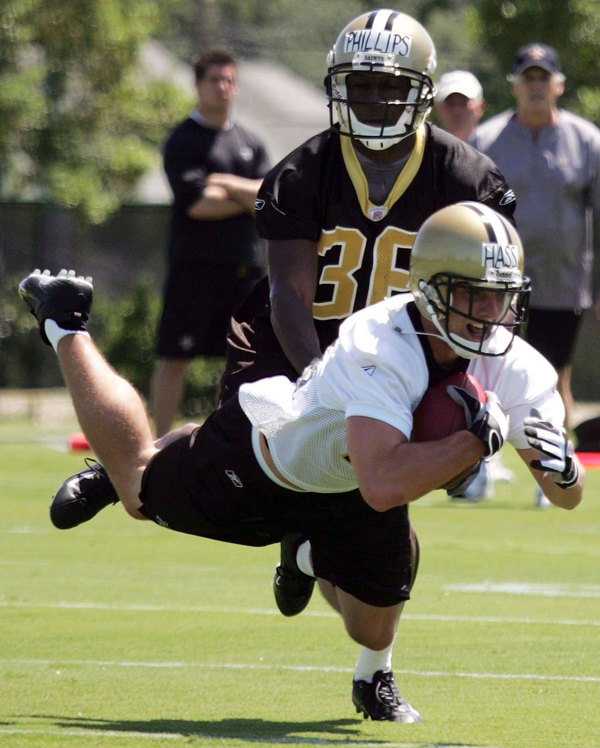 The Mike Hass Award is bestowed upon the best white wide receiver coming out of college that receives no respect from the NFL for his prodigious college production. Hass [above] was voted the best receiver in college football in 2005 but was drafted in the last round of the 2006 NFL Draft and was tossed aside even before the regular season began last fall. This happens every year, most recently to Hass as well as John Standeford, the Big Ten's all time leading receiver (BUT was still not drafted), and far too many other talented white receivers to list (the Caste Football site has information on dozens of them who should be playing in the NFL but aren't).
This year David Ball [top right] is the white man out. Ball, who set all kinds of records playing in Div II for New Hampshire, is a virtual carbon copy of another record-setting Div II receiver who went on to play pretty well in the NFL: Jerry Rice. Ball will not get the same opportunity as Rice because Ball's ancestors came from Europe; Rice's were from Africa. CASE CLOSED!
As Don Wassall of Caste Football writes:
"Ball's tremendous production and his measurables are very similar to those of Jerry Rice in 1985, as both played at small programs, both are tall with great hands and tremendous determination to make every catch, and neither are burners. What a sad commentary on the mind-boggling, all-encompassing racism that motivates the NFL that Rice was a first round pick and Ball will most likely be yet another very talented white wide receiver thrown on the junk heap (which is pretty much the size of a mountain now). Great job by the media too, because 99.9 percent of the drunk white fans would laugh at the notion that Ball possibly has the talent and determination to be a great NFL player."
There were other white players treated unfairly such as safety John Wendling, this year's winner of the Dustin Fox Award given to the white defensive back that fought against the negative stereotypes of white DBs in college and proved them wrong, only to receive the same treatment from the NFL.
Another player drafted much too late was super athlete Tim Shaw, a linebacker who outperformed all other linebackers at the NFL Combine yet saw himself drafted behind a succession of black linebackers whose weaknesses were listed, among others, as "tackling." Another advantage of being black, you can be a top-rated linebacker even though you can't tackle very well.
This year's Draft played out like Drafts in years past. About 28% of the players drafted were white, only 15% on defense. That means that the NFL will keep the decidedly dark hue of its players, especially anyone that runs or catches the ball and those that don't kick or throw it, along with almost everyone on defense.
The NFL also drafted another large share of past, present, and future criminals to wreak havoc on some unsuspecting segment of the population in a city with a pro football team. The NFL's search for "character" in its players amounts to drafting any player that does not have a warrant out for their arrest. And a player's past history is no indication on how they'll act as a pro. Just ask former first rounder Adam "Pacman" Jones.
Here is a list of the white players and who drafted them along with a list by position. Thanks to the loyal Caste Football supporters that compiled this information. For more valuable data check out Caste Football's discussion forum.
Breakdown of white players drafted by team:
ARIZONA:
None
ATLANTA:
Doug Datish
BALTIMORE:
Marshall Yanda
BUFFALO:
Paul Posluzny
Trent Edwards
John Wendling
Derek Shcouman
CAROLINA:
Ryan Kalil
Tim Shaw
CHICAGO:
Greg Olsen
Dan Bazuin
Aaron Brant
CINCINNATI:
Jeff Rowe
Dan Stanucci
CLEVELAND:
Joe Thomas
Brady Quinn
Chase Pittman
DALLAS:
James Marten
Doug Free
Nick Folk (k)
DENVER:
None
DETROIT:
Drew Stanton
GREEN BAY:
Allen Babre
Korey Hall
Mason Crosby (k)
Clark Harris
HOUSTON:
Kasey Studdard
INDIANAPOLIS:
Anthony Gonzalez
Quinn Pitcock
Brannon Condren
JACKSONVILLE:
Adam Podesh (p)
Derek Landri
Andrew Carnahan
KANSAS CITY:
Michael Allan
MIAMI:
John Beck
Drew Mormino
Brandon Fields (p)
MINNESOTA:
Brian Robison
Tyle Thigpen
NEW ENGLAND:
Clint Odenberg
Justin Rogers
Mike Elgin
NEW ORLEANS:
Andy Alleman
NEW YORK GIANTS:
Zak DeOssie
Kevin Boss
Adam Koets
NEW YORK JETS:
Jacob Bender
OAKLAND:
Zach Miller
PHILADELPHIA:
Kevin Kolb
Stewart Bradley
Brent Celek
PITTSBURGH:
Matt Spaeth
Dan Sepulveda (p)
SAN DIEGO:
Eric Weddle
Scott Chandler
SEATTLE:
Will Herring
Steve Vallos
SAN FRANCISCO:
Joe Staley
Jay Moore
ST. LOUIS:
Adam Carriker
Brian Leonard
Dustin Fry
TAMPA:
Sabby Pisticelli
Chris Denman
TENNESSEE:
Michael Otto
WASHINGTON:
Dallas Sartz
Jordan Palmer
Tyler Ecker
Positional Breakdown(% of white players):
QUARTERBACK:
9/12
75%
RUNNING BACK (excluding FULLBACK):
1/24
4%
WIDE RECEIVER:
1/32
3%
TIGHT END:
10/13
77%
FULLBACK:
0/5
0%
OFFENSIVE TACKLE:
14/22
64%
OFFENSIVE GUARD:
4/12
33%
CENTER:
5/7
71%
DEFENSIVE TACKLE:
2/19
11%
DEFENSIVE END:
5/24
21%
INSIDE LINEBACKER:
2/15
13%
OUTSIDE LINEBACKER:
6/17
35%
CORNERBACK:
1/30
3%
SAFETU"
3/20
15%
KICKER:
2/3
66%
PUNTER:
3/3
100%
Overall:
Offense: 41% White
Defense: 15% White
Average: 28% White (excluding special teams)
[Original]