10 May, 2010
U.S. Supreme Court Nominee Creates Historical First
Posted by Socrates in
dispossession & destruction
,
Diversity
,
diversity is hate
,
General Decline
,
genocide of White culture
,
jewed culture
,
jewed law
,
Jewish genetics
,
Max Horkheimer
,
Socrates
,
Supreme Court
at 2:05 pm |

Permanent Link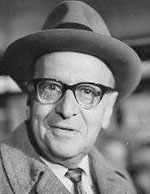 (above: Horkheimer)
The ghost of Max Horkheimer says: "Oy, oy, oy veh! What a glorious and historic moment! We Jews hit the jackpot with this nomination. Let's take a look: 1) We're getting another Jew onto the Supreme Court; 2) We're getting another female onto the Court; 3) But best of all – are you ready? – this will mark the first time in history that the Supreme Court is majority-non-White! Yep, of the 9 justices, 5 will be non-White [1]. Can you believe it? I had to pinch myself to make sure I wasn't dreaming this (which really didn't work, since I'm a ghost, heh, heh). White people, now it's official. You've been completely disenfranchised, and it's all perfectly legal. Ha, ha!"
More about Kagan: [Here].
[1] Newbies, Jews aren't genetically White, even though they appear White. In addition to Kagan, Ginsburg and Breyer are also Jews. Thomas is, of course, Black and Sotomayor is Puerto Rican