Albert Receives a 12-Month Suspended Sentence
(Oct. 24) There will be no jail time for former NBC broadcaster Marv Albert.
Albert, who pled guilty last month to a misdemeanor charge of assault and battery during rough sex with Vanessa Perhach, was given a 12-month suspended sentence. Judge Benjamin Kendrick also ordered Albert to continue undergoing counseling. With this sentence, if Albert does not commit any crimes over the next 12-months, the plea to the assault and battery charges will be expunged from his criminal record.
During the sentencing, Albert made a statement in court in which he apologized to the victim Vanessa Perhach and said, "There was some biting and rough sex in the past. I did not realize until her [Perhach's] testimony that she thought I had caused her harm, and for that, I am sorry."
In a press conference outside the courthouse after the sentencing, Albert said, "This has been a most difficult time for me, my fiancee Heather [Faulkiner, a producer at ESPN], and my family. I just want to try to put the pieces of my life together and eventually restore my broadcasting career."
Albert also thanked his New York fans for supporting him during this ordeal.
Patricia Masten, the woman whose surprise testimony that Albert also bit her and tried force her to perform oral sex was the turning point in the trial, was not pleased at all with Albert's sentence. Masten, who was accompanied by her lawyer, Gloria Allred, had released a statement the previous day in which she said that Albert should serve time in jail. In this statement, Masten also regretted that under Virginia law, she would not be permitted to give any testimony that would influence Albert's sentence. After the hearing, Masten said that Albert's sentence of no jail time sent a wrong message to the youth of America. Allred said that Albert's punishment (or lack of) was another example of a male perpetrator being treated as a victim and a female victim being vilified.
Vanessa Perhach had no immediate comment on Albert's sentence. Neither Perhach nor Masten would comment on whether they would file civil lawsuits against Albert.
The Background
Marv Albert was accused of biting the back of a woman and forcing her to perform oral sex on him in a Virginia hotel on Feb. 12, 1997.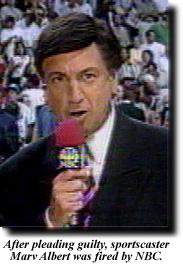 He was charged with forcible sodomy and assault and battery and if convicted, could face life in prison. Albert originally denied all the charges. His attorney, Roy Black, argued that the victim, who had a 10-year sexual relationship with Albert, was a willing participant in the rough sex and not a true victim. Albert's defense also said that the woman tried to seek revenge on Albert because he was trying to end their relationship.

Albert and his accuser (whose identity, Vanessa Perhach, was released in the media after the trial) first met in 1986 when she was a telephone operator at the Miami Airport Hilton Hotel. According to the prosecution, their relationship was sexual almost from the very beginning. Because of his travel schedule as an NBC broadcaster, Albert and Perhach saw each other only sporadically. However, they engaged in a lot of phone sex, and Albert fantasized about participating in threesomes with another male and his accuser. Prosecutor Trodden said that Albert and Perhach participated in threesomes during various encounters in Miami and Los Angeles.< p>

During jury selection, potential jurors were warned that testimony would be graphic and focus on violent and oral sex. Defense attorney Roy Black, who won an acquittal for William Kennedy Smith in his 1991 rape trial, even compared this case to the movie "Fatal Attraction" during jury selection.

In a report released on August 11, state DNA tests linked Albert to the bite marks found on the alleged victim's back.

The Opening Statements


The trial began on Sept. 22. In his opening statement, state attorney Richard Trodden described Marv Albert as a person who enjoyed having threesomes during his sexual encounters with the alleged victim and often enjoyed wearing women's underwear while having sex. Trodden said that during their encounter on Feb. 12 at the Ritz-Carlton Hotel in Alexandria , Va., Albert became angry with Perhach because she did not bring a third person. So, the prosecutor said, Albert angrily grabbed her arms, threw her on the hotel bed, and began biting her back. "You've been a bad girl," Albert allegedly said. "You didn't bring anybody."

Trodden then said that Albert pinched his Perhach's cheeks and forced her to perform oral sex. When Perhach urged him to stop, Albert refused and said, "You know you like this."

Albert's attorney, Roy Black, responded by saying that the sexual encounter in question between Albert and Perhach was entirely consensual. Black characterized the victim as a troubled, vengeful woman who sought revenge on his client because he told her he intended to marry another woman. The defense claimed that Perhach's life was falling apart at the time of her encounter with Albert in February. She had only been out of a mental hospital for six weeks and had lost her job. (In December 1996, she reportedly had been hospitalized for an attempted suicide.) Black claimed that Perhach wanted oral sex because she was not on birth control medication and asked to be bitten. In addition, Albert's defense said that the victim liked to "collect" celebrities and bragged about having relationships with people like ABC anchor Peter Jennings. (Later in the day, Jennings reportedly denied ever having met the woman.)

The First Bombshell: The Defense's Surprise Audiotape




On Sept. 23, Vanessa Perhach took the stand and testified about her 10-year relationship with him. She described Albert as being a gentleman when they first met in 1986 and said that their sexual relationship was initially conventional. However, she said that Albert eventually revealed a preference for threesomes and began hounding her to recruit other men to join them in sexual encounters. The prosecution then played an undated taped phone conversation between Albert and Perhach. In the tape, with the crowd noise from Madison Square Garden in the background, Albert and Perhach arranged their next meeting. Albert also asked the woman whether a third partner named "Al" would be joining them, and she said that he would.

When asked about the incident in question, Perhach said that Albert was angered when she did not bring a third person for sex that night. Albert's accuser tearfully said that the NBC sportscaster threw her on the bed and began biting her back. When Perhach complained to Albert that he was hurting her, he allegedly said, "You're enjoying this. You enjoy rough sex." Perhach said that Albert's actions that night made her feel hurt and betrayed. She testified that the usually gentlemanly Albert had suddenly treated her as brutally as her ex-husband.

However, during cross-examination Perhach admitted to Albert's attorney, Roy Black, that Albert never struck her with his fists during the sexual encounter in question and that they hugged and kissed before she left the hotel room. Black asked the victim why she did not lock herself in the hotel bathroom and call hotel security officers if she felt threatened by Albert that night. Perhach did not respond to the question.

Then Black stunned Perhach and the prosecution when he presented an audiotape of a conversation between her and a taxicab driver. In this conversation (which reportedly was taped on July 18), Perhach allegedly tries to coach the driver into supporting her allegations against Albert. She is heard telling the driver, "You know what to say...That when you went to pick him up, that he [Albert] wanted to get a boy. We gotta get tight on that."

The cab driver responded, "I'm getting too old for this. You owe me $50,000 and a new car." Both Perhach and the cab driver laughed as she told the driver, "Okay baby." On the stand, Perhach denied trying to coach the cab driver, whom she described as her "guardian angel" and said she was only joking with him about the promised money and car.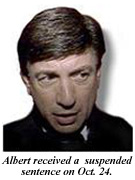 Despite the unveiling of the audiotape, defense was not be able to ask Perhach about her sexual past. During the trial, Judge Benjamin Kendrick denied the defense's request to ask the victim about similar allegations she made against past boyfriends. The defense claimed that Perhach had a history of making inflated allegations against boyfriends who end relationships with her.

The Turning Point: The Prosecution's Surprise Witness


The next day, the prosecution rebounded. They surprised Marv Albert's defense by bringing to the stand another woman who claimed that Albert bit her and tried to force her to perform oral sex during a separate incident in 1994.

Until then, no one had corroborated Vanessa Perhach's allegations that the NBC broadcaster favored forcible sex and biting. But Patricia Masten, who reportedly worked as a liaison between Hyatt Hotels and their VIP guests, testified that she first met Albert in the early 1990s when he traveled with The New York Knicks and stayed in Hyatt Hotels. Masten described two separate biting incidents with Albert.

The first incident occurred in 1993, when Albert invited Masten to a Knicks-Heat basketball game in Miami and post-game party in his hotel room. Albert allegedly told her that Knicks center Patrick Ewing and other players would be at this party. However, when Masten came to the party, no one was in Albert's room except Albert. Masten told the jury that she and Albert had a few drinks and that Albert soon began asking her questions about oral sex and threesomes. Then Albert tried to kiss Masten, and he bit her lip. Masten claimed she pushed Albert away and left his hotel room.

Masden's second incident with Albert occurred in 1994. While he was staying at a Hyatt Hotel in Dallas, Albert called Masten to apologize for the previous incident. Albert allegedly asked Masten to come to his room to help him fax a letter. When Masten knocked on Albert's room door, he said, "Come on in. I'll be right out." While Masten waited in the bar area of Albert's hotel room and looked outside the window, she heard the door close behind her.

Masten said she turned around and saw Albert wearing panties and a garter belt. The scene shocked Masten. Albert allegedly approached Masten, pushed her head towards his crotch and bit her on the side of the neck. Masten then said that she when she tried to push Albert off of her, she grabbed his hairpiece and accidentally lifted it off his head. After fleeing Albert's room, Masten testified that she reported the incident immediately to her supervisor.

Albert's attorney, Roy Black, had attempted to convince presiding judge Benjamin Kendrick to bar Masten's testimony from trial because he thought it was irrelevant to the case. However, Judge Kendrick admitted Masten's testimony because he felt it proved a pattern of behavior on the part of Albert and that it supported Albert's accuser's case.

Additional testimony came from Perhach's teenage daughter, who described how upset her mother was on the night of the incident this past February. A Virginia state police forensics expert also testified about the results of Albert's DNA test, which stated that there is a one in 2.6 billion chance that the bite marks on the back of the victim were left by someone other than Albert.

A dental expert testified that the bite marks show that Perhach did not jerk away when Albert bit her. This seemed to support Albert's claim that the rough sex with Perhach was consensual.

The Plea Bargain


On Sept. 25, Marv Albert pleaded guilty to misdemeanor assault and battery. The more serious charge of forcible sodomy, a felony under Virginia law, was dropped.

"I just felt I had to end this ordeal myself," Albert said outside the courthouse after his plea bargain. "I thank my wonderful fiancee, Heather [Faulkiner, a producer at ESPN], my family and NBC Sports for standing behind me. I would answer some more questions, but it's been a trying day, and I really just want to spend time with my family."

Ironically, hours after his plea bargain, NBC fired Marv Albert. Later, Albert resigned from his sportscasting job at the MSG Network.