27 March, 2006
New Farrell Video Out – on Revisionists
Posted by alex in
White media
at 11:05 am |

Permanent Link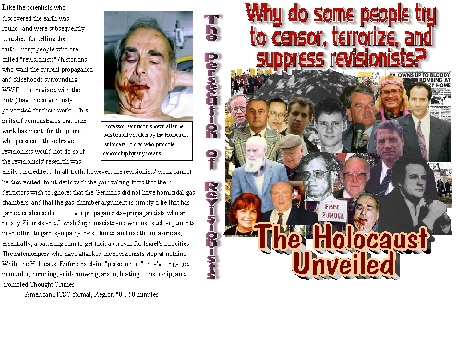 New DVD – The Persecution of Revisionists: The Holocaust Unveiled
(You may need to click on this link to see embedded links, picture, etc.)
(Note: I am scheduled to be interviewed live by Michael Collins Piper at 7:00 PM EST [6:00 PM CST, 5:00 PM MST, 4:00 PM PST] February 27th. You can listen to this live online at the Republic Broadcasting Network -Â  – or on Shortwave Radio 5.050.)
Why have some people (described hereafter as the "Thought Police") incessantly attacked revisionists of all different backgrounds (from Gentiles, to Jews, to Christians, to Muslims, to freethinkers, to whites, to Arabs, etc.) in some of the most horrible ways imaginable?
The Thought Police have not just merely suppressed the revisionists' findings by boycotting them but have also censored them by promoting laws to make their honest findings punishable by jail time, committed arson, murdered them, threw acid on their faces, beat them, smashed their homes, and engaged in other acts of mayhem.
Lately, too many people have been sentenced to jail for such crimes–with it now being a criminal offense in Australia, Canada, Austria, Germany, Italy, England, and most other countries in Europe and beyond to merely question virtually any aspect of WWII history dealing with the Holocaust.
Ernst Zundel was taken away from his American wife in the hills of Tennessee.
Germar Rudolf, a Ph.D.-level chemist, was also taken away from his wife and their child in Illinois and deported to Germany to stand trial.
David Irving, a world renowned historian, was sentenced to three years in jail for merely one single sentence, uttered 15 years ago in Austria! The Thought Police will stop at nothing to silence these brave revisionists. We truly do live in Orwellian Times.
Find out about the dozens of revisionists who have suffered, and learn what findings these truth-seekers have uncovered that make them the targets of persecution around the globe.
"What an achievement!
"Your revisionist video is top-notch.
"The whole time I was watching it I was thinking, 'This is something I want my friends to see…'"
–Michael Collins Piper, radio host, writer for the American Free Press, author of "Final Judgment," "High Priests of War," "The New Jerusalem," "Dirty Secrets," and "The Michael Collins Piper Reader"
To watch an excerpt of the video (obviously, with some parts cut and parts of the voice-over removed in the second-half), click here . (Approx. 24 MB. To download, right-click on the link and select "save target as" from the options.)
To order online, click here
Or, to order via mail, send $22.00 (postpaid, including international orders) to the following address –
Mark Farrell
P.O. Box 141243
Cincinnati, OH 45250-1243
USA