21 March, 2006
The Niggers We Subsidize
Posted by alex in
Alex Linder
,
Arboreal Americans
,
black stats
,
studies
at 4:19 pm |

Permanent Link
Niggers don't work. They don't have to. They've got us. That's not how the Kike Times portrays it, of course, but it's the truth.
Niggers don't work because they don't want to. They don't have to because White earners have money stolen from them by the jews of ZOG and turned over, minus healthy transaction costs, to their own worthless, violent, stupid, lazy nigger selves – so that they can breed even more of their feckless ferals next time around.
Who's likelier to breed? A guy who comes home tired from work, or a nigger who's chillin' on the porch all day, maybe smoking a blunt, waiting for the mailman to bring the ho's AFDC/WIC/etc check?
White people are the best things that ever happened to niggers. They get their grub on a silver platter, where in Freaka they had to extend themselves, and move their own appendages to tip over rocks for their protein.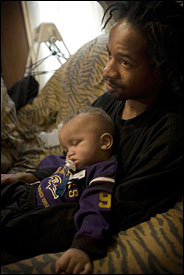 Look at the picture the NYT uses. Finding a nigger married to its sow is statistically unlikely. But snoop soggy pa here is dedimacated an' shit. You can see it in his loving, chocolate eyes. After a hard day of begging the Man for a janitorship, he's back to tend baby 'boo. Lawsy, lawsy, I jes prays little Detrito will have the chances ah I nevah had.
Every nite I pray to god that the Muslims get a nuke and use on the vomit-licking buzzards who type this cotton candy. This piece is pure loxist laffer, "It's hard out there for a pimp" set to prose.