7 April, 2006
How a Jew Thinks
Posted by alex in
Iraq
,
Israel
,
jewish hate & hypocrisy
,
Jewish Tyranny
at 2:21 am |

Permanent Link
Invade a nation on pretext, bomb it to smithereens — this after having starved several hundred thousand of its children — then complain about its ingratitude! Meet Daniel Pipes, a jew like other jews, yet perfect among them.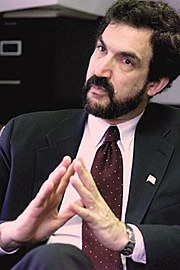 Q: What is the biggest lesson you have learned from the Iraq war?
A: The ingratitude of the Iraqis for the extraordinary favor we gave them — to release them from the bondage of Saddam Hussein's tyranny. They have rapidly interpreted it as something they did and that we were incidental to it. They've more or less written us out of the picture.
[This is the kinds of otherworldly remark that issues from jews as regularly as steam from Old Faithful in Yellowstone. This is the remark of a man who never questions his fitness for ruling the rest of us. What would be a good way to wake this murderous daydreamer from his reverie?]