7 April, 2006
Jews Being Jews/Jared Paul Stern
Posted by alex in
frauds
,
General Decline
,
jewish criminality
at 11:35 pm |

Permanent Link
[Jews really are a mafia more than a race or religion. Each yid is a node on a global criminal network headquartered in New York and Israel. No matter where you touch the jewish "community," your finger pulls back dirty.]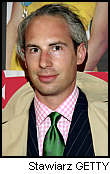 The billionaire, the Post and the $220G shakedown
A New York Post Page Six staffer solicited $220,000 from a high-profile billionaire in return for a year's "protection" against inaccurate and unflattering items about him in the gossip page, the Daily News has learned.
In two 90-minute meetings, characterized by a shocking breach of ethics, Jared Paul Stern, a fixture on the city's gossip scene who also edited Page Six The Magazine, asked for a series of payments from Ron Burkle, the managing partner of Yucaipa Cos., a conglomerate with interests in supermarkets, celebrity clothing lines, and media.
It was all a setup, a sting monitored by law enforcement, including the U.S. attorney's office and the FBI, who are now investigating the extortion attempt. The meetings, on March 22 and March 31, were videotaped.
The shakedown began with a series of e-mails sent last month by Stern to Burkle.
It reached a boiling point more than an hour into the first meeting after Stern outlined various ways Burkle could buy protection on the gossip page.
An exasperated Burkle finally said, "How much do you want?" after Stern said he could control coverage by Richard Johnson, the column's chief writer, and his staff. "Um, $100,000 to get going and then you could get it to me on a month-to-month, maybe like $10,000," replied Stern.
"Okay, that's a great deal," said Burkle, the subject of numerous Page Six items including a "date" with supermodel Gisele Bundchen, meetings with other women and a nasty breakup with a longtime lover.