9 April, 2006
Slurs Aren't Acceptable in Mainstream Media
Posted by alex in
country music
at 11:25 pm |

Permanent Link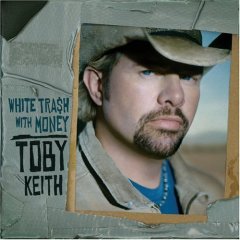 [Link] Since Toby Keith's commercial success and canny image manipulation show how shrewd he is, perhaps the best explanation for songs as lackluster as "Note to Self" (a generic Rolling Stones arrangement with a hokey lyric) and "Runnin' Block" (about bedding an unattractive woman for the benefit of a buddy) are either laziness or pandering. On White Trash with Money, his first release on his own Show Dog imprint (and without longtime producer James Stroud), Keith occasionally appears to be stretching himself–on the string-laden balladry of "A Little Too Late," the tender "Crash Here Tonight," and perhaps his finest vocal performance to date on "Too Far This Time"–but often seems to be coasting. "Get Drunk and Be Somebody," "Grain of Salt," and "Brand-New Bow" are never less (and little more) than dumb fun, while "Can't Buy You Money" is a clever twist on the "money can't buy you love" adage. The most contentious track here, "Ain't No Right Way," is just waving a red flag at those who refuse to reduce complex issues to simple black-and-white. Keith insists that he only writes as many songs as he needs to record; this time, some quality control might have required writing a few more.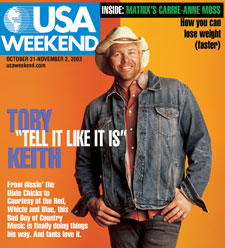 Toby Keith is famous for the line: "We'll put a boot in your ass/It's the American way," perhaps the single most profitable sung line to emerge from the post-WTC demolitions surge in patriotardism.
This is how it works in America. The jews set the agenda and determine our policies. Anybody who wants to get access to the public sings their tune or gets shut out. As the Dixie Chicks found when they dissassociated themelves from Bush, incurring hostility from dolts and roughneck slicker Toby.
Keith wrote "Courtesy" a week after the Sept. 11 attacks. In part, it was a way of dealing with his grief over the March 2001 auto-accident death of his father, H.K. Covel, 64, an Army veteran who was killed after another car pushed his in front of a bus. The song was so blazingly vengeful that Keith had no intention of recording it. He did so only after his associates and high-ranking members of the military insisted. As a result, even Defense Secretary Donald Rumsfeld has sent him a handwritten letter of appreciation.
I bet he did! He sings a simple story for simple minds. The truth he flips, but the truth never put any food on anyone's plate, as Oliver North once said. Patriotards are for fleecing, and if all they get for their trouble is a cabeza full of fruit salad (see action photo below), well, they weren't using it much anyway. More here on country music and the wars.
If you subtract the niggers, Indians and jew-manipulaed yahoos from Oklahoma you get a negative number.