10 July, 2006
Notes on the World Cup
Posted by alex in
Alex Linder
,
sports
at 1:16 pm |

Permanent Link


The world cup was won last night by Italy, fielding an all-White team against a team of suburban nigs and mystery meats such as the Algerian rammer Zidane, whose truly sublime butt is depicted to the right. The monomedia made Zidane the hero of this cup, yelping e'er lou'er as France progressed. Since no one ever learns anything, the vote for the Golden Baller was taken before the final concluded, resulting in precisely the same preposterosity as happened last cup: the winner — this time ram Zidane, last time gorilla goalie Kahn allowing two soft goals — in the final half of the last game of the tournmanent exhibited behavior converting the vote into a farce.
What follows is a collection of notes and articles and interesting paragraphs from those articles, the primary source being England's Guardian.
If it's in straight its me, in italics its Guarditos, tho I'll probably miss some along the way. Brackets are me.
World Cup
Football has become very different from the game I remember, through a process of embourgeoisement that began at Euro 96. It has become something better, I suppose most people would argue.

[That is, WC in particular, but Euro football in general, are becoming too expensive for the single-male packs that do the fighting.]
In lieu of the nastiness, we have, from the commentators, a continual — and misplaced — priapism whenever Brazil take to the field; a 90-minute susurration of oohs and aahs, as if we were witnessing a firework display rather than a mediocre performance from a team with a dodgy defence, no midfield whatsoever and somebody resembling Peter Kay up front.
We were enjoined once again to share in Ronaldinho's conspicuous love of the game. Call me a mean-spirited curmudgeon, but it does sometimes occur that his perpetual grin is the recourse of a half-wit.
http://www.timesonline.co.uk/article/0,,2093-2230840,00.html

[This was the first article I've seen debunking Brazil-the-beautiful-game-players. Brazil's performance wasn't beautiful, Germany's was. However, in the judeo-anglo press, Germany must only be allowed "clinical" precision and "brutal" efficiency. This did alleviate slightly, as the facts of the joyous attacking style put in by Klinsmann resulted in goals, but the overriding sense is that in sports/football, just as in politics, there's a set of jew-agenda-serving stereotypes that are filled, and from which deviation is unacceptable. If Germans do something beautiful — when you stick that in the jewputer, it comes back does not compute. All Germans do is kill six million jews, even though that never happened. But, to those paying attention, the German offense was one of the main stories of the tournament.
People got along very well in Germany not just because Germans are organized and friendly, on average, but because there were no jews involved. Politics COULD work the same way. If there were no jews on earth, we could have a global political sphere managed as efficiently as the world cup – with respect for individual and group difference.
You get a good insight into the British mentality by reading the Guardian writers on the British players, and by following the actions of the team and its entourage. Before the tournament England considered itself shoe-in for the semi-finals. Talk of its "deserving" was everywhere. The truth is that the England as a nation is about one step above Portugal in the global scheme of importance. America's being an English-speaking country is pretty much England's only claim to fame, along with a certain concentration of financial power in London. The country used to produce some of the world's best writers in English, having a certain natural advantage in that regard, but today – who came name an English author worth reading? O'Farrell for Heretical.com is the one that springs to mind – and they throw him in prison.
The English take their ourish language in an unattractive direction. They love stupid words like bobbins and pants. They are brittle and excessively self-conscious in expression. English are always afraid someone else is looking and they'll be 'caught out.' Their self-consciousness is almost to jew levels. This is a cultural defect. In many ways the English are simply low-grade jews. This comes from their country being taken over by the jewish mentality under Cromwell, who let the carriers back in. The English mindset is fear battling with pretentiousness. It is middle-class money worship. You must be respectable, ie, own lots of money. Really, what is called global culture is Anglo-jewish celebrity worship. Read Bild, the German mass-tabloid. Most of the celebrities it features aren't even German.
Differences between German culture and English culture reflected on the field. Germans are technically sound and fight. English cry and pose. The only English player to make a penalty kick was the honorary German, named Hargreaves. Hargreaves was hated by England because he's a Canadian who speaks German and plays in the Bundesliga. He's not nancy poncy metrosexual like David Beckham. He doesn't play in the Premier League, so obviously, by English thinking, he's inferior. By his play, which rose to the level of German, Hargreaves demonstrated that there's nothing wrong with the racial stock of Britian – the problem is English culture. It sucks. It is obsessed, fearfully obsessed with appearance. "To seem" truly is the Latin under the English coat of arms, just as "to be" runs under the German.
At the end of the day, Hargreaves was the only "Englishman" — i.e., German-trained Canadian — with grit and daring, pushing himself up the pitch against the numerically superior Portugese, wishing England could produce a striker worthy of finishing his cross. When time was called and the penalty kicks began, the world got the full monty of British courage and determination, as they advertise us. One of the septic sandbar's heroes took a cheap shot before the ref blew his whistle. After the game he claimed he didn't know you had to wait for the whistle – utterly ludicrous claim to anyone's who's ever played. Every single English shooter missed his shot except Hargreaves. Blubbering Beckham didn't even get to take one, as he was lying on the sidelines whimpering like his bug-brille'd stick-insect wife.
My point here is to deride English culture. The sand bar is solipsistic, it is celebrity-obsessed, it grovels before jews, it defames Germany. Americans who admire the British are stupid fools – to the extent we follow the British, we lead our nation to perdition. America should follow the German example, and focus on being, not seeing. There is nothing to admire in Britain, Israel or Hollywood, and to the extent we take these as models, we damage ourselves and our future.
Germany has repealed its blood laws, to the applause of the jews, who preserve such laws for themselves. But Germany is a conquered nation – it is not free. Among ordinary Germans, there is no desire to become a third-world nation. I suspect there is far less resistance among the British. America has always followed the British model, and today we are paying the price. We allow jews and Anglomaniacs to shower-ranger the world with their nasty canisters of democracy and suchlike ass-squeezin's. We should try to be what we say we are, instead of faking it and foisting it on those who don't need it or want it. Iraq? I still don't know where that is, and I still don't care. What I do know and care about is that my country is filled with tens of millions of shitskins called fellow Americans, and that these shitskins have already produced two murders in one tiny Missouri town. True, they killed fellow Mexicans, but there's always tomorrow, and VNN readers already know the facts about race and crime.
In Mencken's My Life as Author and Editor he writes about a projected project he never finished. He saved clips for years on the anti-constitutional activities of the 100% Americans – i.e., the Anglomaniacs. His idea was there ought to be a comprehensive report on the behavior of American elites before and during Wilson's War. The report was never made.
You can find dozens of books on the shelves, even from conservative, promoting "Our British Heritage" – but it only shows the face from its good side. Of course, I'm being charitable. I don't believe the face has a good side. I think our British heritage is about 80% negative. "Democracy" – it doesn't work for politics any better than flying planes. The thing America had going for it was open space and lack of technology, thereby limiting the feds' abilities to harass the settlers.
Even from pro-British bigots such as Davies writing for ESPN the picture comes through: Germany, even conquered and imposed on politically, is culturally and humanly more civilized than Britain. It is more technically advanced, smoother-flowing – nicer. The people are more pleasant. The gap is not small, it is large. Things in Germany work, and Germans, one with another, are better educated, taller, smarter, better looking, more tolerant and humane, than the British. The fact is that Germanic culture is superior to British. We only have a hard time seeing this because we live in an English-speaking country. Few of us learn other languages, most of us never even get a passport, the majority of us never conceive to doubt that our country is the best, our language the best, our democracy the envy of the world. Is America a great country. You know I like things straight up, so I ask you, unlike the Holocaust promoter, who trusts not the ground beneath his feet, to go to the window and take a look. Is America great?
We're getting afield, but did it ever occur to you that Germany was as far ahead of Britain and America in jew-control science as it was in rocketry? The enduring fascination with Hitler can have only one source: he was right. We all know it, even if you can't say it in England.
Back to sports.
Interjection: have you noticed that Germans look more like Americans than British do?
Let's hope:
– the wave of German patriotism results in a jumping birth rate nine months from now.
– Klinsmann realizes there's a dark side to the Anglo-American bonhomie, and jumps track before his positivity shades into advertising – see Bush and Beckham. German efficiency and organization and seriousness – these cultural legacies must not be abandoned for Anglo-American advertising. The difference between Beckham and Ballack must be preserved.
– All you need to know about the English and the Anglo mentality are summed up in the names Bill Cliton and David Beckham gave their children: Chelsea and Brooklyn.
Funny story ostenibly backgrounding the Bild's slur on 'Beckham's birds'… One thing about British papers I like is that more than once you suspect the writers so select their words to try to attract readers. American writers are never guilty of that sin. British writers have many flaws – they're generally stupid, unclever, enthusiastic to project smooth cynicism, overly self-conscious, always self-undercutting before others can get to it, perhaps the single most irritating feature of british society, which is practically defined by it,
but at least they curse and actually TRY to AMUSE the ADULTS they're writing for. Anything stinking of official in America always always always sounds like its coming from a wide-eyed kindergarten teacher addressing a bunch of five-year-olds. Some British stuff can be informal without being puerile – seldom found in America, where you're either corporate-PC or you're Howard-Stern-juvenile. America may be a freeish country legally, but don't ever make the mistake of speaking your mind there. Maybe its because its sports rather than politics, but the Guardian writers are a good deal freer of language and insults than American.
http://football.guardian.co.uk/worldcup2006/comment/story/0,,1800159,00.html
Promotion of Ronaldinho over Kaka, a white, middle class, evangelical christian rather than a bucktoothed mulatto.
"they're just about everybody's second team" — says who?
"while the opposition is paying a game, they are painting a picture"
http://football.guardian.co.uk/worldcup2006/story/0,,1800551,00.html
[Nike promotes Brazil the team. They play the beautiful game, unlike the clinical, brutal euroGermans. Nike makes everything it touches niggerier, even though the slippery southerners usually shatter on the rock of superior European size and strength.
Stereotypes are everything. Most people are mindless. Most journalists are people. "You do the math." Brazilians play a beautiful game, Euros a technical one. These are caricatures. The Brazilians and Europeans both play a lovely game, and the Brazilians themselves say the jorno whateverthefuckado is just marketing bilge. The only real argument against the existence of the white race is its production of pukes like the ones who find in mudworld virtues it doesn't posses. Are prisons failing our niggers? Damn those prisons. It's the same in Europe. Mysmeats rioting in Paris proves how badly whites treat them.]
Leipzig's binmen were stunned yesterday morning to discover polite fans had cleared up plastic cups and wastepaper following their celebrations at a 1-1 draw.
A city spokeswoman said: "Thanks to them our cleaners finished two hours earlier than usual."
[The Asians seem to have the future. All they lack is imagination. They shatter too easily, see Japan vs. Australia. They seem to need outsiders to get any perspective on their strengths and weaknesses. It's already apparent that nations such as Japan are miles ahead of third-world-ingesting America and England in many measures. Clean, safe, fun cultures – all without Jesus, Freud, or niggers. Can such things be?]
http://www.mirror.co.uk/sport/tm_objectid=17258517%26method=full%26siteid=94762%26headline=kor%2dblimey%2d%2d-name_page.html

Disorder broke out after a drunk English fan fell from the statue of Jan von Werth, a 17th century German general, while trying to remove a German flag. He dropped a glass bottle, which shattered on to people below, and, as police moved in to offer assistance, other England supporters threw bottles and chairs.
After the hearing, Kewell emerged from the team's hotel near Friedrichsruhe to sign autographs and pose for photographs. "The result is brilliant and I couldn't expect anything more," he said. "I had prepared myself for the worst."
[The British have absolutely slaughtered the word 'brilliant.' The average Briton cannot go two sentences without using it.
When your goal is to seem, to cut a fine figure, everything must be 'brilliant.' They also use cracking, a good example of the thinness of their tongue and tinness of their ears.]
http://sports.espn.go.com/mlb/columns/story?id=2494929

blasting guillen
BSPN weenies try to get Guillen suspended for calling someone a fag.
of course, on its own boards the 'eurotrash' flows freely.
http://forums.go.com/soccernet/thread?forumID=94&threadID=73359&lastPostID=421107
"muslimhater1":
Are German soccer fans really unhappy with the fact that Klinsmann lives in the US (and actually commutes from there to Deutscheland) and married an American woman? Do they view him as a bit of a sellout?
just more proof of the hypocrisy of you nazis and eurotrash in general.

Clean after yourself
South Korea's fans have won a special place in the hearts of order-loving Germans.
South Korean fans who gathered in front of giant screens in Leipzig to watch Sunday's 1-1 draw with France impressed the locals by dutifully picking up their garbage at the end of the match. As if that were not enough, the city government said Monday, the South Koreans also cleared the tables at fast-food outlets set up for fans – saving cleaning firms the trouble.
[The British fans were essentially treated like juvenile delinquents. The Germans tactfully asked the British to send their own police to help tend the tommies. Most Americans, thinking in the stereotypes they've been conditioned to believe in, imagine British are polite, cultured, civilized people. This belief will not survive a trip to Britain. The French call British tourists les rosbifs. Fat as midwesterns, sunburned, drunk, stupid. Do they have compensating virtues? What are they?]
http://service.spiegel.de/cache/international/0,1518,394276,00.html
The WAGs parade through the town exuding carefully contrived glamour.
They are uniformly tiny, teetering along the cobbled streets in spiky heels and skin-tight jeans, their eyes masked by saucer-sized sunglasses.
http://www.yorkshiretoday.co.uk/ViewArticle2.aspx?SectionID=105&ArticleID=1577504

Are the english scum?
"English fans were shown by this action that aggressive drinking, violence and bullying will be prevented," said the Stuttgart police chief Michael Kuehner.

http://football.guardian.co.uk/worldcup2006/story/0,,1805190,00.html

Opposite me, there are about 500 England fans, mostly bare-chested or in Burberry. All the old favourites are coming out: Ten German Bombers, the theme from Dambusters, Two World Wars and One World Cup, Who the Fucking Hell Are you? It feels like having a front row seat at Last Night of the Chavs.
This behaviour is nothing new: from Frankfurt to Nuremburg to Cologne, a minority of the England fans have laid down large Nationwide-sponsored St George flags to mark territory, and spent their days drinking and taunting. By the end of the night, bottles are usally thrown and side streets are strained yellow, but tolerant and low-key policing ensures the evening passes off with confrontation. Last night, however, there were 122 England fans arrested. Tonight could be worse.
http://blogs.guardian.co.uk/worldcup06/2006/06/24/ready_to_kick_off.html

One thing I didn't mention in my piece is that I was talking to a few British policeman in Stuttgart, who were all full of praise for how their German police have handled things. "They're under strict instructions not to charge unless it goes nuclear," one told me. "But I'm amazed they haven't snapped with some of the things I've seen." Can I last, I asked him? "I'm not sure," was his honest response.
on touts
http://football.guardian.co.uk/worldcup2006/story/0,,1805344,00.html

'I think I've had texts from just about everyone I know now,' he says with a modest smile. 'They all say as long as I've got a hole in my arse I won't score another goal like that. I don't know, though.
http://football.guardian.co.uk/worldcup2006/story/0,,1805294,00.html

Erwin Hetger, head of the state police, said: "We had no problems at all with the French, Swiss and Dutch fans that were having a great party here.
"It all changed when the English fans arrived. The atmosphere changed. The incidents began late yesterday evening."
http://news.bbc.co.uk/2/hi/uk_news/5112364.stm

aussies dont get involved in these sort of riots….
it gets in the way of vauluable drinking and perving on sheilas time!
[Australians played great fighting soccer, and got screwed on a call against Italy.]
http://forums.go.com/soccernet/thread?forumID=60&start=20&threadID=91899&sortBy=null

[This is one kind of posting that's worthwhile – taking interesting facts to unfamiliar faces.]
I know it's illegal to deny the occurence of the holocaust in Germany. Is it also illegal to deny that David Hasselhoff enjoys huge popularity in Germany?
I saw that one poster on this forum denied Hasselhoffs popularity, if this site had been German could he have been prosecuted by the German authorities?

http://forums.go.com/soccernet/thread?forumID=94&threadID=90087&lastPostID=460187

The change in formation is not a panacea for all of England's ills and creates imbalances at the same time as curing others.
If, say, Minnesota manager Ron Gardenhire had used the slur Ozzie did, Gardenhire almost certainly would have lost his job.
http://sports.espn.go.com/espn/page2/story?page=bayless/060623

How to know if you're a douchebag
– if you use "coin" for money – you're a douchebag
Yeah. It really is that simple.
– if you've said you're "all in" in the last month.
Yep. You're a douchebag.
This courtesy flush brought to you by the pubic nad council.
Question: why does the Guardian run a banner from the United Nigger "College" Fund?
We now return you to our irregularly scheduled mix of insults, observations and interjections.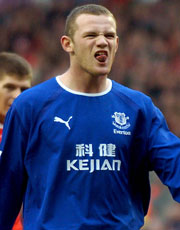 Rooney, with his porcine eyes and just-this-side-of-Down's visage is nevertheless the only Britisher with flowing blood.
http://service.spiegel.de/cache/international/0,1518,423490,00.html

nbareffing
[Jew owner Marc Cuban angry at jew NBA head Stern over biased reffing. NBA reffing is jigged to help the losing team – the sort of socialism now inescapable in every walk of life. No one ever loses or wins for reason, there's always racism or some other head-hobgobblin to blame. Lucky we have a Dictating Authority, a Recompenser General, to make up for it, on court as off. Jew Cuban, who made his billion with a timely sell at the peak of the dot-com, has said he'll leave pro hoops in a heartbeat should he become convinced the league is rigged. Direct parallel to politics. It's all a charade, the claims about free and fair press. Like most things in nature, media evolved as ways to defend yourself by attacking your opponents. Owners create an ideostructure, unyielding, unvarying, in which one's own are portrayed as noble, one's enemies as despicable. Stereotypes are conformed to across mass media in the United States: blond = evil; blonde = dumb. Suitable for mixing with superior niggers, who exist on tv and nowhere else. All tv is science fiction channel. Write down the first 100 niggers you see on tv. Check their portrayal against the statitical facts. How many niggers invest funds, run businesses, perform laparotomies, judge cases… On tv the competent, caring negro is the rule. In life, the nigger is the rule. Whose advantage does it serve to reverse reality?]
http://sports.espn.go.com/espn/page2/story?page=whitlock/060622

Hitler, who didn't touch tobacco or alcohol, gave 100,000 Reichsmarks of his own money in 1941 to the world's first institute dedicated to the dangers of tobacco. Led by avid anti-smoker and anti-Semite Karl Astel, the institute produced the first comprehensive study linking smoking and lung cancer.
"After the war, the tobacco industry capitalised on the Nazi connection — the idea that if Hitler did it then it must be terrible," Proctor said. "The anti-smoking movement in Germany was portrayed as intolerant and essentially fascist."

[Kirksville's newspaper's editor recently came out in favor of banning smoking in restaurants. He's a progressive. He's usually on the side of freedom. But the health benefits air without second-hand smoke are too great to stay the hand of government. Nevermind that the dangers of second-hand smoke are as imaginary as the dangers global warming and the virtues of jews.]
A kike lectures on class…
The strange and sad truth is that even the Germans appear classy alongside the English fans, the vast majority of whom, one should stress, are harmless.

http://www.haaretz.com/hasen/spages/731202.html

LINES
The jew media that make everything of a sub-1cm difference in dick length make nothing of a standard deviation in brain strength.
Informal in America always means puerile.
City Confidential: Wilmington (A&E show) describes Whites leaving inner city as "rats leaving a sinking ship." More like the opposite. As it says in the ADL's private handbook, "For public relations purposes, every black deficiency has a white (racist) cause."
"Jogo bonito was invented by a sports brand," smirked Roberto Carlos, reliably the most indiscreet member of Brazil's squad. "You can't blame us for that. Brazilian football is intelligent and winning, with great champions – that's what we have always been. When you start talking about the beautiful game, that's more about selling things."
http://football.guardian.co.uk/worldcup2006/comment/story/0,,1808312,00.html

This is the place to go out at night in Stuttgart, or to chill out in the day. The street is lined with lots of nice bars and cafes. In particular, try Suite 212. It's sleek interior still attracts a good crowd. It serves brilliant drinks in an equally brilliant atmosphere. Ask Nils at the bar to mix you one of his caipirinhas.
The yob goes to football matches in order to "have a good time". This involves being part of a big, powerful crowd, drinking lots of alcohol, shouting, breaking things, vomiting and urinating in public places etc. In England this is part of the mainstream culture, that's why the yob is "mostly English". The yobs simply move their usual weekend activity onto a larger scale.
http://blogs.guardian.co.uk/worldcup06/2006/06/30/credit_where_its_due.html

books: Kate Fox, Watching the English
http://www.dailymail.co.uk/pages/live/femail/article.html?in_article_id=393424&in_page_id=1879

pear bellinis
http://www.dailymail.co.uk/pages/live/femail/article.html?in_article_id=393417&in_page_id=1879

I imagine that after victories "Big" Phil strides, nude, into the team bath and embraces his charges, guffawing and proud as the gleeful players unwittingly release inadvertent spurts of grateful widdle.
McLefty, I couldn't agree more and as the first contributor pointed out, the most surprising of the few performances better than mediocre was that of Hargreaves – to all intents and purposes a German player.
Be honest, the football that we delude ourselves England will one day produce is already being played very effectively by an old enemy. Germany have reached the semis with blood and guts football laced with no little skill. They have enough quality to hang on when the highly technical (and predominantly latin) teams go through their inevitable purple patches but the pragmatism and bottle to match the more physical sides.
http://www.sundaymail.co.uk/news/tm_objectid=17320658%26method=full%26siteid=64736%26headline=you%2dfakes-name_page.html

Oy! people… I'm back. Just eat some lovelly sardines!
While I was away I solved the mistery of this game:
World cup rules for 2010:
a) Never use Argentianian referees otherwise even in a game between, say, Mexico and Japan they show red cards to english players

b) Portuguese players must be castrated prior to any game thus enabling other teams to stamp them at will

c) Portuguese keepers must be blind and preferably tied to the post while England tries to score some goals

d) Always allow xenophobic behaviour from the brits because it is as natural to them as breathing

e) Every English win will have a double value, meaning that if they win the 1/8 game will authomatically transit to the semi-final where they will play with 14 players against 11…
Oh come on guys… You lost on your account! face it like big boys and not like whimpering children. It is very unbecoming of you. By the way, if i'd stamp Prince Charles bollocks would he mind? It would only be for equilibrium you see, not on purpose! naturally
AH AH AH AH AH
portugal won AGAIN!!!
[Offensive? Unsuitable? Report this comment.]
http://blogs.guardian.co.uk/worldcup06/2006/07/01/dont_blame_ronaldo.html

The German guy, Rako, in common with many of his compatriots I would imagine, feels that free speech is being suppressed in his country in the supposed interest of multiculturalism. I have to say some of his opinions were on the verge of shocking, at least for a pasty white English liberal like me. He's not a Holocaust denier, but thinks it is wrong that people are not allowed to ask questions about it and that atrocities such as those committed against the Chinese by Japan are not given comparable attention.
I think Rako believes that what makes Germany German, is being eroded. But he didn't strike me as rabid nationalist. Anyway, we agreed unanimously on one thing: this has been a really good World Cup so far and the Germans should not be ashamed about waving their flag.

http://worldcupblog.dailymail.co.uk/

June 22: Maradona fetes Maradona: He and his clan celebrate the 20th anniversary of the 'Hand of God' quarter-final match against England in Mexico that made him immortal. At 4.18 the police arrive at the Frankfurt restaurant and end the partying. Too much noise.
http://sport.monstersandcritics.com/worldcup2006/features/article_1177448.php/Sleeping_partying_sulking_Maradonas_weird_World_Cup

The recruitment of Verstegen roused suspicion in Germany, with many wondering why the three-times world champions needed help from an American, but the German record at this World Cup speaks volumes for his effectiveness.
http://soccernet.espn.go.com/news/story?id=373156&cc=3436

http://en.wikipedia.org/wiki/Historical_and_cultural_perspectives_on_zoophilia

how can you expect a young boy in Newcastle to be taught that playing a short pass to the left helps the team? when coaches parents and players are all shouting "get rid of the fucking thing." Like the macho/war society the British have, big strong boys that can kick a long way, get picked for teams, small boys that maybe have just as much talent get looked over. Why?? It looks better for a tall fat jimmy who plays centre back to whack it up the middle on the nut of some over big guy who almost heads it down to the running on other team member. That sort of "almost worked thing" gets a lot of encouragement, claps and mindless well dones .. Why ?? It didn't work!!!, but 'cause Fred in the 50's played like that , then it must be good, it must be right!! Soccer in Britain is all about showing your strength, and saying yes (maclaren good example of that, the saying yes that is) fineness is for the lazy continentals!
http://blogs.guardian.co.uk/worldcup06/2006/07/02/have_you_been_smoking_crack_sv.html

BRITAIN THESE DAYS…
http://www.dailymail.co.uk/pages/live/articles/news/news.html?in_article_id=394192&in_page_id=1770Mahlon
Hector sent the Mexican red-kneed tarantula – the type used in films for its scary appearance – to a female employee at a Marks & Spencer branch in Leicester.
http://www.thesun.co.uk/article/0,,2-2006310113,00.html

A staggering one in ten admitted to NHS wards were unintentionally harmed — and many more had lucky escapes.Now everyone is waiting with baited breath to see if he will stay on beyond this summer.
[That's BATED breath. We see this wrong more often than write. Think: Mosquito aBATEment District.]
http://bild.t-online.de/BTO/sport/wm2006/aktuell/07/07/frings-sperre-politik/frings-sperre-politik.html
warns off 2010 world cup
http://football.guardian.co.uk/worldcup2006/story/0,,1815122,00.html

The French word for English is "Les Rosbifs", a reference to sunburnt tourists in dreadful shorts from Primark.
http://football.guardian.co.uk/worldcup2006/comment/story/0,,1816117,00.html

The comedy German security team
The scene: England's media centre on a Saturday evening, six Sunday journalists working to a 7pm deadline.
German security guards have been told to shut at 6pm and can't understand why we keep falling about laughing when they get stroppy.
The head of security arrives with a piece of paper and begins to write down all our details, to be greeted with: 'Don't tell him your name, Pike…' 'I'm only carrying out instructions,' he replies, before adding the immortal: 'I have my orders to obey…'
[It's funny when he must carry out his orders, serious when you must meet your deadline. Guardian "aren't" much for irony.]
Congratulations to Italy!