13 August, 2006
South Afreaka: Monkey Men Demand White Farms
Posted by alex in
Alex Linder
at 8:30 pm |

Permanent Link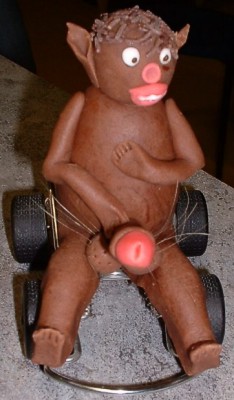 Niggers never learn – they aren't capable. Come now the macaques in mccharge of South Africa to announce their intention to take over White farms, just like their fellow bananamen to the north. Successful private and commercial farms run by human professionals will be turned over to simians who can't farm anything but toenail fungus and crotch crickets. Fields will go from green to brown in short order, as mudmen are incapable of growing anything but mud. Soon we'll be reading about starvation in South Africa – piteous wails from the same dirty jews who browbeat White South Africans into yielding control in the first place. White man, either you're on top, or you're on the bottom. There is no equality. Equality is verbal terrorism, as is every other ostensibly neutral term, including tolerance, diversity and multiculturalism – all of which mean one thing: loxism. The hatred of the jew for the Aryan. Transformation is another wink word, commoner in Europe and South Africa than in the U.S., but becoming more popular here, too. NO WAY OUT BUT THROUGH THE JEW.
Last Update: Sunday, August 13, 2006. 0:15am (AEST)
S Africa warns white farmers of expropriation
South Africa has told white farmers it may seize their properties under the land restitution program if they fail to agree on a selling price within six months.
The program aims to hand back land or offer financial compensation to black people who were forcibly removed from their ancestral homes under apartheid.
It is part of efforts to correct skewed land ownership created under white minority rule.
President Thabo Mbeki's Government wants 30 per cent of farm land in black hands by 2014.
But the transfer process has been slow, with only around 4 per cent of land transferred by the restitution program so far.
Agriculture and Land Affairs Minister Lulu Xingwana says wrangling with white land-owners over prices is one of the main reasons for the low turnover.
She has given them a strong warning.