2 September, 2006
Alex Linder Hottest Mass. Teen!
Posted by alex in
Alex Linder
,
White vocabulary
at 7:38 pm |

Permanent Link
[Up until about a decade ago, it was unheard of to name girls "Alex." But of course it is in keeping with Semitical Correctness to make every name epicene. Congratulations to Linder, who is certainly an attractive young woman.]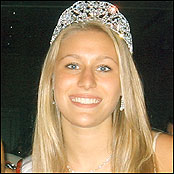 Not just a pretty face
By Jennifer Mann
Thursday, August 24, 2006 – Updated: 12:47 PM EST
It was classic Cinderella with a contemporary twist.
Arlington's Alex Linder didn't quite fit the mold as she took her first stab at a beauty pageant, arriving at the Burlington Marriott with a $100 dress, a cream-colored conservative number from Lord & Taylor with spaghetti straps and clean lines across the chest and hem.
The other girls' dresses featured "plunging necklines and huge slits," she recalled, juxtaposed with her own, untrained approach: "I went really simple through the whole thing."
Linder's mother, Jocelyn Siccone, watched girls trailed by personal hairdressers as they paced the halls of the hotel, calculating what it would take to become the next National American Miss. These were prima donnas who had been groomed for pageantry – this being just another platform to prove they've got "it."