13 September, 2006
Niggers: They're ALL Rapists
Posted by alex in
Arboreal Americans
,
black crime
,
hush crimes
at 10:49 pm |

Permanent Link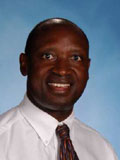 "Good" niggers? Where? Africa? Haiti? Detroit? D.C.? Nashua, New Hampshire? NO, NO, NO, NO, NO – NOWHERE.
This coon is "head of the math department" and a great chess player. But it knows what to do when it spots unprotected pussy. A nigger allowed to "teach" or "coach" white girls? The system that allows this is GENOCIDAL.
The head of Lowell High School's math department and a prominent chess player has been ordered held on $1 million bail today after being arraigned on 30 felony rape and incest charges.
Severine Wamala, 45, of Nashua, was arrested Tuesday on 19 counts of incest and 11 counts of aggravated felonious sexual assault.