5 October, 2006
Movie Review: 'White Terror'
Posted by alex in
Alex Linder
,
movie reviews
,
movies
,
Russia
,
Sweden
,
videos
,
White future
,
White media
,
white nationalism
,
White solutions
at 12:35 pm |

Permanent Link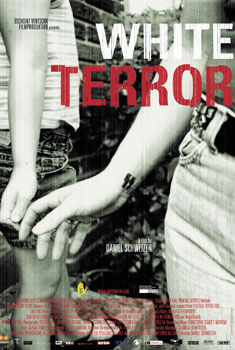 52-minute documentary written and directed by Daniel Schweitzer (2005)

The most interesting part of this film concerns Russian skins. The report claims they number 50,000 and enjoy popular support. It credits them with the assassination of Nikolai Girenko, one of these 'human rights' hypocrites whose main speciality was advising courts to lock White men in dungeons and throw away the key.
Girenko's killers have never been caught. It's not clear that he's been replaced, either. Keep that in mind next time you hear that violence doesn't work. It worked for the USSR. It works for ZOG. It works for Israel. It works for Iraqis sick of AmeriKwan infestation… And it works for Russian skins who refuse to submit to Jewish Tyranny, too.
Girenko's subtraction is the equivalent of an American disposing of one of the handful of verbal terrorists quoted as "experts" in the American press whenever the subject of White Nationalism comes up. These people are not experts, nor are they humanitarians, nor do they have any concern about rights. Rather, they are genocidalists. They are word-terrorists who specialize in misrepresenting reality to benefit the jews and advance their agenda. The supine media play along, either because they are in the hands of jews who agree with the agenda, or because the reporters realize that if they treat Whites fairly, Big Jew will see to it that they are blackballed.
The Jewish Terrorists seek the elimination of the hated White race through the destruction of its habitat. They fill its livingspace with niggers and mestizos while using their media to pretend there's no White "we" to be offended, let alone raped and murdered and driven out. Whites have no right to exist as a group save in semitically correct textbooks, which depict them as genocidal monsters, the better to demoralize White children and turn them against their race and parents.
Positive White identification is always labeled hate. Only jews and 'people of color' and sex deviants are allowed positive group identification in media and governments controlled by jews. Our government was re-founded on this double standard in the sixties. Whites cannot be allowed positive identity because that implies group interests, and that in turn means acknowledging that whites get no benefits, nothing but genocide, from the gunpoint integration forced on us by crooked jewish judges and conniving media. "Xenophobia" shrieks the mosquito as you slap it down. "Anti-semitism" screams the flea as you crush it to death between your thumbnails.
The real story "White Terror" avoids is that the girenkos use their media-governmental power to hasten our genocide while depicting us as the bad guys. But boy do they squawk when one of their terrorists is canceled! You'll have a hard time finding news about the White woman gang-raped by niggers next county over, but you'll read endless editorials and news articles about a jew-stooge brought to justice eight thousand miles away. Jews rate. Whites don't. If you don't like it, you're a hate-filled, anti-semitic extremist. Object to this order of things? Buy a tv station. You don't have ten billion dollars? Don't worry, the jews aren't selling anyway. And if one did, the others at the FCC would deny you a license.
The System, whether here or in Russia, is designed to oppress Whites and prevent their ever regaining self-determination. Every smear and foul tactic and Big Lie will be used to further that end. "White Terror" plays a part in this scheme. Do the facts says that blacks are fifty times likelier to attack Whites than the reverse? Do the facts say that jews were the commissars responsible for killing tens of millions of Whites in the former Soviet Union? Then we must at all costs avoid the facts and boom "White Terrror" as the real problem our nations must confront. Have no doubt, Daniel Schweizer and the system that backs him with public broadcasting funds are the real terrorists. "Hi! I'm from the government. Give me all the money in your wallet or I'll shoot you. I'm going to give 3/4 of it to the niggers to destroy your children's future, and the other 1/4 to Danny Schweizer to portray you as terrorist for objecting. That cool? Well, either way, give me the money." The terrorism and the tyranny come from jews and are directed at Whites. That is the fact of the matter.
The hatred of Aryans that drives the jews was named for the first time, by VNN: loxism. It is the hate that goes unnamed in the controlled media yet is the driving motivation behind the attempt to construct a New World Order. Just ask the next dumb blonde, redneck, whitebread or white trash you see. Ask any Southerner, German, Mel Gibson, or priest you come across whether he feels that his race and religion and region are "exposed to hate" in the jew-controlled media as the jews hypocritically term it when they move to suppress as "hate criminals" White men citing facts about jews and coloreds, as in the Tomas Winnicki persecution in Canada. It is fine to expose White men and their ways to hate; it is "hate crime" to teach White men the facts about coloreds and jews. This double standard obtains across the board in any system operated by jews.
Under the standard "human rights" mask, the terrorist Girenko pushed the race-mixing agenda of the New World Order. He tried to make Russia comfortable for niggers and uncomfortable for Russians. It appears that he is the first loxist brought to justice in the only way possible in a system controlled by jews.* Girenko has no one to blame but himself. Sic semper loxists…
The film interviews a woman with the mislabeled "Helsinki-Moscow Human Rights Group." It claims she is next on the hit list. Do White men usually kill people for no reason? No, that is the kind of behavior we expect from niggers. Niggers like the ones girenkos are paid high salaries by jews to admit to White lands, to disrupt society with their savagery. If Ludmilla doesn't appreciate the irony, perhaps the Russian skins do. Perhaps an epiphany will occur in her sometime between shot and expiry.
In Russia, if nowhere else, the jews and their tools face consequences for their genocidal campaigns!
That is the message of this film, no matter what Schweitzer intended.
As one Russian says, in America and other places, racialists are outcasts, but in Russia they have the support of the people, including people in the Duma. America is full of Congressmen who think nothing of propositioning teenage boys and running homo bordellos out of their townhouses, but it's the kiss of death if they dare address even a gelded southern heritage group or Conclave of Conservative Cowards. So far we have fallen.
What was particularly heartening for non-Russian racial nationalists was that the leader of the Russians said he and his men are consciously defending not Slavs but the White race. He understands that things change, and today White men occupying any spot on the globe face exactly the same enemy – the global jewish mafia that intends the genocide of our race.
The rest of the film covers Blood & Honour in Scandinavia, WAR and Billy Roper/White Revolution and the Topeka Rally in the U.S., and nothing in Germany or England. We hear talk about radicals subverting democracy. The subverters are forced to sell music CDs out of the trunks of their cars, so it's not exactly clear what type of freedom they mean to subvert. When you can't speak ordinary political thoughts, and can't publish them, and can't sing songs, and can't wear tshirts with the wrong designs…you get the idea. As always in government-funded agitprop of this type, no context is given, just the usual dark hints about the reawakening of the beast. All these "haters" and "extremists" spring to life full blown, with no backstory or apparent motive. Don't they realize that everything is perfect in these best of all imaginable democracies? Roper delivers the only line that hits the reality: there's already a race war going on; the white race just hasn't begun to fight back yet. But in Russia, it has.
_________________
* According to a tyipcally silly female Western journalist in a Frontline report (unrelated to "White Terror") on the rise of Russian skinheads, Girenko's "expert testimony shut down many newspapers." It never even occurs to the woman that shutting down newspapers run by critics of the government is anything other than desirable and democratic. Perhaps this is the reason that women heavily outnumber men in journalism schools – they make perfect propagandists because questioning the status quo never occurs to them.
See the Frontline video report through this link:
http://www.pbs.org/frontlineworld/rough/2005/08/murder_in_st_pe.html#

Here's a Time report on Girenko, etc.:
http://www.time.com/time/europe/magazine/article/0,13005,901040809-674718,00.html

More on "White Terror" and its director here:
http://imdb.com/title/tt0477133/
http://www.whiteterror.com/
http://www.swissfilms.ch/detail_f.asp?PNr=2146532066
We received the following letter, along with a CD containing "White Terror."
Hello Mr. Linder,
First let me say that I am a huge fan of Vanguard News Network and all its broadcasts and publications. It's really great quality work and I try my best to get more of my white friends to visit and listen to the audios. You people are doing a very important job for the white race on this planet.
On Goyfire #39 one of the topics was the documentary "White Terror" which I happened to record, because they broadcasted it here in Australia. I'm sure you will find the documentary an easy exercise of spotting the propaganda. I am especially angry at the reference to "the so-called white race". It is pretty obvious the guy is a jew.
For the rest of the crew on VNN, they can download the doco on
http://www.downundernewslinks.com/
http://www.downundernewslinks.com/downloads.php?cat_id=8

in the download section of the website.
Regards and keep up the good work.
Yours faithfully,
VNNF's Quicksilver