18 March, 2010
'What If?' My Ass
Posted by Archives in
Arch Stanton
at 12:24 pm |

Permanent Link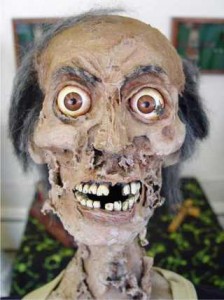 by Arch Stanton.
"What if the collapse of the American Empire is dead ahead, in the next decade? What if, as with the 2000 dot-com crash, we're in denial, refusing to prepare?" [Here].
I always get a kick out of this type of fear-mongering. OH – MY – GOD! What if America really is in big trouble? What if Americans have somehow missed the fact that doomsday is right around the corner? Heeeeellllllooooo! Is anybody paying attention? Is anybody awake out there? I didn't think so. Allow me to enlighten everyone ONE – MORE – TIME. America is DEAD! DEAD! DEAD! Is that plain enough? America is not in danger; there is no disaster lurking around the corner. There is nothing to be avoided. AMERICA IS ALREADY DEAD! It died long ago and there is nothing – NOTHING that will ever bring it back, any more than it's possible for Aunt Mable to return from the grave. America is a walking corpse. It's like one of those "undead" zombies in a trashy, jewish horror movie. Come to think of it, you're living in a trashy, jewish horror movie! Count Jewcula has bitten Miss Liberty on the neck and sucked all her blood (and injected her with vile yahoodie-venom afterwards). Now she has joined the army of the undead and has become as nasty and despicable as the Count himself. Miss Liberty, her deathly pallor in evidence to all those victims who see her coming, now marches around the world under orders from the sallow, bloodless Count. She seduces her victims by offering them eternal life through an infusion of what she claims is immortal democracy-blood. When her victim is finally lulled into complacency, her terrible maw opens to reveal the sharp, spiky points of remote-controlled missiles. If you're having trouble with this imagery, then you obviously haven't watched any of those vampire movies. Can you not see jewish cinematic "art" imitating real misery?
Count Jewcula killed Miss Liberty and anyone awaiting her return to the living is in the same league as those rapture-stooges waiting to be delivered up to heaven with the return of Jesus.
Jews have been bringing down advanced civilizations since Joseph infected Egypt with the usurious practices that drove it to bankruptcy. They have been instrumental in killing many great civilizations. Babylonia, Assyria, and Rome come to mind, then Britain and the entire commonwealth. For recent twentieth century history there's Germany, France, Russia…in fact why not just say all of Europe and its former colonies? America was destroyed long ago but you didn't notice because jews have refined their skills for keeping a corpse walking around.
Count Jewcula and his mistress Liberty will now lord it over the earth with a global army of RFID-chipped, NWO, multicult zombie-slaves. Yes Virginia , it's a plan. It's a biblical plan the jew's tribal god Yahweh/Jehovah bequeathed to the very tippy-top, elite jews eons ago. Why? For no other reason than these are the elite cheese-mites god picked to rule over the big hunk o' cheese. It's like that hateful anti-Semitism thing for which there is no rational explanation – it'z just because they're jews. In reviewing this, increasingly I find myself in agreement with the jew-god's plan: I really can't think of a better race of underworld denizens to lord over the grief and suffering.
The USA is like Bruce Willis in "The Sixth Sense." It doesn't know that it's already toes-up. Peace and security, like other forms of joy or pleasure, are simply fleeting, orgasmic, respites from the millennial grind of boots smashing faces into the mud. This is the way the world works, this is the way it has always worked and this is the way it will always work.