6 September, 2019
Labor Jewnions, Again
Posted by Socrates in
America
,
China
,
China as a global superpower
,
Jewed labor
,
jewed politics
,
labor
,
labor unions
,
leftism
,
leftists
,
liberalism
,
liberals
,
Socrates
at 10:54 am |

Permanent Link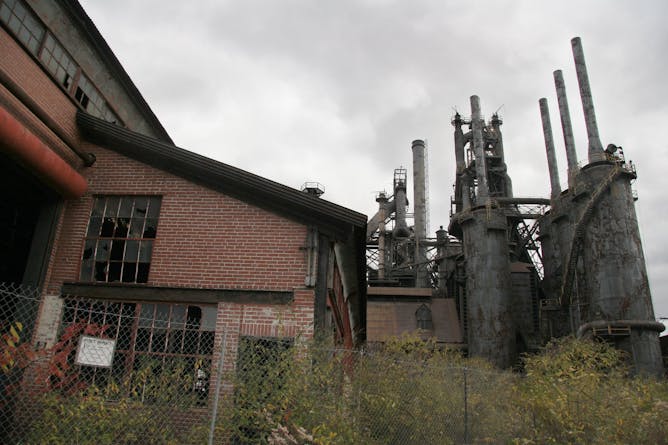 (Above: an abandoned factory in the Rust Belt, located in the Ohio/Michigan/Pennsylvania region; all of the jobs went overseas).
Why did American-made goods cost so much during the last 60 years? Labor unions. Why is the Rust Belt a giant, multi-state graveyard of abandoned factories? For the same reason: labor unions.
For decades, American cars cost way more than they should have. A car should have cost you $8,000, not $13,000. A hammer should have cost you $6.00, not $12.00. You overpaid for years.
Also, labor unions artificially shrink the labor pool. There are less jobs around.
The labor union movement in America was founded and run by Jews: Samuel Gompers, Sidney Hillman, David Dubinsky, Rose Schneiderman, Ralph Helstein, Lillian Herstein, Abraham Cahan, B. Charney Vladeck, Jacob S. Potofsky, Arthur J. Goldberg (a legal strategist and negotiator for Big Labor), Bill and Jackie Presser. Worse, there were many communists in the labor unions.
For decades, labor union dues were used to fund left-wing political causes.
(I will sort of agree with Stossel on one point: labor unions may have been necessary in the early years — e.g., in the 1930s, when a lot of families were starving; however, one could also make a counter argument: that more jobs would have been available if not for unions).