5 January, 2007
Nigkultur
Posted by alex in
AmeriKwa
,
Arboreal Americans
,
black crime
,
black culture
at 12:26 pm |

Permanent Link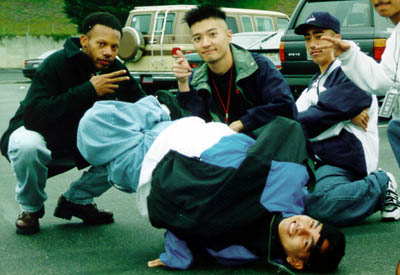 Niggers are the symptom, jews are the disease. Chiggers, viggers and kiggers (sliggers, in collective) are some kind of weird side effect. Jews force orcs among us at gunpoint – and we allow them. That makes us fools, cowards, and, eventually, extinction bunnies. What a way to go out.
Let's range about and collect some snapshots of nogs and their doings. First stop on our itinerary is Denver. We be all up in da club with a VIFPN, a very important football playing nigger.

Broncos cornerback Darrent Williams was killed early Monday when his white stretch Hummer was sprayed by bullets after a nightclub dispute following a New Year's Eve party.
Meanwhile, in New Jersey:
New Jersey Moves to Abolish Death Penalty

"The New Jersey Legislature will move to abolish the death penalty after a report … found that capital punishment is costly to taxpayers and serves no 'legitimate… intent,'"
Wow. Niggers serve no useful purpose either. Let's outlaw them too. New Jersey Unfiltered is VNN's one-stop shop for all our Garden-State nigger-news needs. Grab a basket! Hot deals galore! Itz like one giant Sambo Club, wit no cover charge, all you can jam between yr gold teef. Get busy, y'all!
A typical story here.
Down in Delray Beach, Florida, home of our newest local blog, the Delray Times, the niggers be drive-byin', dancin', thievin', killing babies — all the good stuff.
And then back up cold north in Detroit, a niggers just stabbed two whites to death. That's just how they roll.
The Hudson Valley Freeman reminds us not to forget Officer Danny Faulkner, murdered by nigger Mumia.
As Danny attempted to handcuff William Cook, Mumia Abu-Jamal ran from across the street and shot the officer in the back. Danny turned and was able to fire one shot that struck Abu-Jamal in the chest; the wounded officer then fell to the pavement. Mumia Abu-Jamal stood over the downed officer and shot him four more times at close range, once directly in the face.
Out west in California, the CM Press has a rundown on gangs in Costa Mesa.
These slums are the equivalent of forts that keep the gangs and gang members safe. From these forts they sally forth to commit crimes all around the city and then retreat to their forts to be safe. So long as those gang safe slums–those forts–remain, the gangs and gang members will continue to thrive in our city.
Alaska Pride has more on what mexes are costing you.