26 February, 2007
LENZ: Human Overpopulation and Lemming Behavior
Posted by alex in
Financial Column
,
George Lenz
at 10:00 am |

Permanent Link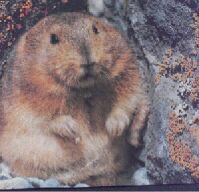 Recent advances in behavioral and biological sciences have shed light on reasons of severe political, economic and social crises that jolt out of the blue destroying or severely crippling nations. The researchers achieved these highly promising results by analyzing behavior of lemmings and applying their conclusions to the political process.
Lemmings, after several years of good breeding conditions and low rates of mortality from predation, move outward in all directions from a central area of denser lemming population. The migrating lemmings begin to move in greater numbers, at first erratically and under cover of darkness and later in bold groups that may travel in daylight. In their migration, they are subject to very high mortality from predators because they are moving in unaccustomed territory and without the shelter of a permanent home. Individual lemmings move fairly rapidly in a generally constant direction, following paths and roadways and hesitating to enter water. However, after finding no land crossings initially, those that still survive crossing a river may continue their move. Many of the migrants, not being able to distinguish between a river and the sea, end by drowning. The migration not only serves as a means to reduce the amount of overpopulation by dispersal of the species but also permits the animals to occupy different habitats at different seasons.
In a similar way, wrong policy choices of prosperous nations finally reduce human overpopulation. Frequently, experienced, well-educated, thinking and bright people led their nations into distress. Many of these bad results are not simply a matter of bad luck or external influences, but rather of a mixture with bad policy as key element. A major explanatory factor for many crises was that many nations simultaneously pursued the same strategies which proved disastrous in the hindsight, and produced major economic losses. Why do good statesmen choose poor policies, why do they at times respond identically with the same disastrous strategy, while ignoring risks?
Who wins if a nation fails? Some non-prudence in choosing a policy may be welcome to politicians since non-prudence gives leeway in exercising power. It helps to conceal corruption and to serve the politicians' clientele. There may be also a lack of political will to implement policies, that, painful in short term, bring long-term prosperity, because political parties and their friends may gain from non-prudent policies.
The positive effects of prudent government policies, on the other hand, are a public good. Economic stability generated by prudent government policies leads to an increasing propensity to save. The increasing savings will be channeled into investment and contribute to growth and increase the prosperity of nations. The production of public goods justifies public action. Most of the short-term effects of prudent government policies accrue to politically weak stakeholder groups (voters) or to insider groups whose individual members could as an alternative generate significantly larger direct gains from non-prudent government policies (politicians and their elitist friends).
Short-term gains from non-prudent government policies mainly accrue to insiders (politicians and their elitist friends). If voters' control is inefficient or non-existent there is a strong tendency that insiders shift to non-prudent policies to internalize rapid and large gains from risky opportunities while losses from these undertakings have to be borne by outsiders (taxpayers). With voters' control not existing, government policies may initially be nothing more than an opportunity to steal.
As long as government is growing, financed by increasing taxes, debt loads and the central bank generated inflation, the interest of the politicians in 'as little trouble as possible' prevails. Government subsidies can only be withdrawn slowly from major beneficiaries; otherwise the carriers of the politicians themselves may be threatened: if beneficiaries' interests suffer their dissatisfaction with the politicians would soar.
Power among corporate governance actors can be derived from a variety of bases: the stakeholders' ability to influence (legitimate power) or special expertise (expert power) or the ability to reward followers for compliance (reward power). The opposite of the latter is the power to punish for non-compliance.
Problems usually emerge when the power of government to punish can be easily controlled by the reward power of lobbyists providing bribes, gifts, free vacations etc. for government bureaucrats or politicians.
As the amounts of assets controlled by voters are usually small, their only resource is their vote in general elections. Decision-making and information is rather with governments and politicians. This gives leeway to government officials and politicians to join forces with the economic, social and ethnic elites.
As long as governments are limited and prudently run, there is a pluralism in reaching public policy decisions enshrined in the coexistence of organizational subunits with different and potentially competing strategies and mental models within the same government. In distress, however, governments too often conceal the magnitude of their woes. Some continue to follow the same policies in an effort to spur recovery. Others fail to account for ever increasing debts in their books.
Through a sequence of steps that unfolds over time, different, mutually dependent organizational entities are driven into narrowing decision space and diminishing room to maneuver, thus aggravating the crises further up until the entity fails or restructures, reducing overpopulation.
In the Scandinavian economic crisis of 1987-1994 and that of Japan since 1992, politicians, riding on a wave of optimism, financed projects that had poor long-term prospects. The very process of financing contributes to the temporary success of these projects as beneficiaries bid up the price of land and other property thus raising the profitability of most economic activities and government tax revenues. Undue concentration of financing in readily available 'hot' industrial sectors and excessive risk-taking, for example allowing the use of leveraged derivatives, may be equally rewarding in the short term. The government behavior itself amplifies the upturn, thereby increasing the share of policies based on unrealistic development expectations.
Such behavior may be individually rational, for example if each government bureaucrat is attempting either to avoid criticism (by senior officials or politicians) by adopting relaxed policy norms or to learn by observing the behavior of others ("best practice concept"). If they are rewarded with increased prestige or promotion for initially successful policies, and have nothing to lose but their jobs if unsuccessful, this kind of risk-loving mechanism starts.
Like lemmings continuing their migration by running around on the seashore and looking for a land crossing, politicians and government bureaucrats can continue their policies because they have the ability to delay recognition of failure. Due to the delayed effect nature of politics most government policies are expected to pay off somewhere in the future, meaning it can take time until a failure of policy becomes evident – and due to information imperfections – government performance is difficult to assess by outsiders – governments can conceal problems, for example, by continuing financing bad policies or by raising taxes and increasing the size of government, i.e. continue "regular" policies with escalating size or risks. Failed government policies can therefore persist for years, obscured by the ability of governments to make bad policies look good by increasing their financing.
A shift in views on performance of government may thus be instantaneously self-fulfilling. When the bubble bursts from the strain building up, the politicians and government bureaucrats are coping with a downturn which is largely of their own making. Unless the political system is autocratic or totalitarian in nature, no single politician or government bureaucrat is influential enough to generate a crisis on its own. Instead, it is frequently observed that "politicians hunt in herds". Cutting out or suppressing the "conflict stage" in making political decisions provides optimal breeding conditions for a combination of poor policy selection, fraud and wrong public perception resulting in a government failure.
Sifting through the evolution of many economic and political crises, I find that the seeds were sown long before the outburst. Typically, a regime shift would have been perceptible, but how far it increased uncertainty was not fully appreciated by decision-makers. The susceptibility to 'disaster myopia' increases whenever the political, economic or social environment changes dramatically. This phenomenon induces decision-makers to neglect events which, though large, have only a small probability of occurring and do not readily come to mind as a relevant contingency.
Economic prosperity, for example, may increase the volatility of social structures and, by increasing political competition, may place pressure on the popularity of old-established political parties whose support base had steady expanded attracted by solid although unremarkable performance in harder times. Their reaction typically is to abandon or severely limit the old, formalized and centralized routines of decision-making and to introduce new, simplified, decentralized routines including extensive delegation of decision-making authorities, to the local branches of political parties or to individual ministries or even departments so that policy decisions can be reached quickly in order to meet competition, as was the case in the 1980s Scandinavian economic crises. On the organizational level, the transformation usually is spurred by the recruitment of new politicians or government bureaucrats with little or no political and administrative background and a total change in the promotion system. Traditionally conservative politicians and government bureaucrats are denied promotion, while people oriented towards risky policies rise. Eventually risky policies fail, the crisis sets on, the government falls, and population declines.
Another cause of government failure may be the shift from a nationalist to a more internationalist government. The application of the particular internationally-popular policy may result in misinterpretation of the expected outcomes. If many governments implement the same policy in a herd-like manner, they may eventually all lose, and failure of the policy unleashes the same overpopulation-correcting mechanism.
Research by behavioral decision analysts and evolutionary biologists reveals patterns in how people cope with change, distress, complexity and ambiguity. Lemmings avoid conflict by migrating into hitherto unaccustomed territory. If there is no willingness to risk rejection by the in-group or to engage in other conflict, politicians will behave like lemmings. If politicians develop norms to avoid conflict, nations are likely to end up, for example, in the Abilene paradox (where leaders as a group makes a decision to do something that no single member of the group would do) or in groupthink (where individual leaders never really evaluate others' positions or express an alternative point of view).
So what are the implications of this research for White Nationalists?
First, Nature needs mechanisms so that evolutionary distortions like human overpopulation can be destroyed. Lemming behavior reduces overpopulation by triggering an inner instinct of self-destruction in humans in form of herd behavior, reducing their numbers to a sustainable amount. Interestingly, it does so without affecting group solidarity – a precondition for human survival, weeding out in each human group those unable to survive the crises – the weak, feeble-minded and genetically deficient.
Second, it is prosperity, often fostered by egalitarian wealth distribution policies and effectuated by the democratic political process that creates overpopulation in the first place, thus bringing about severe crises required to correct overpopulation imbalances. Therefore, democratic political policies and socialist economic policies, while beneficial in the short run, bring about in the long run nothing but distress and suffering unto the peoples that accept them, wrecking nations at the end. Unadulterated free enterprise and republican political system, in contrast, while painful and not avert to crises, rarely avail the artificially created socialist prosperity, thus rendering unnecessary the Nature's intervention.
Third, it establishes that the present decline of the West, while painful and tragic, has been set in motion by the Nature's corrective action to reduce the burden of human overpopulation and thus is in the end evolutionary beneficial for European peoples. While the weak, feeble-minded and genetically deficient are removed from the European gene pool, unable to bear the consequences of crises around them, the stronger, more prudent and genetically whole European children are born into this world that would lead the European civilization to its new Renaissance.
fdtwainth@2007