27 January, 2013
"Italian" Politician, a Dual-Citizen, Tries to Prevent Whites from Preserving Their Culture
Posted by Socrates in
double standards
,
Golden Dawn
,
Italy
,
jewed culture
,
jewed politics
,
Jewish behavior versus White behavior
,
Jewish dual citizenship
,
Jewish genetics
,
jewish hate & hypocrisy
,
Jewish racism
,
Jews-posing-as-White-people
,
Jobbik
,
Socrates
,
white nationalism
,
White Nationalists
,
Zionism
at 3:08 pm |

Permanent Link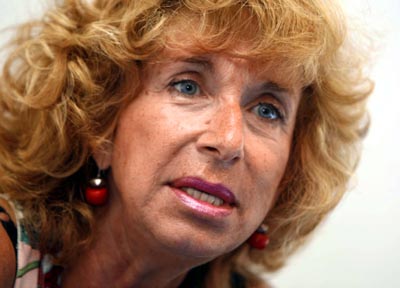 (Above: Nirenstein)
Nirenstein is an "Italian" MEP? Nope, because Italians are White Europeans. She's a Jew. Not the same thing! (In fact, she even admitted that she's a Jew first and foremost) [1]. She holds dual citizenship, living in Israel, too, which is an apartheid state. She's acting racially by being a Zionist Jew, while at the same time trying to deny Whites their right to preserve their culture and heritage.
[1] a typical, race-aware Jew, Nirenstein once said, "every Jew in the world is an Israeli even if he's not aware of it. Anyone who doesn't know it is making a big mistake"