16 November, 2014
George Will: Philo-Semite Extraordinaire
Posted by Socrates in
Bolsheviks
,
communism
,
communism-as-Jewish
,
George F. Will
,
Hungary
,
jewed culture
,
Jewish behavior versus White behavior
,
Jewish chosenness
,
jewish criminality
,
Jewish cruelty
,
Jewish racism
,
jewish terrorists & terrorism
,
Jewish Tyranny
,
jews
,
NKVD
,
Orwell
,
Romania
,
Socrates
,
Soviet holocaust
,
Soviet Union
at 3:57 pm |

Permanent Link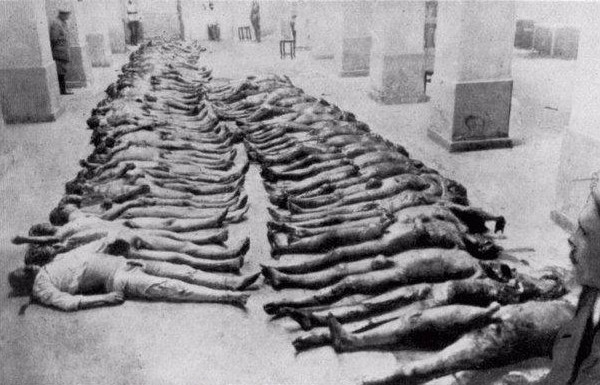 (Above: victims of the CHEKA)
Some people love Jews. No matter how much you try to explain the Self-Chosen to them, they can't see the Jewish history of nation-wrecking, mass-murder and plain ol' bad behavior. As if Jews didn't invent racism-as-official-doctrine. As if Jews didn't spread communism all over the world. As if the first mass-murdering state, the Soviet Union, wasn't built by Jews. As if the Jewish-heavy CHEKA and NKVD goon squads didn't slaughter millions of people in Russia before the Nazis came to power [1]. As if Eastern Europe wasn't raped and murdered by Jews, e.g., by Ana Pauker in Romania and by Mathias Rakosi in Hungary. As if the Nazis weren't responding to Jewish behavior. As if Jews haven't been a thorn in the side of mankind for 3,000 years. As if! George Will, for all of his intellectuality (or perhaps because of it) just can't see the true nature of God's Pets [2].
[1] CHEKA leader Felix Dzerzhinsky was a half-Jew; his father converted to Catholicism
[2] George Orwell said, "There are some ideas so absurd that only an intellectual could believe them"